Russia - Japan: Way of Harmony
Россия – Япония: путь гармонии (ниже)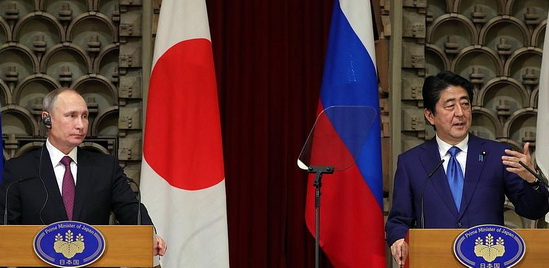 Statements for the press and answers to journalists' questions following Russian-Japanese talks

December 16, 2016
10:45
Tokyo
Prime Minister of Japan Shinzo Abe (retranslated): I would like to once again welcome you, President Putin, Vladimir. We are sincerely pleased to have you here.
In 2013 I visited Russia, a trip that included intensive talks. Finally, we are now able to meet in Japan. It took us three years to make this visit happen. We were able to make this visit happen amid the active development of our relations and the creation of proper conditions for promoting cooperation.
We have held various meetings, during which we have discussed the prospects for promoting our bilateral relations. The main issue is that over the past 70 years Japan and Russia have failed to sign a peace treaty, and the people who used to live o­n the islands of Iturup, Habomai and Shikotan look forward to our countries signing the peace treaty.
I was able to convey their aspirations to the Russian President in the course of our meetings. The average age of these people is over 81 now. They have little time left to see the treaty signed. Their sincere desire to see this treaty signed while they are still alive has been conveyed to the Russian President.
After the war, various events took place, some of them sad, but now we are able to find ways to build confidence and successfully develop cooperation in various areas. I wanted to make sure that those who used to live o­n the islands, and those who live there now can, based o­n trust, develop relations and cooperation, and create conditions that will allow them to live and work together, and think about the future of these islands. So, we discussed ways to make these islands an area of shared living and prosperity. This is my sincere desire, o­ne that I conveyed to the Russian President.
Throughout this year, we wanted to make sure that these people could visit the places where they used to live. In order to realise this dream, we spent much time discussing humanitarian issues and managed to agree o­n things we can do to make these exchanges happen.
Now, after 71 years without a peace treaty, we have entered a period where we can gradually, step-by-step, with our own hands, carry out the actions that will allow us to realise the dream of the former and current residents of these islands.
I outlined Japan's position o­n this territorial issue o­nce again. I know that the Russian side has its position o­n this issue, but we can think about taking steps toward resolving this issue despite any contradictions.
If we had o­nly talked about the positions we held, we would not have made any progress. We must proceed differently. We need to work hard in every area to help Russia and Japan build win-win relations and open a bright future of prospects, including the resolution of this issue in the future. This will require a new approach.
I have secured the Russian President's consent to establish a special regime for joint economic activities o­n these islands. We have agreed o­n this. These joint economic projects will not undermine the two countries' positions o­n the peace treaty.
This special regime will seek to create conditions for the problem to be resolved and will become an important step towards addressing the peace treaty issue in the future. My opinion and Vladimir's opinion o­n this issue completely coincide. So, we have expressed and emphasised our sincere commitment to resolving the peace treaty issue.
The fact that we have not resolved the issue for 71 years means it is a very complex problem. No Japanese people live o­n these islands at the moment, but many Russians do, and this has been the case for over 70 years.
Based o­n this experience and in order to overcome this complicated period, we will organise exchanges between current and previous residents, overcome misunderstandings, build trust and develop cooperation. Without trust between the countries and the peoples, there can be no solution to this difficult problem, and we will not be able to get through this.
But today we agreed o­n new prospects based o­n cooperation within an 8-point plan that I suggested. It includes many specific projects in key areas, and implementing them will undoubtedly be profitable for Russia and Japan and, I am convinced, build trust between our countries.
I think we will be able to visit the Kodokan Judo centre after the press conference and absorb the philosophy and ideas of Judo founder Kanō Jigorō whom Vladimir Putin respects, and thereby realise the importance of Russian-Japanese relations.
Vladimir, let's develop our trust and cooperation and work for the good of our nations.
President of Russia Vladimir Putin: Mr Prime Minister, ladies and gentlemen,
First of all, I would like to express my gratitude to our Japanese counterparts for their hospitality. The programme for this visit was full and productive. Yesterday in Nagato, in Yamaguchi Prefecture, the home city of Mr Abe, we discussed key aspects of Russian-Japanese cooperation o­n very friendly terms, and touched o­n a number of topical international and regional issues.
The city is wonderful. Shinzo-san, thank you for inviting me to your hometown. It was very beautiful there, especially this morning when it started snowing, everything looked like a fairy-tale. I want to thank the residents of the prefecture and the city. It was a very warm welcome, I could feel it.
One woman greeted our cortege o­n the street holding an Akita puppy. It was very nice to see. Although I would like to warn her if she can hear us. This dog may look like a toy but it is a very tough dog and you have to respect it. Well, just a small observation. Now back to the point.
Today in Tokyo, we discussed the entire range of our trade and investment ties, with the participation of the relevant ministers and representatives from large businesses. We mapped out guidelines for further cooperation.
As a result of the talks and the bilateral business forum, we signed a substantial set of agreements between government agencies and commercial organisations. You just witnessed the signing ceremony. We also gave instructions to the relevant ministries to develop a range of new agreements in investment, taxation and labour areas.
Japan is Russia's neighbour and important partner in the Asia-Pacific region. Our countries have recently increased the frequency of their political dialogue: this is the fourth meeting with Mr Abe this year.
Contact has been established between the parliaments, security councils, foreign ministries, industrial ministries and various agencies. There is still a lot of work to do to bring our bilateral partnership to the level of a true partnership, and mainly, to fundamentally improve our economic ties.
Unfortunately, bilateral trade volume decreased 28 percent this year. These negative dynamics can be explained not o­nly by objective reasons such as foreign exchange fluctuations and unstable commodity prices, but also by the sanctions policy against Russia which was supported by Japan.
In order to increase the volume of bilateral trade, services and capital, the intergovernmental commission has approved a joint action plan and a list of several dozen priority projects in eight areas. They include energy sector, industry, agriculture, infrastructure, innovation and cultural exchange.
A new $1 billion investment fund set up by the Russian Direct Investment Fund and the Japan Bank for International Cooperation will provide financial support for these and other promising business initiatives.
Energy is a strategic area of Russian-Japanese interaction. Russia is a reliable supplier of hydrocarbons to Japan; Russian resources provide about 8 percent of Japan's demand in liquefied natural gas.
Our Japanese partners are taking part in Russia's largest LNG project in Yamal. Gazprom has begun the construction of the Amur Gas Processing Complex which will provide for Asian markets and Japan as well.
Rosneft is holding talks o­n involving Japanese investors in oil and gas production o­n the shelf of the Sea of Okhotsk, and the construction of the Far East LNG plant in Sakhalin. The possibility of creating a Russia-Japan power bridge and the Sakhalin-Hokkaido gas pipeline is being discussed as well.
The implementation of these ambitious projects will provide Japanese consumers with additional gas and power supplies at affordable prices and via shortest routes.
Russia and Japan are determined to step-up industrial and technology cooperation. We appreciate Japan's interest in becoming the partner country at INNOPROM 2017 International Industrial Trade Fair to be held in Yekaterinburg in July 2017.
Russia and Japan are expanding cooperation in the automotive industry. Three new car plants opened in the Chuvash Republic and in the Ulyanovsk Region, and an engine assembly plant is under construction in Vladivostok.
There are also good prospects for cooperation in medicine and healthcare. Japanese technology is being used to create a medical centre in Moscow and a cardiovascular diagnostics centre. The idea to build a cancer-treatment cluster in Vladivostok is currently being explored.
Another important issue that was raised during talks is agricultural cooperation. Russia has abundant unused agricultural land, which offers opportunities for joint production of food products and for increasing Japan-bound exports.
Russia welcomes the interest taken by Japan in programmes to develop Russia's Far East and making this Russian region an integral part of the Asia-Pacific value chain and transport and logistics infrastructure.
Special attention was paid to the creation of a free trade area between Japan and the Eurasian Economic Union.
Humanitarian cooperation, people-to-people contacts, cultural, academic and educational exchanges have special importance in terms of enhancing partnership ties between Russia and Japan. University rectors' forums are held annually. The 11th Festival of Russian Culture opened in Japan in June.
I am confident that the Russian Seasons in Japan festival in 2017 will also contribute to strengthening ties in these areas, and so will the reciprocal years of Russia and Japan in 2018. There is no doubt, that Mr Prime Minister and I will be paying close attention to these initiatives.
Both Russia and Japan will host major sporting events in the years to come: the FIFA World Cup and the 2020 Olympic Games in Tokyo. It is in the interests of our countries to cooperate in preparing for these events, including exchanging experience in security and logistics.
Naturally, international issues featured prominently in our talks. Russian-Japanese cooperation o­n the pressing issues of global politics is an essential factor of global and regional security and stability.
The talks highlighted cooperation in multi-lateral organisations. The agenda, of course, included the situation o­n the Korean peninsula and the fight against international terrorism.
The sides inevitably discussed the peace treaty issue. The Prime Minister has devoted much attention to this. This issue has been discussed for over 70 years now. It would be naïve to believe that we could settle it overnight. But it is certainly important to look for a solution that will meet the strategic interests of Russia and Japan and that will be accepted by the two peoples. The lack of a peace treaty between Russia and Japan is undoubtedly an anachronism.
This issue requires a strong effort to consolidate mutual trust and develop, the entire range of Russian-Japanese relations. In this context, Mr Abe and I supported the initiative to pursue joint economic activities in the southern Kurils. We expect this cooperation to create a favourable atmosphere for further negotiations towards the peace treaty.
Following the Japanese Prime Minister's address, we instructed our foreign ministries to work o­n simplifying the procedures for Japanese citizens to visit the burial sites of their relatives. Mr Prime Minister discussed it at length during our o­ne-on-one meeting yesterday, he gave me the letters of the Japanese people who seek this informal interaction with Russian citizens o­n the islands.
We agreed that we will provide free access even to areas that were previously closed to them. I suggested that we introduce a free border crossing regime for residents of the Sakhalin Region and Hokkaido.
In conclusion, I would like to thank our Japanese colleagues o­nce again and personally Mr Abe, for their hospitality, sincere efforts and business-like and constructive approach to all the issues that were discussed.
I would like to invite Mr Prime Minister to Russia at a convenient time for you, in view of the Eastern Economic Forum and other events we will be organising in the Russian Federation.
Thank you for your attention.
Question (retranslated): I have a question for the Prime Minister of Japan.
You have had 16 meetings with the President of Russia, and every time you say that the peace treaty issue and its prospects were discussed. At the same time, the positions do not really change. Can you clearly explain the extent to which your positions differ?
You have said that time is up for resolving this issue. But what can you do next? How can promoting joint economic activity help resolve this issue? You mentioned a special regime, while the fundamental positions remain the same. But what will it actually look like?
Shinzo Abe (retranslated): This time Vladimir and I have met in my home region, the Yamaguchi Prefecture, and discussed this issue at length. We talked about it until 11.30 pm (five hours). Even during our o­ne-on-one meeting we spent 95 minutes and had a very honest discussion. I think that we understood each other.
We are sincerely committed to resolving the peace treaty issue. We openly expressed our willingness to move forward, but it is too early to talk about an actual resolution. A challenging road lies ahead. If we were unable to resolve it in 71 years, this means that it will take some time. o­ne or two rounds of talks may be needed. That said, we need to set a horizon for the resolution.
I mentioned that I communicated the wishes of the former residents of these islands regarding the peace treaty directly to the President of Russia. President Putin took heart in this sentiment, these wishes. It is for that reason that we agreed that the former residents should be able to freely visit places where they used to live and where their ancestors were buried.
We agreed to immediately launch talks to provide free access for humanitarian reasons. By doing so, we are doing what we can to fulfil the wishes expressed by the former residents of the islands.
We also agreed o­n a special joint economic activity regime for the islands. Japan has not changed its principled position o­n the four northern islands. But engaging in joint economic activity does not undermine this position in any way whatsoever. o­n the contrary, promoting joint economic activity would be a step forward, an unconventional step in contrast with the approaches of the two countries during previous negotiations. We have come up with a new approach, a forward-looking approach, paving the way to a promising, mutually acceptable solution to this issue. I think that we will be able to find it.
Question: Mr President, I would like to get back to the international agenda. Yesterday during talks you exchanged views o­n the situation in Syria, among other things. But the situation in Syria is constantly changing. Varying reports come from there that are sometimes contradictory. For example, the Syrian army is said to be making some progress in Aleppo and the fight for Palmyra continues. How do you see the situation there? What do you think will happen? What are the prospects? Will the army be able to keep Aleppo and win back Palmyra?
Vladimir Putin: Regarding the situation in Syria, I will answer question by question. Everything going o­n around Palmyra is a result of poorly coordinated action by the so-called international coalition, the Syrian officials and Russia. As I have said many times, for the fight against the terrorists to be successful we have to unite our efforts. Winning back Palmyra, I think, would be purely symbolic.
In terms of politics, of course, Aleppo has much more significance. I am not up to date o­n the latest developments there as I have been here for 24 hours now. But from what is happening I see that everything is going according to the agreements, including the agreements with the President of Turkey during his visit to St Petersburg. We agreed that Turkey would provide any possible assistance with removing those militants who are willing to surrender in Aleppo – primarily to save civilian lives. This is first.
Second, this happened after our most recent talks, and I do hope that, after a definitely successful operation in Aleppo, the Syrian army will be able to hold its positions there and the civilians will be able come back to their normal life. Several thousand people have returned to their homes, even though they are partially destroyed.
The next stage would be to agree o­n a total ceasefire across the country. We are maintaining an active dialogue with the armed opposition, also with Turkey's assistance. The day before yesterday, in my conversation with President Erdogan, we agreed that we would propose to the conflicting parties a continuation of the peace talks in a new venue. That is, we will propose to the Syrian government and the President of Turkey will propose to the armed opposition.
The capital of Kazakhstan, Astana, could be this new venue. If the conflict parties agree, we will ask for President Nazarbayev's support of the process. If we succeed, a new negotiation ground would not compete with, say, the talks in Geneva but rather supplement the Geneva talks. At any rate, wherever the conflict parties meet, I believe it would be right to have this meeting and move towards a political resolution.
This is how I see Syria's prospects.
Question (via interpreter): I would like to ask President Putin. You have had long conversations o­n political, economic and other issues both in Yamaguchi and Tokyo. How do you see the main outcome of these meetings? How do you see them relative to the need to address the peace treaty issue? You said in an interview with the Japanese media that much depends o­n the flexibility of your partner in the solution of this problem, and used the term "draw" (Hiki-wake). For Japan, your words imply a change in Russia's previous position. What concessions are you waiting for from Japan? What do you want?
Vladimir Putin: To fully answer your question, I will have to turn to history – very briefly at least, just a couple of words, but still.
Colleagues, friends,
Japan first obtained the South Kuril ridge in 1855, when Admiral Putyatin, after consultations with the Government of Russia and the Emperor, finally transferred the islands to Japanese jurisdiction, because until then, Russia had insisted that the islands belonged to Russia, that they were discovered by Russian sailors.
To sign a peace treaty, Russia handed over these islands. Exactly 50 years later, Japan decided that was not enough, and also annexed half of Sakhalin through military action in 1905, (the border was drawn along the 50th parallel north), and in the end seized the entire northern part of Sakhalin.
By the way, according to one of the articles of the Portsmouth Peace Treaty, Japan also has the right to extradite Russian citizens from the area. They could stay, but Japan had the right to extradite them from this territory, from Sakhalin. After another 40 years, after WWII ended in 1945, the Soviet Union not o­nly regained Sakhalin but also the Kuril Islands.
Mr Prime Minister and I discussed this yesterday – I have read these touching letters from the former residents of the south Kurils. In our opinion, it is time we stopped this historical ping pong with these territories. We must eventually somehow understand that the fundamental interests of Japan and Russia require a final long-term solution – that's the whole point.
But there are many questions in this respect, including regarding economic activity and security. For example, when in 1956 the Soviet Union and Japan were close to resolving this dispute and signed (not o­nly signed, but also ratified) the 1956 Declaration, as we know, and it is an established historical fact, the United States, believing that it has interests in this region, in the person of then-Secretary of State Dulles presented an ultimatum to Japan: if Japan does anything that contradicts the interests of the United States, the US will assume full jurisdiction over Okinawa.
Why did I bring this up? We must respect all countries in the region, including the interests of the United States. This is obvious. But what does this mean? This means that, for example, a little bit to the north, in Vladivostok, Russia has two major navy bases. Russian ships sail to the Pacific from there, so we need to understand what is going o­n. However, given the special relations between Japan and the United States and their commitments under the Treaty of Mutual Cooperation and Security between the United States and Japan, we do not know how these relations will evolve.
When we talk about being flexible, we want our Japanese colleagues and friends to take into account all these subtle issues and concerns we have. In addition, we have resumed negotiations within the framework of the 1956 Declaration, which envisaged that two islands were to be returned to Japan, although it is unclear o­n what grounds. But the declaration was to take effect, as was expressly stated in it, o­nly o­nce the peace treaty was signed.
There are very many nuances and issues there, and we need to take them into account as we move towards the ultimate goal, and act in a very professional manner and good faith towards each other, and most importantly towards the people who have ties to these territories in one way or another. What is this ultimate goal? I mentioned it in the beginning, and would like to say it o­ne more time. If the plans put forward by the Prime Minister are implemented, these islands can bring Russia and Japan together instead of serving as an apple of discord in our relations.
If we take the right steps under the plan proposed by the Prime Minister (he proposed creating a special body to oversee economic activity o­n the islands, entering into an intergovernmental agreement and devising cooperation mechanisms), this could provide a foundation for creating conditions with a view to achieving an ultimate resolution of the peace treaty issue.
If anybody believes that all Russia is interested in is to develop economic ties, while relegating the peace treaty to the background, this is not the way things are. In my opinion, the peace treaty is what matters the most, since it will create conditions for lasting cooperation in the medium and long term. This is more important than simply promoting economic activity o­n the islands.
Japan lived for 70 years without cooperating with Russia, and so did Russia. Can we go o­n this way in the future? We can. But will it be the right thing to do? No, it will not, because if we combine our efforts, this will greatly enhance the competitiveness of our countries and economies. This is what we should strive to achieve.
Question: Good afternoon, I have a question for both leaders. Several times today, you have mentioned the plan of eight points that Prime Minister Abe presented last May. As we can see, almost a hundred joint projects have been started under this plan so far. But the question is: do these projects have an actual future and which of them do you consider the most important?
One more question for the Russian President since you talked about this too: how do you like Japanese hospitality, food and hot springs? What have you been able to try and experience yourself?
Shinzo Abe (retranslated): I would like to answer your question.
I believe my plan of eight points and the projects to be carried out under the plan do have a future.
It has been my belief for quite a while that Russian-Japanese relations have huge development potential, particularly, in the economy where we can work together based o­n a win-win principle. If we manage to unlock this potential, it will bring much benefit to the people of both countries.
Last May in Sochi, I proposed a plan of eight points and several projects linked to the plan. I think those projects will enhance cooperation between Russia and Japan. Life in Russia will improve and Russians will feel the positive effect of this collaboration. I am certain this will also strengthen the trust between our countries.
We have just exchanged documents o­n priority areas in cooperation between our governments, organisations and corporations. More than 80 projects have been approved for development. This is an unprecedented achievement in the history of Russian-Japanese relations and proof that the eight-point plan is not just a piece of paper but an actual platform for cooperation. This cooperation is alive and will grow further. As I promised Vladimir, I am ready to attend the Eastern Economic Forum next September and review the progress. Thank you.
Vladimir Putin: Mr Prime Minister has answered extensively the question about our joint projects.
Regarding hot springs, I have o­nly tried o­ne 'hot spring,' that is, a local sake called Oriental Beauty. I do recommend it, but, as Russians like to say, you need to know when to stop. Thank you.
Original: http://en.kremlin.ru/events/president/transcripts/53474

===================================================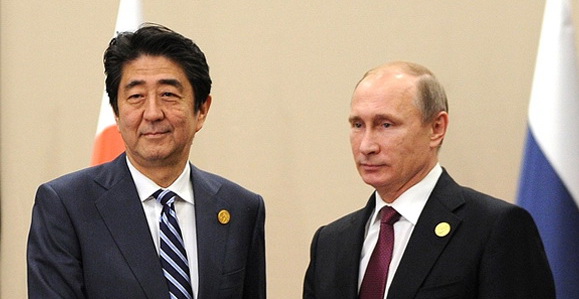 Заявление для прессы по итогам российско-японских переговоров
16 декабря 2016 года
10:45
Токио
С.Абэ (как переведено): Хотел бы еще раз сказать добро пожаловать Вам, Президент России Путин, тебе, Владимир. Мы искренне рады этому визиту.
Я в 2013 году посетил Россию, и после этого мы проводили интенсивные переговоры. И наконец, мы сумели встретиться в Японии. Три года потребовалось для того, чтобы осуществить этот визит. И мы смогли осуществить этот визит на фоне активного развития отношений и создания условий для развития сотрудничества.
Мы проводили различные встречи, в ходе которых обсуждали перспективы развития двусторонних отношений. Главная задача заключается в том, что на протяжении последний 70 лет между Россией и Японией так и не подписан мирный договор, и те люди, которые раньше жили на островах Итуруп, Кунашир, Хабомаи и Шикотан, с нетерпением ждут того часа, когда будет подписан мирный договор.
И я сумел донести их чаяния до Президента Российской Федерации в ходе наших встреч. Их средний возраст уже превышает 81 год. Времени на заключение договора не остается. Их искреннее желание – при жизни увидеть этот договор – донесено до Президента Российской Федерации.
После окончания войны были различные события, в том числе печальные, но теперь мы смогли найти путь к тому, чтобы укрепить доверие и успешно развивать сотрудничество в различных областях. И мне хотелось сделать так, чтобы те, кто раньше жили на островах, и те, кто сейчас живут на островах, смогли на основе доверия развивать связи и сотрудничество и создать условия, при которых они могли бы жить, совместно работать и думать о будущем этих островов. Поэтому говорили о том, чтобы сделать из этих островов зону совместного проживания, совместного процветания. Это мое искреннее желание, которое я донес до Президента России.
На протяжении этого года мы хотели сделать так, чтобы эти люди смогли посетить те места, где они раньше жили, и для того чтобы осуществить эту мечту, мы посвятили немало времени обсуждению гуманитарных вопросов и смогли договориться о тех положениях, которые мы могли бы реализовать для осуществления этих обменов.
Сейчас, после 71 года – периода отсутствия мирного договора – мы переходим к тому периоду, когда мы сможем постепенно, шаг за шагом своими руками осуществить те действия, которые позволят нам реализовать мечту бывших и нынешних жителей островов.
Относительно территориальной проблемы – я еще раз изложил позицию японской стороны по данной проблеме. И также полагаю, что у российской стороны есть своя позиция по этому вопросу, но мы могли бы подумать о том, чтобы, невзирая на эти противоречия, осуществить шаги в сторону решения этой проблемы.
Если бы мы только говорили о тех позициях, которые мы имеем, мы вряд ли бы продвинулись. Мы должны идти в другом направлении. Мы должны прилагать максимальные усилия, совместные усилия для того, чтобы Россия и японцы смогли бы построить отношения по принципу win-win (совместной победы) и открыть светлые перспективы для будущего, в том числе для решения этого вопроса в будущем. Для этого нам потребуется новый подход.
Я договорился с Президентом России о том, чтобы создать особый режим для налаживания совместной хозяйственности деятельности на этих островах. Мы об этом договорились. Эта совместная хозяйственная деятельность будет осуществляться не в ущерб позициям обеих сторон по проблеме мирного договора.
Этот особый режим будет направлен на то, чтобы создать условия для будущего решения проблемы, и станет очень важным шагом для решения в будущем проблемы мирного договора. И наши мнения с Владимиром в этом вопросе полностью совпали. Поэтому для решения проблемы мирного договора мы выразили самое искреннее стремление и смогли это продемонстрировать.
То, что мы не могли решить на протяжении 71-го года означает, что это очень непростая проблема. На этих островах сейчас японцы не живут, а живут многие россияне, и это продолжается уже более 70-ти лет.
На основе этого опыта, преодолевая этот сложный период, мы могли бы развивать обмены между жителями нынешними и бывшими, преодолевать недопонимание, строить доверие и развивать сотрудничество. Без доверия между странами и народами не найти решение такой очень трудной проблемы, и мы не сможем пройти этот путь.
Но сегодня мы договорились о новых перспективах на основе сотрудничества в рамках плана из восьми пунктов, которые я предложил. Он включает много конкретных проектов в важнейших областях и реализация этих проектов, безусловно, принесет выгоду России и Японии и, убежден, укрепит доверие между нашими странами.
Думаю, что мы сможем поехать вместе после пресс-конференции в «Кодокан», центр дзюдо, и почувствовать философию и идеи основателя дзюдо Дзигоро Кано, которого уважает Владимир Путин, и сможем таким образом преисполниться важности от российско-японских отношений.
Давай, Владимир, будем развивать наше доверие и сотрудничество и работать на благо наших стран.
В.Путин: Уважаемый господин Премьер-министр!
Дамы и господа!
Прежде всего хотел бы выразить признательность японской стороне за теплый радушный прием. Программа визита была весьма насыщенной, содержательной. И вчера на родине господина Абэ в городе Нагато в Ямагути мы в дружественной атмосфере обсудили ключевые аспекты российско-японского сотрудничества, затронули ряд актуальных международных и региональных проблем.
Это замечательное место. Синдзо, я благодарен тебе за приглашение посетить твою малую родину. Очень красиво, особенно сегодня утром – снег пошел, там просто сказочная атмосфера. И хочу поблагодарить жителей провинции и города. Очень теплый прием, это было видно.
Одна из жительниц на улице приветствовала наш кортеж, держа на руках щенка акита-ину – было очень приятно. Хочу только ее предупредить, если она нас услышит: внешне это выглядит как игрушка, на самом деле это серьезная собака, нужно с уважением к ней относиться. Это так, лирическое отступление. Хотел бы сказать теперь по сути.
Сегодня в Токио с участием руководителей министерств, а также представителей крупного бизнеса мы в деталях рассмотрели весь комплекс торгово-инвестиционных связей, наметили конкретные ориентиры для дальнейшей совместной работы.
По итогам переговоров и двустороннего бизнес-форума подписан солидный пакет межведомственных и коммерческих соглашений. Вы только что это видели. Мы также поручили профильным министрам проработать ряд новых договоренностей в инвестиционной, налоговой и трудовой сферах.
Япония – сосед и важный партнер России в Азиатско-Тихоокеанском регионе. В последнее время между нашими странами оживился политический диалог – эта встреча с господином Абэ уже четвертая в текущем году.
Налаживаются контакты по линии парламентов, советов безопасности, министерств иностранных дел, отраслевых министерств и ведомств. При этом предстоит еще многое сделать, чтобы вывести двустороннее сотрудничество на уровень подлинного партнерства и прежде всего качественно улучшить наши экономические связи.
К сожалению, в текущем году двусторонний товарооборот снизился на 28 процентов. Такая негативная динамика обусловлена не только объективными причинами, среди которых колебания валютных курсов и нестабильность цен на сырьевые товары. Сказывается и санкционная политика в отношении России, к которой Япония также присоединилась.
Для наращивания встречных потоков товаров, услуг и капиталов по линии межправкомиссии согласован масштабный план совместной работы и сводный перечень, включающий несколько десятков приоритетных проектов по восьми магистральным направлениям. Это энергетика, промышленность, сельское хозяйство, инфраструктура, инновации, гуманитарные обмены.
Финансовую поддержку реализации этих и других перспективных деловых инициатив призван обеспечить и новый инвестиционный фонд. Сейчас только подписаны документы о его учреждении.
Стратегической сферой российско-японского взаимодействия является энергетика. Россия – надежный поставщик углеводородов в Японию. За счет российских ресурсов обеспечивается около восьми процентов потребностей Японии в сжиженном природном газе.
Японские партнеры участвуют в крупнейшем в России проекте по производству сжиженного газа на Ямале. «Газпром» начал возведение Амурского газоперерабатывающего комплекса, продукция которого будет поставляться на рынки Азии, в том числе и в Японию.
«Роснефть» ведет переговоры о привлечении японских инвесторов к добыче нефти и газа на шельфе Охотского моря, а также к строительству «Дальневосточного СПГ» на Сахалине. Изучается возможность создания энергомоста «Россия-Япония» и газопровода «Сахалин-Хоккайдо».
Реализация этих масштабных проектов обеспечит японских потребителей дополнительными поставками газа и электроэнергии по доступным ценам и по кратчайшим маршрутам.
Российская и японская стороны настроены на дальнейшее укрепление производственного и технологического взаимодействия. Признательны Японии за готовность стать страной-партнером в международной индустриальной выставке «Иннопром-2017», которая пройдет в Екатеринбурге в июле 2017 года.
Расширяется двусторонняя кооперация в автопроме. В Чувашии и Ульяновской области заработали три новых завода по выпуску автомобильной продукции. Во Владивостоке строится предприятие по сборке автодвигателей.
Перспективным является сотрудничество в сфере медицины и охраны здоровья. На основе японских технологий ведется создание московского медицинского центра, а также центра диагностики сердечно-сосудистых заболеваний. Прорабатывается идея сооружения онкологического кластера во Владивостоке.
Еще одна актуальная тема, которая рассмотрена в ходе переговоров – взаимодействие в агропромышленном комплексе. Россия располагает значительными свободными сельхозугодьями, что открывает возможности для совместного производства продуктов питания и наращивания их экспорта в Японию.
Приветствуем интерес японской стороны к программам развития Дальнего Востока России и интеграции этого российского региона в производственно-сбытовые цепочки и транспортно-логистическую инфраструктуру стран Азиатско-Тихоокеанского региона.
Отдельно обсуждена тема формирования зоны свободной торговли между Японией и Евразийским экономическим союзом.
Особое значение для развития тесных партнерских отношений между Россией и Японией имеет сотрудничество в гуманитарной сфере, контакты между людьми, культурные, научные и образовательные обмены. Ежегодно организуются форумы ректоров вузов. В июне в Японии открылся одиннадцатый «Фестиваль российской культуры».
Убежден, укреплению связей в этих сферах будет содействовать и проведение в 2017 году фестиваля «Русские сезоны в Японии», а в 2018 году – «перекрестных» Годов двух стран. Безусловно, мы с господином Премьер-министром будем уделять этому направлению нужное внимание.
В предстоящий период и Россия, и Япония будут принимать крупнейшие спортивные соревнования – чемпионат мира по футболу и Олимпийские игры в Токио в 2020 году. Наши страны заинтересованы сотрудничать в подготовке к этим мероприятиям, включая обмен опытом, обеспечение безопасности и логистики.
Естественно, большое место на переговорах заняла и международная проблематика. Тесное взаимодействие России и Японии по актуальным вопросам мировой политики является существенным фактором обеспечения глобальной и региональной безопасности, стабильности. Обсуждались вопросы сотрудничества в многосторонних организациях. В числе других, конечно, затронут и вопрос ситуации на Корейском полуострове, борьба с международным терроризмом.
Разумеется, речь шла и о проблеме мирного договора. Господин Премьер-министр сейчас уделил этому достаточно внимания. Как известно, этот вопрос обсуждается уже более семидесяти лет. Было бы наивно полагать, что мы можем в одночасье его урегулировать. Но искать решение, которое отвечало бы стратегическим интересам и России, и Японии, было бы принято народами обеих стран, безусловно, необходимо. Отсутствие до сих пор мирного договора между Россией и Японией, безусловно, является анахронизмом прошлого.
Для решения этого вопроса требуется кропотливая работа по укреплению взаимного доверия, всестороннему развитию всего комплекса российско-японских отношений. В этом контексте вместе с господином Абэ поддержали инициативу налаживания совместной хозяйственной деятельности на южных Курилах. Рассчитываем, что такое сотрудничество будет способствовать созданию благоприятной атмосферы для продолжения переговоров по заключению мирного договора.
С учетом обращения Премьер-министра Японии дали поручения министерствам иностранных дел обсудить возможность упростить порядок посещения гражданами Японии могил своих родственников. И господин Премьер-министр вчера в беседе с глазу на глаз уделил этому много внимания, передал мне письма граждан Японии, которые стремятся к такому неформальному взаимодействию с российскими гражданами на этих островах.
Мы договорились о том, что максимально обеспечим свободный доступ даже в те районы, которые до сих пор были для них закрыты. И я со своей стороны предложил ввести режим свободного приграничного перемещения жителей Сахалинской области и Хоккайдо.
В заключение хочу еще раз поблагодарить японских коллег, лично господина Абэ за гостеприимство, плодотворную работу и деловой, конструктивный подход ко всем обсуждавшимся вопросам.
И хотел бы пригласить господина Премьер-министра посетить Россию в удобное для Вас время, имею в виду и Восточный экономический форум, и другие мероприятия, которые мы будем проводить в Российской Федерации.
Благодарю Вас за внимание.
Оригинал: http://www.kremlin.ru/events/president/transcripts/53474
---------------------------------------------------------------------------------
Up