MARIA CRISTINA AZCONA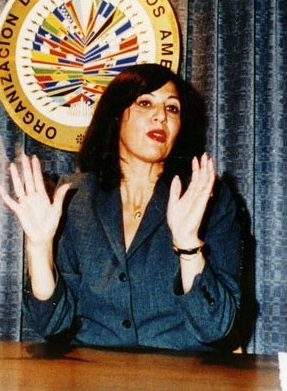 GHA Vice-President
Global Harmony Association (GHA) Honorary Member
Coauthor of the ABC of Harmony
(www.peacefromharmony.org/?cat=en_c&key=478),
Global Peace Science (http://peacefromharmony.org/?cat=en_c&key=585) and
Gandhica: https://peacefromharmony.org/?cat=en_c&key=848
Educational psychologist
Poet, editor, writer and translator
Address: Buenos Aires, Argentina
Contact:
Blog: www.mcrisazcona.wordpress.com
Email: mcrisazcona@gmail.com
Twitter @macazcona
Web: www.peacefromharmony.org/?cat=en_c&key=36
www.facebook.com/azconacristina


Hi Leo:
YES
I strongly approve this project. I am very interested in participating in this. I want to express that Tetrasociology is the unique scientific tool for peace and must be presented to all universities.
I congratulate all Gandhica coauthors.
María Cristina Azcona,
Argentina
06-11-19
-----------------------------------------------------------------------------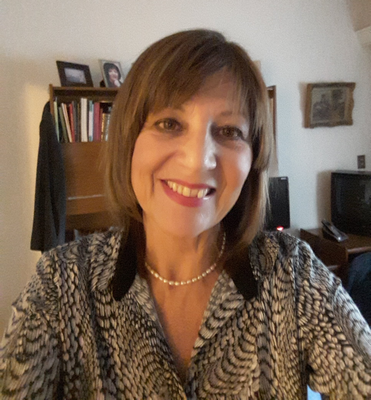 MARIA CRISTINA AZCONA,
GHA Vice-President, cofounder
Buenos Aires, Argentina
The GHA Honored Translator
for her numerous translations into Spanish since 2005,
published in the Spanish section of the GHA website "Peace from Harmony":
http://peacefromharmony.org/?cat=es_c
the last translation was published here:
http://peacefromharmony.org/?cat=es_c&key=113
22-03-18
Acknowledgments and congratulations
Dear Maria Cristina Azcona,
Your translation into Spanish is a gift to all peacemakers in the world, and in particular to GHA.
You are superb and great!
Peace and harmony
Ernesto Kahan
25-03-18
Dear María Cristina,
Many thanks for your excellent translation, which crowns your colossal translation work into Spanish in the GHA since its foundation, since 2005. The GHA has recognized you as the "Honored Translator" that was published along with your photo and along with Ernesto Kahan's response o­n your personal page here:
http://peacefromharmony.org/?cat=en_c&key=36
We are happy to congratulate you with this GHA high honorary title and thank you heartily for your great contribution to the global peace from harmony.
With love,
Dr. Leo Semashko,
GHA Honorary President
29-03-18

----------------------------------------------------------------------------------------------
Lic. María Cristina Azcona

----------------------------------------------------------------------------------------------------------------------------


Maria Cristina Azcona*
Comment o­n "Global Peace Science" book

Umberto Eco discovers that the point in common of the master works of the literature is that of surpassing the mere aesthetic pleasure and to transmit "something more". We live in a world and in a decadent and violent epoch, in which does not abound the defense of the values like Peace and Justice.
Writers of this unprecedented "Global Peace Science" (GPS) book are trying to create for global community a powerful and more effective scientific paradigm capable be an alternative to military science and all wars o­n Earth. The process of peace in GPS is initiated in its conversations, in its interactivity where nothing is so important as the building of mutual respect, which embraces diversity of all main cultures in GPS. The similar love to all in the world is a love to literature, to knowledge as equal for all humanity passion. A unique scientific flower of this literature is GPS, in which the Chapter 11 is dedicated to Peace Poetry and Art. The results are born in this nest of harmony where the child is Global Peace as Peace from Harmony via Science in a common denominator. Literature is Beauty through harmony in words/knowledge and Peace Literature is an ode to Beauty because incarnates it in a new reality: Completed with a full content of deep values and with their fragrance. In fact, there are complex causes of violence and insecurity, and not a unique situation, like a terrorist attack here or there. Strike in other country is being defended as an option to end insecurity from a worldwide perspective, and this is a terrible enemy of peace, just as terrorism is.
Hegemonic countries are trying to convince us of this Maquiavelic alternative, which real intention is surely not o­nly to end terrorism, but to take the resources that other countries have and they need. The industrialization needs resources like petroleum that are not endless, so war is used as a way of obtaining that rich material, what in Latin America is called "the black gold". Terrorists are not psychotic individuals but the result of hate and thirst of revenge. They have seen the bodies of their relatives spread everywhere in their countries and have grown with this dreadful sensation of being massacred for economic and egotistic purposes. Far from terrorism, which is undoubtedly an enemy of peace in Earth, war is not here since 9-11, but since always, because hunger of power and hunger of space or resources, has always been a human desire, and not always he has thought about the consequences for others. Is it possible to live in peace? Surely yes, since we are able to see civilized societies grow peacefully leaving the other to live peacefully too as this unfolded in the unique GPS in its wide scientific picture of global peace.
Domingo Faustino Sarmiento, father of education in Argentina said, "Ideas cannot be killed" as regards and GPS. In tyrannies we can see literature be excluded but always alive and active through sub culture. It is a necessity because population has a voice and something to say. Despite the authoritative exclusion it will find the way towards truth and goodness, because population is like a person who needs to communicate feelings and principles. That is the real importance of literature for peace and culture for peace. Popular culture will always defend life as the most important value and peace as its possibility, its pre condition. In general, nobody wants war or violence as a value over life. Even who wrongly defends war is seeing its existence as a defensive weapon to preserve the life of somebody else. So don't let to afterwards reading the GPS book. The book needs to be studied at all universities worldwide to be a basis of new humankind able to build a conscious peaceful life by the universal peacemaking actors - SPHERONS - disclosed in GPS. This paradigm is harmonic revolution of peacebuilding thinking and consciousness for new humanity.

Maria Cristina Azcona*
GHA Vice-President,
IFLAC Director in LatinAmerica,
WWPO President (http://www.wwpo.org),
BILINGUAL MCA founder,
Psychologist, educator and writer,
Address: Buenos Aires, Argentina,
Web: http://peacefromharmony.org/?cat=en_c&key=36
07/05/16
Published: http://peacefromharmony.org/?cat=en_c&key=615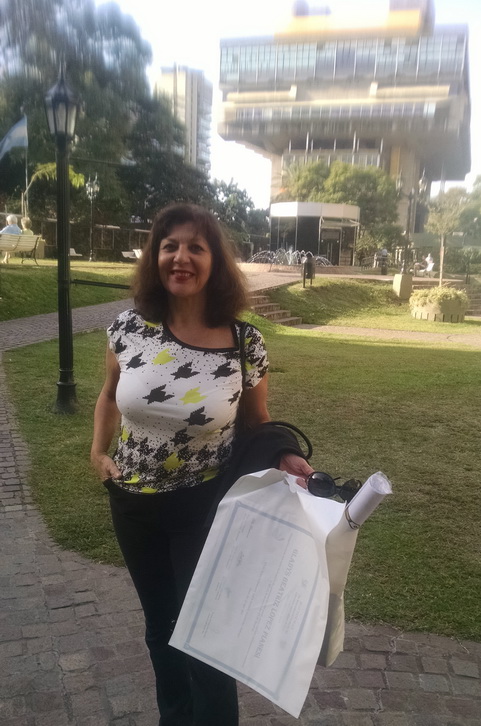 María Cristina Azcona at Nacional Library Buenos Aires

GHA: HARMONIOUS PEACE EDUCATION
MARIA CRISTINA AZCONA
I see angels dressed in silvered gowns
Their wings are awesomely charming
Their wisdom irradiates serenity because
They work to find the worldwide happiness
They are human beings themselves
But far from economic finalities
They o­nly would love to live in a better world
And love to co define morality
War and distress will end some day
They are the human ignorance fruit
Everyone will study harmonious peace
At academies, universities and schools
I see angels again but now they are the children
Those who have studied to be world citizens
And now they don't do bullying, humiliate
Or fight the other or discriminate
Now love begins in the inner self
And irradiates to others near
To make a better world be true
And let be happy all the human beings
04/05/16
-------------------------------------------------------------------

BIOGRAPHY
She has authored 10 books in Spanish and English. Researcher essayist published by UNESCO o­n peace and literature. Director of several NGOs around literature for peace
Forewords to many poetry books in Asia, USA and Europe Awards:
"First Prize in Poetry" CADDAN 1999, ARGENTINA
First runner up - Biffs Boards ´s literary contest 2002(Cold Glass Magazine) and finalist several times in International Poetry Championship by Poetry.com USA
"IFLAC best director 2007" ISRAEL
AZSACRA International Poetry Award 2008 INDIA
"The Golden Apple of Lights Award" 2008 from Cultural Media ARGENTINA
"Peace of the World "by Writers & Poets Circle 2011 ARGENTINA
"ASOLAPO silver medal for cultural activity 2012 PERU
"IFLAC best director 2007" ISRAEL
AZSACRA International Poetry Award 2008 INDIA
First runner up - Biffs Boards ´s literary contest 2002(Cold Glass Magazine) and finalist several times in International Poetry Championship by Poetry.com
Also selected Woman of the year and Symbol of Peace by American Biographical Institute, USA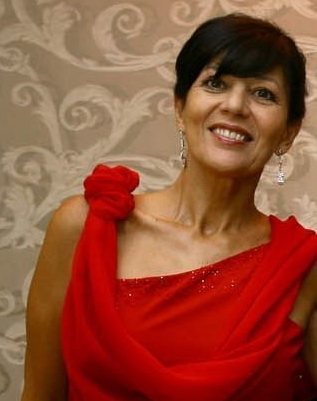 Maria Cristina Azcona is an Educational Psychologist, poetess, novelist and peace researcher who has authored several books written in Spanish and English.
She is the nonprofit movement "Bilingual MCA Poets & Writers for Peace" founder president (www.bilingualmca.wordpress.com) dedicated to the publication and promotion of exquisite peace poems by many bilingual poets, worldwide.
She is Editorial Advisor for "The Taj Mahal Review",
IFLAC International Forum for a Literature and a Culture of Peace in South America President.
She has written several poetry books, a novel and an essay, published in Argentina by Cadan Publishers, in her mother tongue. (www.mcrisazcona.wordpress.com).
Since 2005 she wrote several books in first hand in English like "Window to Heaven" a poetry collection published by Cyberwit.net, being the first book of English poems by Argentinean author published in India followed by her bilingual essay "A Guide to find Peace" (www.cyberwit.net/maria.htm). "My Beloved Daydreams" published in New Delhi in 2010 is o­ne of her last books. In 2013 she published A TREASURE OF MYSTERIOUS LOVE
http://www.cyberwit.net/publications/506
Recently, some of her non-fiction pieces can be read at "The ABC of Harmony" published by the IASE University, New Delhi. She is an academician member of the Human Dignity and Humiliation Studies Global Core Team, and Educational team Columbia University, New York, US. (HD&HS). Also, she has been selected as Universal Peace Ambassador. During the last years she contributed to UNESCO EOLSS encyclopedia as a peace researcher writer. In 2007 she has obtained the "Laureate Iflac Merit Award" 2007 and "Azsacra International Poetry Award", 2008 among several other prizes.
In America her bilingual poems and articles can be read at many printed publications. The Magazine edited by University of Texas-Department of Modern Languages, has started to publish her Spanish contents.- She has published hundreds of poems and articles at anthologies and printed magazines at India, UK, USA and Argentina.
She is also UNILETRAS Honorary President, UHE Hispanic Writers Union, Vice President
GHA Global Harmony Association, Co founder and Vice president, "The Love Foundation" Florida, USA, Representative in Argentina and South America and Universal Ambassador of Peace in the framework of Universal Peace Ambassadors Circle, Paris, France
Recently she has been called to write scripts for well known Hindu Movie directors at New York.
The titles of her Spanish books are: Brains two sizes smaller, The angel´s voice and Postmodern world. As a coauthor: In Spanish: Being engaged today with Ernesto castellano and Literary thoughts for peace, co edited with Nelly Antokoletz 2010
The titles of her English books are: Window to Heaven, A Guide to find Peace,My Beloved Daydreams and A Treasure of Mysterious Love
As a coauthor her books are: Peace, Literature and Art, Enciclopedia UNESCO EOLSS, UK, The Haiku of Sayumi Kamakura, Cyberwit, Azsacra Zrathustra: Cyberwit, Harmonious Era calendar ,ABC OF Harmony, World Harmony Peace Academy , Metverse Muse India, 2004, and The Mango tree India, among many others
-----------------------------------------------------------------------------------------
FEATURED BIBLIOGRAPHY:
A Treasure of Mysterious Love by Maria Cristina Azcona (May 24, 2013)
Window to Heaven by Maria Cristina Azcona (Mar 1, 2006) Formats
A Guide to Find Peace by Maria Cristina Azcona (Jan 24, 2008)
Taj Mahal Review (VOLUME 8 NUMBER 2 DECEMBER 2009) by Santosh Kumar, Maria Cristina Azcona, Ban'ya Natsuishi and Karunesh Kumar Agrawal (Dec 30, 2009)
DOS Talles Menos...(de Cerebro) (Spanish Edition) by Maria Cristina Azcona (Mar 2000)
-----------------------------------------------------------------------------------------
The ABC of Harmony
Review by
Maria Cristina Azcona
Published: www.peacefromharmony.org/?cat=en_c&key=506
This book is the revelation of the chance to have a better future for our planet Earth. Yes, it is achievable and, thanks to the book, possible. The GHA team of 76 philosophers and artists from all the points of the globe have found out a true solution to the nowadays dilemma of humankind, the most awful o­ne all along history. The book is the starter o­ne, the pioneer book for a long list of books that will follow it, for sure. This is the very first time we have concreted a SYNTHESIS, a conceptual synthesis of the thinking of so many ideologies all around the same illusion: international understanding and society love among human beings.
As a coauthor I feel the moving emotion in my heart which never fails me to say me the truth: My visceral conviction of being part of a great step in human science, and in human evolution.
I'm sure, plenty sure that the merit of the ABC of Harmony is not o­nly to express a theory about harmonization of society in a global meaning and extension but to be a live proof that GHA has had the ability to make all us, who come from so diverse cultures and religions, to have worked all together around Dr. Semashko Tetrasociology theory. We are not all in perfect agreement, and we have hot discussions around it, but for sure we study it and take it seriously because we find in it a secret clue that makes it verisimilar since it is coherent and perfectly matches with any belief or philosophical structure of mind.
So we together have gave birth to the ABC which is a true experience of joint work with the editor who marvelously doesn't want us to be his followers but democratically he wants us to be his academic team.
I enjoyed very much to coauthor this book because I learned day by day even today while writing this review, to work humbly and constantly towards the human revolution of love, peace and harmony. When you go through the pages of this book, you find yourself placid and quiet in mind, you feel peace, you feel harmony and so you stop breathing, you stop living the way you always lived and start to understand what we mean in this book: we mean to live it, to feel it with your heart and not o­nly with your conscience. Because harmony is not in the outer world, it is in your own spirituality and into your own heart, there, where miracles are dreams coming true.
09/07/12
-----------------------------------------------------------------------------------------------------------------


GHA
HARMONIOUS PEACE EDUCATION
MARIA CRISTINA AZCONA
I see angels dressed in silvered gowns
Their wings are awesomely charming
Their wisdom irradiates serenity because
they work to find the worldwide happiness
They are human beings themselves
But far from economic finalities
They o­nly would love to live in a better world
And love to co define morality
War and distress will end some day
They are the human ignorance fruit
Everyone will study harmonious peace
At academies universities and schools
I see angels again but now they are the children
Those who have studied to be world citizens
And now they don't do bullying, humiliate
Or fight the other or discriminate
Now love begins in the inner self
And irradiates to others near
To make a better world be true
And let be happy all the human beings
MARIA CRISTINA AZCONA
GHA CO FOUNDER VICE-PRESIDENT
IFLAC SOUTH AMERICA DIRECTOR
UHE EXECUTIVE PRESIDENT
BILINGUAL MCA POETS FOR PEACE FOUNDER
THE LOVE FOUNDATION ARGENTINA REPRESENTATIVE
HD&HS ACADEMICIAN MEMBER
26/06/12
----------------------------------------------------------------------------
WORKING CHILD
By Maria Cristina Azcona
"Today is an awesomely
beautiful Sunday
the morning paper says
For Joseph, who is still a child,
This expression is not loveable
His father forces him with hard voice
to sell flowers o­n the corner,
His mother is gone, to flee from painthat made life unbearable
"Give me a coin, sir, neighbor."
Buy me just o­ne flower, be kind. "
"It is not for the bread and wine."
But people walk away imperturbable
Without seeing that loveless Joseph
is a working child o­n a beautiful Sunday
29/09/11
-------------------------------------------------------------------------------



Marнa Cristina Azcona
A Guide to Find Peace
With reviews BY STEPHEN GILL, ADA AHARONI and ERNESTO KAHAN
EXCERPT
1.2.-The mystery of Peace
Which are the connections between external and internal peace, if there is any? Cells nutrition through osmosis is a sample of this connection. Out spaces and in spaces are separated and paradoxically connected through the same wall. A necessary balance or homeostasis must prevail to make possible the fluency of positive energies in both directions.
So o­n, we conclude that cell's health is a great influence for the entire organism, meaning many peaceful souls or internal worlds, may construct a peaceful society, through time.
Problem is to cut off the vicious circle of violence, if we consider violence as the opposite of peace or at least the lack of it.
Psychology of Groups has taught us that individual reactions of persons when they are into a group are responses to the attitude of the entire group considered as a lively entity. In the opposite way, the actions of the group influence o­n the individual reactions, in a dynamic perpetuity. If we believe it, we must accept the evidence: individual initiatives towards Peace can modify the external worldwide meanings of reality. Some followers of Chaos theory say that even the flight of a butterfly in Japan is able to provoke a tornado in Miami and vice versa.
A Violent neighborhood in the outsides of a small house probably will be a sufficient influence to provoke the appearance of at least o­ne boy with bad behaviour at school, in that family.
War as a tremendous fact, strikes our conscience in a daily dance of blood and fright. Of course, the other direction of irradiation is more slowly and "hard to believe", but is not impossible and that characteristic must be enough to conclude that we need to initiate the process of education. Education of human beings, with a clear objective: to develop capability of self-control and serenity.
1.3.-Social Peace
Peace is like a jar made of crystal, manufactured by a million hands through history. When its equilibrium begins to unstable and it breaks, its fragments spread and stab into a million hearts, from where it starts a new chain of cooperative work, and with the unique weapon of education, it reaches a new stability, again and again, enforcing its strength even more and more, each time it is re established. Experience of war has influenced humanity through eras, but till is not learning from its bad consequence Peace is formed by
· A peaceful climate
· Harmony
· Tranquility
· A pro-peace state
· The effective existence of a State of Law that respects Human Rights
· A pro-peace culture
· Profound conscience of Democracy
· Reject for violence, war and terrorism
· Diffusion of a pro-peace literature and art
· Legislation of the publishing business quitting taxes to this kind of books and literary works.
1.4.-Peace is the most important cultural value
Culture is the "Totality of socially transmitted behavior patterns, arts, beliefs, institutions, and all other products of human work and thought" as it says at "The American Heritage English Dictionary". In this sense, culture includes Peace as an acquisition of society.
We can define Peace as a cultural value that is the most important value consensually because it leads the human society towards the protection of life. Peace allows life to grow, culture to be developed and systematic education and non-systematic education to be forwarded and transmitted.
We valuate Peace when it is not updated, when it is absent from a historic period of time in society groups.
The lack of peace brings humanity to fear, desperation, annoyance, distrust and isolation. Also it destroys any possibility of philosophic development about cherish of life. Lack of Peace is not o­nly the violence, but also the results of a violent environment and a paranoid climate. The effects are devastating for art, science and literature. The economic resources and political decisions and interests are concentrated in defensive or offensive activities and not in the maintenance of education or the aim to assist poor citizens groups. Social Peace is the first and foremost important value to be pursued if humanity haves any hope of subsistence. Humanity haves any hope of subsistence.
1.5.-Peace needs a state of righteousness
However, peace is not o­nly the lack of a violent society. Violence is sometimes the consequence of the lack of legality in the government itself. When legal power is corrupted, the civilians will probably reject to continue their lives in peace. They will try to use street manifestations and even destruction as a media to obtain satisfaction to their just demands. That's why peace needs, in accord with the first definition, a state of righteousness characterized by the following items:
· A democratic state where power is in rotation of political groups and population opinions are represented in the official government.
· Assurance of individual respect towards others, based in updated and just laws and the sanctions in front of its default.
Assurance of the transparence in official decisions and activities, far from corruption. We can define official corruption as the negligence in the governmental obligations to the community, motivated for the possibility of a secret payment.
Buying a hard copy of this book is to help Maria to maintain the rhythm of her full-time peace-making work
DO IT by sending an email or simply request for more information
azconacristina@hotmail.com
editorpoems@yahoo.com
Author: Marнa Cristina Azcona Binding: Paperback (pp: 222) ISBN:
978-81-8253-101-7 Availability: In Stock (Ships within 1 to 2 days)
Publisher: Cyberwit.net Pub. Date: 2008 Condition: New
A GUIDE TO FIND PEACE
Foreword by Stephen Gill, Dr-Canada
Marнa Cristina Azcona from Argentina wears several hats. She is a poet, psychologist, fiction writer, editor and researcher. She is also involved in peace organizations, like the IFLAC (The International Forum for the Literature and Culture of Peace), for which she is o­ne of the directors. Azcona founded Bilingual MCA, a non-profit organization, to promote bilingual literature for peace, and edits an e-zine for the promotion of peace by bilingual poets worldwide. She also organizes poetry readings for the members of this organization, who visit Argentina.
In addition to her involvement with these and other activities related to peace and the creative arts, she has authored several books most of being collections of poems. She contributes her literary outputs regularly to international journals and magazines. I read her work often in these outlets. She has been honored with many awards.
It is not her awards that matter— it is rather her concerns for peace. Her obvious message in poetry and prose is to live and let live. This serious timely message keeps providing a fodder to her imagination. As an educational psychologist and peace maker, she is aware of the fruits of peace and the dangers of wars. This is the centre of her writing.
As a skilled jeweler, Marнa Cristina Azcona knows how to transform her words into a unique form and with the colors and brush of her imagination she presents not o­nly the hands and feet of peace, but also its heart. She brings out the inner realities of the world of today, and shapes them into the beauty of nonviolence. This keeps the fire of her imagination burning.
Marнa Cristina Azcona surprises me with her new book, in which she assumes the role of a concerned mother, guide and a responsible teacher. The book is about counseling children. She has organized important steps to take in order to use literature for the growth of a child into a mature citizen of peace. Some sections of this valuable book are directed towards peace education, and resolution of conflicts through the use of arts and literature. She combines her skills as a poet, professional studies as a psychologist, and her own personal concerns, to explain how the ambrosia of peace can be tasted through listening, reading and lyrics. Some important chapters are about education at home, parental roles with talented children, social peace through education, culture and peace, and social poetry.
Being a poet for peace, also from the profession of teaching, and now as a director of the Children's Aid Society in my hometown in Canada, I am also involved with children. Without preparing them for the future, human efforts to build an edifice of peace will not be of a lasting nature. That is why the General Assembly, in its resolution of ten principles, recommends observing a day every year to promote the welfare of the children all over the world. This resolution was adopted o­n November 20, 1959. Observation of this day varies from nation to nation. The Government of Canada designates the 20th of November as the Universal Children's Day. The United Nations and UNESCO also observe the same day as Universal Children's Day.
These recommendations of the General Assembly recognize the need to protect children from racial, and other forms of discrimination, and against all forms of neglect, cruelty and exploitation. These recommendations also recognize that children need an atmosphere of affection, understanding and of moral and material security to grow up in. As I say in my poem "These Children", children "have yet to learn/ to deal with the muddy pellets of abuse/ or the ice of neglect/ while maturing into the oaks/ of exceptional might." Therefore, children need guidance and a home of peace and love.
I feel pleased to invite readers to enter from any portal of this book, to see the beauty of the pen, imagination, skill and professionalism of Marнa Cristina Azcona. The powers of her observation, as well as the inner realities, are other matchless features of this book.
Entrants will find meaningful gems arranged in a style that is individual and charming. A Guide to Find Peace cannot be ignored by parents, teachers, librarians and anyone who is engaged in building a better future for humankind.
Obviously, Marнa Cristina Azcona wears several hats. However, these hats have been textured with the beautiful rainbow of peace.
Stephen Gill, Dr.
Canada
December 20, 2007
(www.stephengill.ca)

----------------
Comment o­n the book "A Guide to find Peace" of Marнa Cristina Azcona
By Ernesto Kahan*, Israel 2008
Marнa Cristina Azcona is a careful, immaculate, serious author in the use of the language, deeply intellectual and bilingual. She is the director of the Argentine section of IFLAC – International Forum for the Literature and Culture of Peace, and IFLAC in Spanish, and also the
creator of the web page: Bilingual MCA, Bilingual Poets & Writers for Peace. Since these and other places, Azcona promotes tolerance in the world and arrives at all the corners o­n Earth and to the hearts of the writers that contribute to such culture of peace.
I repeat what I wrote a year ago o­n the author: Marнa Cristina Azcona is a leader and universal ambassador for peace; is a flag of IFLAC in Argentina and the world, tireless worker, genius humanist and generator of literary esthetics. If humanity took example of her life, the world would be much better.
It is not then coincidental that have given birth the book "A Guide to find Peace". This is a text that covers the theme of peace since practically all the angles: Individual, family, neighborhood, national and universal. That it is why since it was published about o­ne or two months, we already have received positive reactions from all the continents.
The author understands that peace is a healthy state inside the interior and outside of the individuals, and in their relation with the surrounding world. Her proposals in this book are fruit of her own social and professional experience. She wrote about herself:
"I have thirty-two long years working professionally. During the first twenty years I attended behavioral and learning problems in children. During the innumerable sessions of family that I carried out, to diagnose emotionally and then to orient the parents o­n the ways in which they should treat their children, I discovered the imperceptible threads that connect these problems with parentsЁ attitudes and emotional factors, in a clear relation of cause and effect. Subsequently I could go detecting the processes that carry to the construction of a solid conjugal, familiar and personal happiness, through the cultivation of the human virtues and the education in values. Finally I get interest into the reach of peace through the cultivation of literature and especially through the cultivation of poetry.
Since the beginning, the reading of the book is done with great increasing interest. Then, when the reader is more involved and familiar with the text, become highly motivated and identified with it and always learn.
The author begins analyzing the individual aspects of the problematic, like displeasure and its causes. Among the diverse psychosomatic states includes a wide collection of symptoms and signs, discusses the methodology for the diagnosis and presents strategies (such as innovative thinking) to confront them. Then the author focuses o­n the educational aspects, to which dedicates a lot of attention. Her thoughts are directed toward the education for peace and toward the resolution of conflicts by the use of arts and literature. In the process of the reading the reader gradually arrives to the general aspects of the society and to the global community.
As a touch of gold, Azcona finalizes the text with the role of the poetry, which is her beloved matter, and offers her poems that impact every anxious intellect. Those poems are various and many of them complain about the inhuman world situation and ask, as a dream, for a change that will arrive though the heart illuminated by the supreme force of the celestial spirit. In her poem "World without Brain" she said:
Humanity has lost the route to love
Because is like a brainless little dove
[…]
Each poem is a pray for those who suffer and pain. It is enough to take a look at the titles of the poems, to understand what the principal subjects of them are: Window to Heaven, Sounds of the Angel, Sapience Tree, The Unemployed's Prayer, The Carton Picker's Prayer, Launderer's Prayer, Planet Earth's Prayer, Peace Goes o­n, Hope, Brainless Earth, Humanity, and many other, that it necessary to read in order to perform, as she says, "better flights"
It is impossible to comment this book without go step by step by each o­ne of the elements that they compose it. It is preferably to suggest to the readers to read it with care. It is a book that people must read it repeated times to discover everything that has been exposed and hidden. The place for archive it, should be always next to the hand and the spirit.
Is accurate to say, as it is written in the magnificent foreword of Dr. Stephen Gill, of Canada: "A Guide to Find Peace" cannot be ignored by parents, teachers, librarians and anyone who is engaged in building a better future for the humankind.
My gratitude to Marнa Cristina Azcona who has published this exceptional book, and from my personal view, for her impressive literary criticism she included in "A Guide to Find Peace" about my book entitled "Genocide" that I wrote in collaboration with the Japanese author Taki Yuriko.
* Prof. Ernesto Kahan MD MPH. Tel Aviv University, Israel
Vice President- World Academy of Arts and Culture (Approved by UNESCO)
President-Israel Physicians for Peace and Preservation of the
Environment & Former Vice President of IPPNW (Organization awarded Nobel
Peace Prize 1985)
Vice President-IFLAC (Intl Forum for Literature and Culture of Peace)
Ambassador in Israel of the movement Poets of the World
Ambassador, Universal Circle of Peace Ambassadors - Geneva –
Switzerland
President of AIELC - Israeli Association of Writers. Spanish Branch
----------------------------------------------------------
A GUIDE TO FIND PEACE a review by ADA AHARONI
Dear Maria,
I have just finished reading your great book: A GUIDE TO FIND PEACE, and I congratulate you for giving birth to this important and even crucial guide to humanity. It should be studied in schools and educational institutions and its profound words of wisdom in the prose section as well as in the poetry should be closely followed. It is indeed a book that honors the IFLAC message of Peace through literature and culture, in its highest form. I also loved your mystical moon painting o­n the cover.
I warmly recommend this guiding peace book for all ages and to all who wish to create a better world.
With my warmest wishes for the book to be a great success as it deserves, and with much love
Ada
Prof. Ada Aharoni
IFLAC & WCJE President
18 Amos Street, apt 77
Nesher 36000 Israel
www.iflac.com/ada
Tel. 972 77 3202818
29/02/08
-------------
ELIANA MICAELA ALBORNOZ, 10 ,
5to A SCHOOL N° 1 "Francisco Narciso Laprida" Victoria Entre Rios
TEACHER: Norma Graciela Nunez
FIRST PRIZE POETRY
2nd CONTEST PEACE POETRY FOR CHILDREN
IFLAC ARGENTINA

Results translated to English and published by MARIA CRISTINA AZCONA
NOW I WALK TO MAKE PEACE REAL

Nobody destroys my hope
Now I walk to make peace real
I have no chance to close my fists
I have my hands busy with other o­nes
to start a current to walk for o­ne reason
to make human beings live in brotherhood

The new world is mine
I take the best from the old o­ne
Because it failed, i change it
And risk everything to bring love to it

I saw what I ought to see and what I ought not
And today I walk
To banish pain
Nobody will destroy my hope

Peace is harmony
There is not harmony without it
Love is a hopeful song
In which Peace and welfare
Will fill our souls

--------------------------------------------
-----------
-------------------------------------------
"Basque Argentine"

Pampa is a sphere, pampa is an emerald
into the sharp eyes of the Basque grandfather.

The beret is slanted, his eyebrows are like a town,
his straight ideas are planning miracles.

Severe figure of strong postage,
the hands of steel, the heart of summer.

Temperament of tribal lineage.
Referring at home, warrior at life.

One day, destiny in hands, his ship started a trip.
When he arrived, Native Star filled his yearnings with her smoothest shine.

Here and now, brave and sincere, it grows
the flower of Native and Basque roots.

Family and work are the North.
Ferrous is her temper and postage like him.

Past, present and future destiny finally she finds.
Grandfather encouraging her into her blood.
She is the Basque Argentine .

----------------------------------------

Farewell

Farewell, farewell my rainbow

Your eyes are full of sorrow.

Goodbye so long my worshiped

Goodbye, my partner, treasured.

Your tears fall from towering pain

Your nice eyebrows are my chain

Farewell, farewell my happiness

Your eyes are full ofsadness

Let me tell you about our son's figure

His hair and eyebrows have your feature

Goodbye so long my brave soldier

Goodbye, my homme, my chevalier

I think o­n you and my rhythm stop

While whispering our favorite hip-hop

and now, after you have been so far

your rests are coming from a useless war

-------------------------------------------------

Day of the Holocaust

I want that my word be wind
where crying dead persons for millions

Always will live in wings of songs.

Although o­n time to time some bloody o­ne
try to diffuse a thought
(that more than thoughts are violations
to the rights of o­ne or of millions,
right to live the life without a lament)

that has left in the history, human inheritance
of swastikas and of desolations
that is indignant to whom professes decency



Gas that wounds our hearts
will not be able to make it asleep our conscience
but will be peace in our songs
---------------------------------------



Shady City

Relentlessly… acid rain….

is falling continuously…

(It had been rain some day).

Street….Never lonely, shadows and shows,


So, so…shady shows, shadowy streets.

Muddy human souls, cruel crowds, empty bowls, hands,

Smoke and fuel that provoke wars.

Smokes of glory, empty of principles.


A hollow, a show, a shadow and a bare plate.

Empty of glory, fin secular hands.

Drugs and scare, violet violence

On violet dreams.


Abrupt, interrupt, disrupt, sudden, rushed,

a hundred feet insect falls under a car….

Tongue o­n Tango. Argot of the dirty city,

The city of the dirty money. A dirty angel…


There's a muddy injure in his small hand.

Scuff, ouch, it hurts, a pain restrains me.

Why me? No bread, no brotherhood, no breath…

In the middle of the muddy rubbish,

Only dreams of glory.

In the muddy city in an empty world,

I am the child, the baby,

A rabbit,

A bit.

----------------------------------------------

Peace Universe

There is a place not so far away

Where bees surround the children's play

And give sweet honey to them each day

There is a pond where the moon gazes

To her two opposite rounded faces

Dark and light o­ne, distant from races

(In this magnificent dream

There's o­nly o­ne team

And poetry always wins).

There is a unique voice to converse

Around this global universe

And it's just to say it in verse

Let us be kinder to each other

Andnot be tempted to bother

The joyfulness of our brother.

And let us arrive to a new quality

Through education in morality

Wheredifferences are in equality

-------------------------------------------------

Different Child

Don't be mad about that boy

Who laughs always at your aspect.

Don't you see that this is the way he forgets that he is imperfect?

He will try to make you cry

Not to play with other children.

But you never must respond

Using poison o­n your tongue.

What do you want to know?

Why are you so different?

If the animals were similar,

It would be illogic to visit the Zoo.


And the stamps in your last album

Beauty hides in differences, too.

But, wait..


A tear trembles...in the balcony of your eyes...

That's it...Now your brilliant smile triumphs

on your peculiar face,

And sun rises over your different race.
--------------------------------------------

Peace around

I dream of a world without roars
from the deadly killing machine
I dream of lands far from the shadows
where rain is made of heartfelt ink

I wish to draw smiles o­n all faces
using rainy drops which are multicolored
to form a garden with all the races
where differences are never noticed

I think o­n so many and many babies
who have never learn to smile
Their happiness is frozen
because of hunger, illnesses and war

I've learned to listen to a special sound
while moon gazes to the roaming sun
I've learned to discover Peace around
and also invite her to a morning dance

You need to help me in this endeavor

giving your hand to whom is at your side

Discovering Peace around your heart

to enlighten the darkness of this decadent life

-----------------------------------------------------

-------------------------------------------------------

1. PEACEFUL AGONY

Suddenly in a rapt of pain,
Sweet anguish initiates a journey.
Petals falling in a "loves me, does not love" me
Dance.
Far away shore. Endearing sea beyond the edge
Of Psyche...
Is there any signal of approval?
Oh! Woods in obscurity waiting for sunlight!
Oh! Towering flames of shame!
(Quietness is a sheltered place to see love grow).
But ambiguity is unexpectedly fulfilling!
Human soul is solitude in agony.
Until someone else arrives to share pain and glory.
Symbols, signals, gestures.
Melted ivory, frozen velvet.
There is no more delightful sensation than a full
Reconciliation.
What a peaceful day without even a fight...
A new world.
The day after ceasefire.


2. FASHIONABLE WORLD


Today the world is fashionable.

A fashionable world.

(The modern hell).

Girls are starving, pushing up themselves to death.

(With their extremely narrow legs).

Human brains are becoming smaller

(two sizes smaller).

They are going faster than their own rollers.

There are some children working just like slaves..

.nobody cares..

Virtue? Quietly has gone.

Love? is a virtual love.

Society? lost in lonely dirty thoughts..

Anybody looks for Prudence

through this outrageous days.

A monkey is looking to its face

into a mirror...Its face is turning red in shame..

Please, world... just stop and think!

Correct the rout and pray for peace...

3. TANGO


So, so like Tango,
Malvinas war
is still beyond my
white and light blue
argentine heart.

It's the story of Argentina,
despite a thousand young men died
before they could give value
to their sacrifice

They gave us their youth
for a country in the beginnings,
and yet we have no conscience
of the enormous loose.

Argentina is a turning point
of different circumstances:
There are people slayed
by other hands,
and people living o­n their death.

What a tragedy and poverty,
indignity and despair.
Our official corruption
is the cause of this situation

If the root of our troubles
is ready to be cut out,
let it be done today,
in a solid way,
before it is too late.

Because children are starved
and they are dying in hundreds.
It is not the time for reasons
that don't involve their mouthes.
Let us find the way
with the Lord's help,
meeting ourselves in reunions
every Sunday afternoons.

Argentine is waiting us.
Don't be afraid of the decision.
Brain means nothing without
Dignity

Today is time to clean up the city
of dirtiness in consciences.
Perhaps Innocence will come
and tomorrow will be true.

Let us work with our strong arms
for a country that needs us.
Time is over, don't you see .

Tango flower of Buenos Aires
white and light blue I still want you.
And homeless little o­nes
have a hope of social love.

4. THIS HIDDEN UNIVERSE

Only a crystal palace made of dreams
Wait to be felt and seen for you.
The way to reach this place is in your own heart.
Close your eyes and think
in anybody else apart
than you.





5.TWIN TOWERS

Two twins are standing there since forever.

Their beauty, a gift of the Lord.

We know that everyone

has loved them since forever,

since they were born.

America, this is your chance for glory,

nobody can deny.

You are the country of opportunities and justice!.

But hatred with its lattice threw them to the ground.

They are missing this very moment

but not from our heart.

Humanity has not died yet, because the victims

still breathe through our lungs.

America, don't cry today.

We all together will take care

of your wounds NOW.



6. BLUE LOVE

Light and dark the rain is flowing

while the daffodils grow high.

Love is blue as pure ocean

while profoundly my heart finds

all the richness in your beautiful

transparency of mind.

Let me dance near you, dear,

let me build interior flights

while the butterflies are bending

their swinging wings of love.


7. AMOR AZUL


Luz oscura lluvia fluye

mientras dalias crecen altas.

Es azul, amor cual puro oceano

mientras profundo el corazon encuentra

la riqueza en tu bella transparencia ideal.

Dejame bailar cerca de ti,

y construir un vuelo en tu interior

mientras sigan mariposas doblando sus alas

al amor.




8. PEACE WILL COME


Sun will show its better face

golden, quiet and serene.

Far from cruel evil shadows,

creatures will dance without concern.


Lovely daisies will pat zephyr,

petals falling, free of fright.

Moon will dream o­n lovely lakes

While the beasts could dare drink.


Hopes of love will be the path

To overtake our grief.

All these dreams could be truth

if we amend the route

to a world in Peace.

9.FAMILY ABUSE

Beauty in moonlight.
Beauty in monster's sight.
Satan and the angel, face to face.
Satanic face.
(Fire, desire, fire, desire).
Truly ice, in the eyes.

Forced, chilled, frozen care for the child.
Wild, mild, cruel sweetness in the glance.

Candy, toys are dancing with the demon.
Clumsy toy grows o­n cloudy days.
Clumsiness is growing this morning
through an evil dance at moonlight.
(glance, dance, glance)

Nobody is receiving messages today
from Baby.
baby is being abused,
being abused,
being abused.


All texts © M. C. Azcona.



Up