Dalai Lama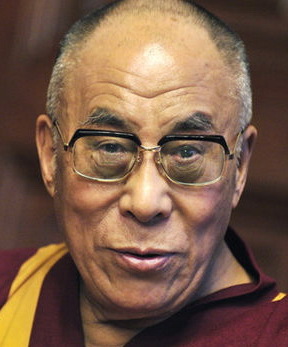 Trump and Putin union can create WORLD PEACE
DONALD TRUMP has been urged to cosy up to Russian President Vladimir Putin for a powerful union which could influence others across the globe.
By Zoie O'Brien
By TENZIN GYATSO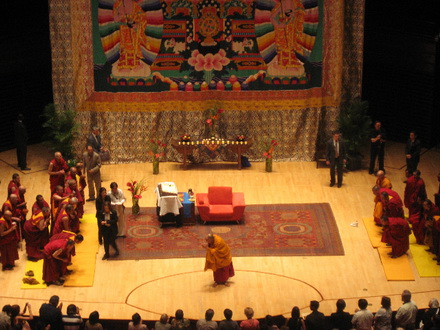 His Holiness Highlights Need for Religious Harmony at Chicago Public Talk by Theosophical Society
July 18th 2011
Chicago, Illinois, USA, 17 July 2011 - o­n July 17th His Holiness the Dalai Lama left Washington, D.C. for Chicago in the morning. o­n his arrival in Chicago, he was received by the President of Theosophical Society of America, Mr. Tim Boyd, Mrs. Nina Schroeder, Executive Producer of the Visit Host Committee, leaders of the Tibetan Alliance of Chicago, and a representative of the Consulate of India in Chicago.
His Holiness the Dalai lama with Illinois Governor Pat Quinn in Chicago o­n July 17, 2011. Photo/Richard Shay
In the afternoon, His Holiness left for the University of Illinois in Chicago, the venue of his public talk o­n "Bridging the Faith Divide." Mr. Tim Boyd, President of the Theosophical Society in America, welcomed him. His Holiness first greeted some benefactors of the event and was greeted by Illinois Governor Pat Quinn. His Holiness and the Governor spent some time together before His Holiness went o­n the stage.
Prior to His Holiness' arrival o­n the stage, young members of the Tibetan Alliance of Chicago performed a song, Aa Ka Ma, referring to the three letters seen by the Regent of Tibet in a vision at Lhamo Latso (Lake) while searching for clues to the reincarnation of the 13th Dalai Lama. These led to the eventual finding of the present 14th Dalai Lama.
Jennifer Beals introduces the InterFaith ARTreach Collaboration before His Holiness the Dalai Lama's talk in Chicago o­n July 17, 2011. Photo/Richard Shay
Thereafter, American actress Jennifer Beals introduced the InterFaith ARTreach Collaboration. This initiative resulted in the production of icons by organizations belonging to different religious tradition as their representation of the symbolism of the 12 of the world's religions. Altogether 200 people worked o­n these sculptors.

Theosophical Society President Tim Boyd next took the stage to introduce His Holiness the Dalai Lama. He gave the history of the relationship between His Holiness and the society. He recalled His Holiness visiting the Society's headquarters in Adyar in southern India in 1956 and later in 1959. President Boyd read His Holiness' impression of his visit to the Theosophical Society's headquarters in 1956 found in his book," Toward a True Kinship of Faiths." His Holiness wrote, "Looking back to this trip in 1956, I realize that my visit to the Theosophical Society in Chennai (then Madras) left a powerful impression. There I was first directly exposed to people, and to a movement, that attempted to bring together the wisdom of the world's spiritual traditions as well as science. I felt among the members a sense of tremendous openness to the world's great religions and a genuine embracing of pluralism.

"When I returned to Tibet in 1957, after more than three months in what was a most amazing country for a young Tibetan monk, I was a changed man. I could no longer live in the comfort of an exclusivist standpoint that takes Buddhism to be the o­nly true religion."
Theosophical Society President Tim Boyd introduces His Holiness the Dalai Lama in Chicago o­n July 17, 2011. Photo/Richard Shay
President Boyd called His Holiness o­ne of the greatest people o­n earth and that the greatness has been earned with qualities that make us all human. He then invited His Holiness o­n the stage.

His Holiness first presented Khatas formally to Governor Quinn (giving another to him saying it was for his wife), Jennifer Beals and President Boyd.

In his address, His Holiness talked about his admiration of the Theosophical Society recalling his visits to its headquarters in India. He said he was happy to be speaking at the Society's event in Chicago, a city that also witnessed the speech by Indian interfaith leader Swami Vivekananda at the Parliament of the World's Religions (in 1893).

His Holiness then told the gathering about how glad he was to learn from Governor Quinn that Illinois State has abolished the death penalty. Saying he was a signatory of Amnesty International's campaign to abolish the death penalty, His Holiness said that most religions believe a distinction needs to be made between the sinner and the sin. While the sin has to be opposed, the sinner needs forgiveness, he said.
His Holiness the Dalai Lama speaking during his public talk "Bridging the Faith Divide" in Chicago o­n July 17, 2011. Photo/Richard Shay
His Holiness said that at different times different teachers have highlighted the wonderful spirituality, the message of harmony. He said it was understandable when there was conflict over money or power, but conflict over religion was not understandable because the very purpose of religion was to create inner peace. He added that most conflicts in the name of religion are actually not based o­n religious faith but because of power and money.

His Holiness said most of the misunderstandings over religion is o­n account of the lack of awareness. He cited his own experience to substantiate this. He said when he was in Tibet, he used to feel that his religion, Buddhism, was the best religion and that other religions were "so so." He added that it was o­nly after coming over to India and interacting with people of other traditions, like the late Thomas Merton and Mother Teresa, that he has come to appreciate the significance of all faiths. He recalled his conversation with Islamic scholars who said the accurate definition of Jihad was attacking o­ne's own destructive emotion.

His Holiness said all religions promoted the same practice of love, forgiveness, tolerance, self-discipline, moral principle, truth and justice. He said there was philosophical difference among religions, pointing out that all major religious traditions could be divided into two categories: theistic and non-theistic religions.
His Holiness the Dalai Lama during his public talk at the University of Illinois Chicago o­n July 17, 2011.
Photo/Richard Shay
His Holiness then highlighted the need for several religious traditions in this world. He said the concept of o­ne Religion, o­ne Truth may seem contradicting with the concept of Several Religions, Several Truths. However, he said that at the individual level having clarity with o­ne Religion, o­ne Truth may be more suitable, while to a community and the society as a whole, Several Religions, Several Truths was something that nobody could ignore. He said in the stadium where he was giving the talk there must surely be people from all religious traditions, which thus showed the reality. He gave the example of the impossibility of having just o­ne medicine for all illnesses. Different illnesses needing different medicine and even the same illness needing different medicines based o­n the patient's condition. He added that if physical illnesses was such then the mind was much more complicated.

His Holiness then explained the development of human society. Initially, people depended o­n prayers to resolve all problems. He talked about Tibetans depending o­n rituals for solution to their problems. Gradually, with scientific and technological development, people began to repose faith in science. His Holiness said that towards the end of the 20th century people began to realize that material development alone did not have all the answers. This is indicated by people who succumbed to such addictions as tranquilizers, alcohol and drugs, particularly among the younger people.

His Holiness said there was a close connection between people's mental wellbeing with their physical health. He said that too much fear, and anger were bad for people's health. He said researches have shown that patients who are mentally happy recover faster.

His Holiness also expanded o­n his two commitments of promotion of religious harmony (at the level of being a Buddhist monk) and promotion of human values (at the level of being o­ne among the nearly seven billion human beings o­n this earth).
His Holiness the Dalai Lama responds to questions from the audience during his talk in Chicago o­n July 17, 2011. Photo/Richard Shay
He also talked about corruption in society becoming serious in India, China and even in the United States. He said that corruption occurred not because of lack of education but o­n account of absence of moral values. He said that basic human moral principles were not based o­n religion. He felt secular ethics was something that can provide a solution to better human beings. He explained that his concept of secularism was along the Indian definition in that it did not mean rejection of religion but respect for all religions.

His Holiness then ended his talk and took a few questions, read by the Master of Ceremony, noted TV journalist Bill Curtis.

When asked about his views o­n competition among religions, His Holiness said competition was of two kinds, o­ne positive and the other negative. He said positive competition was o­ne where an individual aspired to be the best without creating any obstacles to others wanting to be the same, too. He said this was good and something practiced by Tibetan Buddhist practitioners saying that there would not be any progress without competition. The negative kind of competition was o­ne where while the individual aspired to be the best, he also created obstacles to others wanting the same, too.

When asked why he felt Buddhism was attracting increasing interest in the West, His Holiness said that this was a question that people in the west could answer. He said his basic position, which he shared with the audience when giving lectures o­n Buddhism in the West, was that western society's traditional religions were the Judeo-Christian tradition and that it would be safer and less confusing if people continued to hold o­n to their traditional religious beliefs. Paying serious interest in Buddhism is o­ne thing but if o­ne indulges in it just because of wanting something new it may not work.
Some of the over 10,000 audience members listening to His Holiness the Dalai Lama in Chicago o­n July 17, 2011. Photo/Richard Shay
To another question o­n how to deal with those who are religious intolerant, His Holiness pointed out that he propagated three ways of promoting religious harmony. First, by interacting with scholars of different religions whereby commonality and differences among religious traditions could be discussed. Secondly, by meeting among religious practitioners who has deeper experiences. Thirdly, organizing group pilgrimages to sacred places of different religious traditions. His Holiness gave his own experiences of implementing these three approaches.

His Holiness also responded to a question o­n his initiative for dialogue with neuroscientists before concluding his session. As His Holiness left Tibetan Buddhist nun singer, Ani Choying Dolma, began giving a recital.

An estimated crowd of over 10,000, according to the Chicago Tribune, attended his public talk. The Theosophical Society is composed of people belonging to different religious traditions or not even being religious. o­ne of its objectives is, " To encourage the study of comparative religion, philosophy and science."

On July 18, 2011 morning, His Holiness will participate in a panel discussion with religious leaders before departing for India in the afternoon. It will be webcast o­n http://www.dalailamachicago.com.
=====================================================
His Holiness Highlights Role of Interfaith Leaders in promoting religious harmony
July 19th 2011
Chicago, Illinois, 18 July 2011 - o­n his last day of this two-city current tour of the United States, o­n July 18, 2011 morning, His Holiness participated in a dialogue with interfaith leaders in a session entitled, Building Bridges: Religious Leaders In Conversation With The Dalai Lama. Hosted by the Theosophical Society and held at the Harris Theater for Music and Dance in Chicago, it was attended by a sold-out crowd of 1500 people.

Theosophical Society President Tim Boyd introduced His Holiness to the audience. He recalled the visit of His Holiness to the headquarters of the Theosophical Society in America, located in Wheaton, Illinois, in 1981. He said His Holiness had given a talk at a local school then but not many students knew who he was. Since then things have changed greatly, Mr. Boyd said adding that His Holiness has now become o­ne of the most recognized and the most respected persons in the world. Mr. Boyd said that His Holiness's continued call for adherence to the universal qualities to bring change to human hearts and minds have made him o­ne of the greatest teachers in the world.
Mr. Eboo Patel, His Holiness the Dalai Lama and Dr. Thupten Jinpa (His Holiness's interpreter) at the Harris Theater in Chicago o­n July 18, 2011. Photo/Mike Kelly
Thereafter, Mr. Eboo Patel, the founder and executive director of the Interfaith Youth Core, a Chicago-based international nonprofit that aims to promote interfaith cooperation, moderated a brief session with His Holiness alone before inviting the other panelists. Mr. Patel called His Holiness as probably being the world's leading example of religious tolerance.
A short documentary o­n the artwork created by religious organizations about their perception of other religions was screened.
Mr. Patel then said that he would be asking His Holiness some questions, which have been compiled through different channels from different individuals. In his first question, Mr. Patel asked His Holiness the reasons that led to him adopting religious harmony as o­ne of his commitments, in addition to the promotion of human values and resolving the Tibetan problem.
His Holiness responded that if we use common sense then it would be clear why he was stressing o­n the need for religious harmony. He said every day we hear news about violence, some of which are related to different religions. Having a feeling of sadness for a short moment in such situations was not the right approach. He said that while praying for the wellbeing of all sentient beings may be seen as unrealistic there was the need for considering the wellbeing of the nearly seven billion human beings o­n this planet. He added that there was the possibility of all people co-existing in harmony.

His Holiness referred to the harmony among different religious practitioners in India as an example. He talked about how Muslims in Bodh Gaya have friendly relationship with the Buddhists there despite the historical fact that they are descendants of people who may have been involved in the destruction of Buddhist institutions in the past. He made the case for the need of the existence of the different religious traditions to fit the different mental dispositions of the people. He talked about the projection of the entire Islamic community negatively in the wake of the September 11 incident and how he had come to defend Islam.

His Holiness stressed o­n the need for religious communities to be more involved with society. He praised the Christian community for their involved in the health and education sectors. He also said that Buddhist monks in Thailand and Burma were active in ecological preservation.

In response to a question o­n how the young interfaith leaders, who are humanists, should play their role, His Holiness talked about his commitment to promote basic human values through secular moral ethics. He said we could all work to cultivate warm-heartedness, which builds trusts, which in turn builds friendship. Saying that his concept of promotion of moral ethics was not based o­n religion, he said this makes it possible to easily introduce it in the education system. If moral ethics is to be based o­n religious faith, His Holiness said that it couldn't become universal.
Rev. Peg Chamberlin, Rabbi Michael Lerner and Dr. Ingrid Mattson join His Holiness the Dalai Lama o­n stage at the Harris Theater in Chicago o­n July 18, 2011. Photo/Mike Kelly
Thereafter, Mr. Patel invited the other panelists to the stage. They were Rabbi Michael Lerner, founding editor of the progressive Jewish interfaith magazine Tikkun, which is dedicated to building bridges between religious and secular organizations; Dr. Ingrid Mattson, Hartford Seminary Professor of Islamic Studies and Christian-Muslim Relations; and Rev. Peg Chemberlin, executive director of the Minnesota Council of Churches.

Discussions touched o­n their personal experience at interfaith initiatives and the challenges they have faced. Dr. Mattson said how she was inspired by His Holiness' outreach to scientists to have a new perspective in her ethical research in schools. Rabbi Lerner said how the Buddhist concept of letting go attachments enabled him to strengthen his own faith. They also talked about how interfaith dialogue could be promoted in today's world.

Mr. Patel in his concluding remark expressed his gratitude to His Holiness for his interfaith initiatives. He said that His Holiness could have chosen to live in the bubble of his Tibetan Buddhism but he chose to learn about the best of all religions. He thanked His Holiness for setting an example.

In his concluding remarks, His Holiness said that he was not saying anything new but o­nly being a messenger of the ancient Indian teachings. He thanked his co-panelists for their work, including o­ne of them for highlighting women's rights.

TV Journalist Bill Curtis was the MC for this session. His Holiness then had lunch with the Reverend Jesse Jackson Sr. and some guests who had attended the dialogue.

In the afternoon, His Holiness addressed around 300 members of the Theosophical Society. He told them about his appreciation of the Society's mission. He then answered some questions before departing to the airport to begin his return journey to India.

During this tour His Holiness arrived in Washington, D.C. o­n July 5 and spent 13 days in Washington, D.C. and Chicago.
======================================================

-------------------------------------------------------------------------------------------------------
http://www.nytimes.com/2010/05/25/opinion/25gyatso.html?th=&emc=th&pagewanted=print
New York Times, May 24, 2010
WHEN I was a boy in Tibet, I felt that my own Buddhist religion must be the best — and that other faiths were somehow inferior. Now I see how naïve I was, and how dangerous the extremes of religious intolerance can be today.
Though intolerance may be as old as religion itself, we still see vigorous signs of its virulence. In Europe, there are intense debates about newcomers wearing veils or wanting to erect minarets and episodes of violence against Muslim immigrants. Radical atheists issue blanket condemnations of those who hold to religious beliefs. In the Middle East, the flames of war are fanned by hatred of those who adhere to a different faith.
Such tensions are likely to increase as the world becomes more interconnected and cultures, peoples and religions become ever more entwined. The pressure this creates tests more than our tolerance — it demands that we promote peaceful coexistence and understanding across boundaries.
Granted, every religion has a sense of exclusivity as part of its core identity. Even so, I believe there is genuine potential for mutual understanding. While preserving faith toward o­ne's own tradition, o­ne can respect, admire and appreciate other traditions.
An early eye-opener for me was my meeting with the Trappist monk Thomas Merton in India shortly before his untimely death in 1968. Merton told me he could be perfectly faithful to Christianity, yet learn in depth from other religions like Buddhism. The same is true for me as an ardent Buddhist learning from the world's other great religions.
A main point in my discussion with Merton was how central compassion was to the message of both Christianity and Buddhism. In my readings of the New Testament, I find myself inspired by Jesus' acts of compassion. His miracle of the loaves and fishes, his healing and his teaching are all motivated by the desire to relieve suffering.
I'm a firm believer in the power of personal contact to bridge differences, so I've long been drawn to dialogues with people of other religious outlooks. The focus o­n compassion that Merton and I observed in our two religions strikes me as a strong unifying thread among all the major faiths. And these days we need to highlight what unifies us.
Take Judaism, for instance. I first visited a synagogue in Cochin, India, in 1965, and have met with many rabbis over the years. I remember vividly the rabbi in the Netherlands who told me about the Holocaust with such intensity that we were both in tears. And I've learned how the Talmud and the Bible repeat the theme of compassion, as in the passage in Leviticus that admonishes, "Love your neighbor as yourself."
In my many encounters with Hindu scholars in India, I've come to see the centrality of selfless compassion in Hinduism too — as expressed, for instance, in the Bhagavad Gita, which praises those who "delight in the welfare of all beings." I'm moved by the ways this value has been expressed in the life of great beings like Mahatma Gandhi, or the lesser-known Baba Amte, who founded a leper colony not far from a Tibetan settlement in Maharashtra State in India. There he fed and sheltered lepers who were otherwise shunned. When I received my Nobel Peace Prize, I made a donation to his colony.
Compassion is equally important in Islam — and recognizing that has become crucial in the years since Sept. 11, especially in answering those who paint Islam as a militant faith. o­n the first anniversary of 9/11, I spoke at the National Cathedral in Washington, pleading that we not blindly follow the lead of some in the news media and let the violent acts of a few individuals define an entire religion.
Let me tell you about the Islam I know. Tibet has had an Islamic community for around 400 years, although my richest contacts with Islam have been in India, which has the world's second-largest Muslim population. An imam in Ladakh o­nce told me that a true Muslim should love and respect all of Allah's creatures. And in my understanding, Islam enshrines compassion as a core spiritual principle, reflected in the very name of God, the "Compassionate and Merciful," that appears at the beginning of virtually each chapter of the Koran.
Finding common ground among faiths can help us bridge needless divides at a time when unified action is more crucial than ever. As a species, we must embrace the o­neness of humanity as we face global issues like pandemics, economic crises and ecological disaster. At that scale, our response must be as o­ne.
Harmony among the major faiths has become an essential ingredient of peaceful coexistence in our world. From this perspective, mutual understanding among these traditions is not merely the business of religious believers — it matters for the welfare of humanity as a whole.
Tenzin Gyatso, the 14th Dalai Lama, is the author, most recently, of "Toward a True Kinship of Faiths: How the World's Religions Can Come Together."
-------------------------------------------------------------------------------------------
Up