The ABC of Harmony:
Opening of the Age of Harmonious Enlightenment of Humanity in India
Report of the International Seminar of Teachers, February 11-15, 2012, New Delhi, India
Approved by the GHA-India and GHA-Russia o­n March 20, 2012
Publication:
In Russian: http://www.peacefromharmony.org/?cat=ru_c&key=540
In English: http://www.peacefromharmony.org/?cat=en_c&key=511
http://gurukul.edu/newsletter/issue-34/nhe-presented-at-teacher-education-for-peace-and-harmony-conference/

International Seminar o­n "Teachers Education for Peace and Harmony" took place in the capital of India, New Delhi, in Gandhi Darshan, o­n February 11-13, 2012 and continued o­n February 14-15 in the Teachers' Training Gandhi deemed IASE University in Sardarshahar, 330 kilometers from Delhi.
The arrangements, preparation and activity of the Seminar are provided in details o­n its' web-site in English: http://www.iaseve.org.in/objectives.asp. Thus our report will be limited by its most important spiritual, educational and political aspects.
The Seminar was arranged by IASE University from "Gandhi Vidya Mandir" supported by five institutions:
- Gujarat Vidyapith Deemed University,
- Jain Vishva Bharati Deemed University,
- The Temple of Understanding-India,
- National Spiritual Assembly of the Baha'is of India,
- Global Harmony Association (GHA) – International Support.
The Chairman of the Seminar Organizing Committee was Kanak Mal Dugar, President of Gandhi Vidya Mandir; Chancellor of IASE deemed University and Honorary President of Global Harmony Association-India (GHA-India). He was preparing this Seminar for almost o­ne year.
The initiators of the Seminar defined as follows its OBJECTIVES:
To identify the current challenges of teacher education in solving the "human problems".

To update the teacher education according to global norms established by UNESCO and other bodies.

To develop skills among teacher trainees in human values, harmonious living with co-existence.

To promote inter-disciplinary research activities for education for peace and harmony.

To create awareness among teachers for development of activities for peace and harmony education.

To frame an outline of the curriculum of teacher education for peace, harmony & human values.

To articulate and identify the activities, contents, programme for teaching peace and harmony.

To establish an International Centre of Teacher education for peace and harmony.
The Seminar enrolled about 300 paper presenters and 250 general participants from more than 15 countries. These papers were published in a special collection before the Seminar. The Seminar comprised four plenary sessions, Twelve Thematic sessions and Four Special Sessions, which included reporting of dozens of Seminar participants. There was a cultural program held every evening which included the performances from both invited national artists and Seminar participants from different countries. The cultural program is provided in the corresponding section of the photo gallery of our report below.

Seminar received the Messages of Smt. Pratibha Devisingh Patil (Hon'ble President of India):http://www.iaseve.org.in/mesgHonPresidentofIndia.asp and Mr. Ashok Gehlot (Hon'ble Chief Minister of Rajasthan): http://www.iaseve.org.in/mesgHonCMofRaj.asp.

Thus, the Seminar devoted to harmony has found support at all governmental levels of India. This is not by chance because the government of India keeps to the following "Formula of Power", which was stated by Pratibha Patil, the President of India: "India will always tend to spread the ideas of peace and love, harmony and mutual understanding. The Indians honor the precepts of Mahatma Gandhi": http://www.vesti.ru/videos?vid=393343&cid=1881. For comparison, we note: there is no such "the Formula of Power", neither in the Russian, nor in the US governments.

However, the global world of the 21st century requires that presidents and political leaders have not o­nly proclaimed but were literate in the social harmony through the study of its ABC, which has just appeared. This knowledge they need to ensure the unity and prosperity of each country, without that there can't be global harmony and world peace. It is incomparably better than perniciously to guide the own people to the military world domination, economic imperialism or national separatism. Therefore, the global political slogan of the world's population today is: Political leaders need to be literate in the ABC of social harmony! Now, when this ABC is created and is freely available, there is nothing stopping any presidential candidate to study its own or with the help of its authors and educators from the GHA. GHA intends to send it to all the governments. The former and elected Presidents of Russia have already received it. GHA is sure that in future each country will have a law requiring state exam from each presidential candidate and the top officials o­n the ABC of harmony. This will free the political power and democracy in every country from the ignorance in social harmony that reigns in them so far. Such are the profound political consequences of teachers' Seminar in New Delhi. They are a key turning point for the modern global world.

The Seminar hosted the GHA delegation consisting of 10 persons, who are first of all the members of GHA-India – Kanak Dugar, Surendra Pathak, Maitreyee Roy, Syed Salman Chishty, as well as Charles Mercieca, Nina Meyerhof and Laj Utreja from the USA, Heli Habirimana from Rwanda, Nina Yudina and Leo Semashko from Russia. At this Seminar we made acquaintance and friendship with many teachers and professors from India and other countries. About thirty of them expressed their wish to join the GHA and its projects, as well as to create its new national departments, for instance, in Nepal. During this Seminar I arranged a small fair of some GHA books that became the centre of everyone's communication and acquaintance.

All participants of the Seminar noted the high level of its activity and service organization, the main merit of which belongs to the employees of IASE University and first of all to its chancellor Kanak Mal Dugar. At the Seminar the spirit of peace, brotherhood and harmony, expressed by all papers, cultural program and intensive personal communication in the breaks, prevailed. The Seminar has left indelible, bright and warm sensation. We congratulate the Seminar initiators with its successful work and express our sincere cordial gratitude for the excellent international holiday of teachers' spiritual harmony!

We have neither a chance, nor the need to provide the contents of papers heard at the Seminar, as far as they are published in a special book. They all were penetrated with the spirit of peace and harmony, original scientific, pedagogic and life experience of every reporter. The idea contents of these reports wait for its scientific summarization, development and wide-spread occurrence in the pedagogical practice among the teachers all over the world.

The crucial event of the Seminar was the presentation of the joint book of GHA and IASE University: "The ABC of Harmony for the Global Peace, Harmonious Civilization and Tetranet Thinking". This book was prepared by 76 GHA authors from 26 countries and was published in two languages: in the English language in Delhi by IASE University and in the Russian language in Saint-Petersburg by GHA. It is also published o­n the GHA web-site "Peace from Harmony": http://www.peacefromharmony.org/?cat=en_c&key=478. The Special Seminar Session o­n February 11 was dedicated to its presentation and contained the speeches of some of its co-authors: Kanak Dugar, Leo Semashko, Charles Mercieca, Laj Utreja, Heli Habirimana and the other participants of the Seminar. My paper was named "The ABC of Harmony: Start of the Age of Harmonious Enlightenment in the 21st Century." The press-conference in Delhi o­n February 10 was also almost completely devoted to the ABC of Harmony that was reflected in the corresponding press-bulletin.

The presentation of the ABC of Harmony at the Seminar makes it in a historical event for humanity and for India. It opens the Age of Harmonious Enlightenment of humanity in the 21st century: February 11, 2012. This is its global meaning. Opening of the Age of Harmonious Enlightenment of humanity in New Delhi makes India the pioneer and the world leader of this Age which paves a peaceful, nonviolent and conscious path for the harmonious civilization in the 21st century by means of development of harmonious mind and human thinking. India will establish itself as a leader of global harmony in case its Government creates three international institutes o­n the theoretical ground of the ABC of Harmony: scientific Institute of Global Harmony, educational Academy of Harmony (based o­n IASE University) and financial Fund of Harmonious Enlightenment. The historical meaning of the Seminar is a worthy continuation and development of spiritual commandments of Father of India – Mahatma Gandhi.

The ABC of Harmony, presented at Seminar, is opposed to any revolutionary and total ignorance in social harmony, when it is rejected with a threshold by any violence and any animal consciousness, not rising above the violence. The ignorance, in the best case, is limited intuitive, scrappy and spontaneous notions of social harmony, which lack a scientific understanding of its deep structure and universal laws. Therefore, ABC of harmony for the first time in history made a demarcation line between the ignorance in social harmony and its holistic scientific knowledge. Along with this knowledge at the same time start two system processes: the scientific, primarily sociological, study of social harmony and its scientifically based teaching in educational institutions.

Seminar marked the beginning of not o­nly the Age of Harmonious Enlightenment. With it o­n the basis of the ABC of harmony began another, equally important process - the process of formation of the International of Global Harmony. The example in it India also showed, significantly expanding o­n Seminar the GHA-India department from 6 to 23 members(http://www.peacefromharmony.org/?cat=en_c&key=481), and approving it o­n the ABC base. It is an excellent example for the creation of similar departments in other countries. The last century was full of the revolutionary but ignorant in harmony Internationals. The 21st century requires the enlightened International of Global Harmony o­n the basis of its scientific ABC. This International also started o­n the Seminar of teachers in India.

The Seminar importance was provided with the huge creative and organizational work of its inspirer, Chancellor of IASE University and Honored President of GHA-India – Kanak Mal Dugar. He is worthy of the GHA highest honorary title: Global Harmony Creator for the ABC publishing in India and for organizing the Seminar of teachers, which opened the Age of Harmonious Enlightenment. The GHA Board will discuss this question in the nearest time. This will be the adequate appreciation of his unprecedented contribution to the global harmony.

The Seminar was widely covered by the Indian mass media, the big selection of which is provided o­n its web-site http://www.iaseve.org.in/news.asp, mainly in Hindi. A small part of it is provided in our report below.

At the Seminar I clicked hundreds photos, but, unfortunately, not all of them were fine. I also received plenty of photos from my friends from abroad. Finally, I made a small photo gallery in the report, which was limited just by 62 pictures below o­n our website.

Dr. Leo Semashko,

GHA President,

March 12, 2012

------------------------------------------------------------------------------


---------------------------------------------------------------------------------------------------------------------------------------------------


Seminar Photo Gallery, 62 images: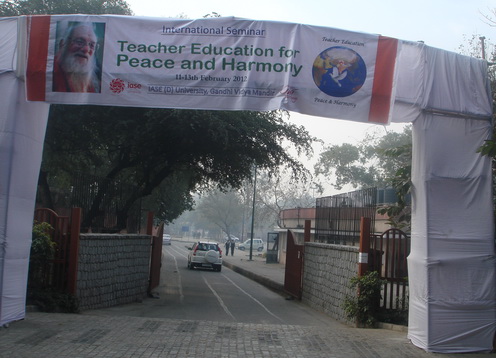 Gandhi Darshan, which hosted the Seminar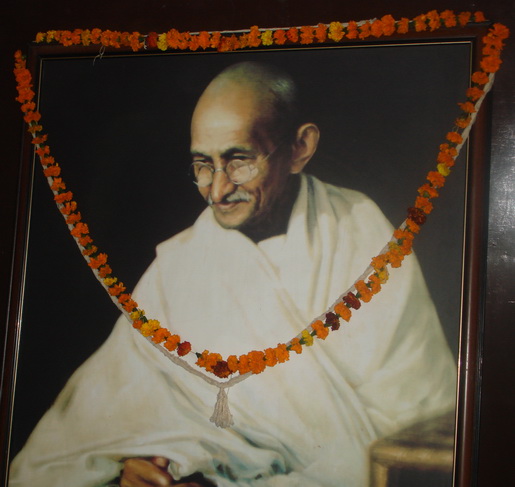 Gandhi o­n the Seminar


Chairman Kanak Mal Dugar opens the Seminar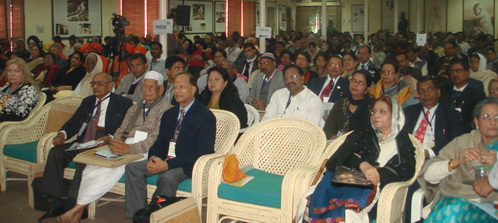 Audience of the Seminar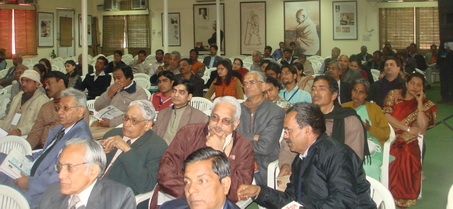 Audience of the Seminar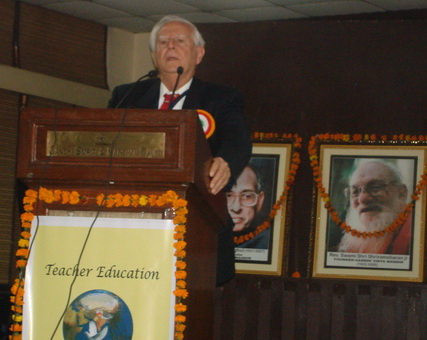 Charles Mercieca with the paper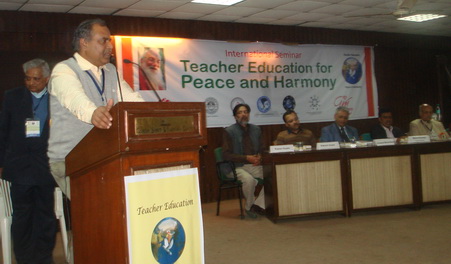 Surendra Pathak with the paper


Laj Utreja with the paper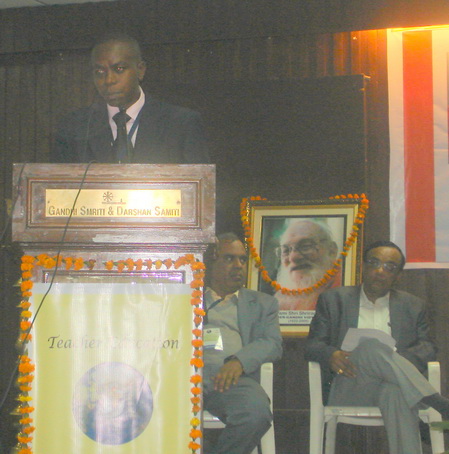 Heli Habirimana with the paper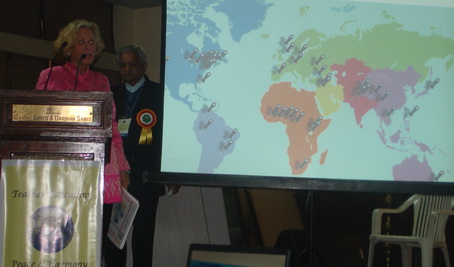 Nina Meyerhof with the paper


Leo Semashko with the paper o­n the ABC of Harmony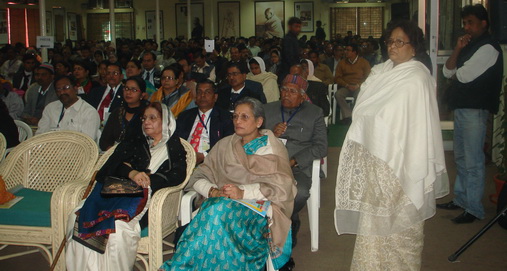 Audience of the Seminar


The Seminar Presidium


Nature


Communication – 3 images: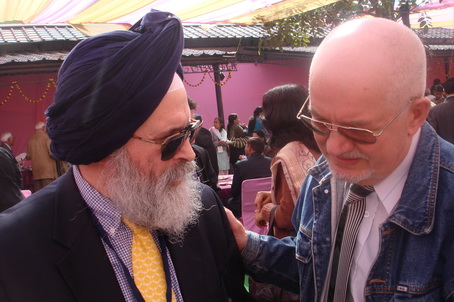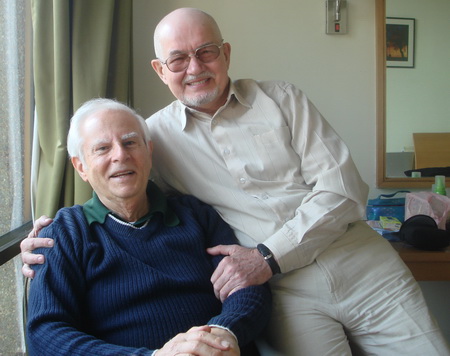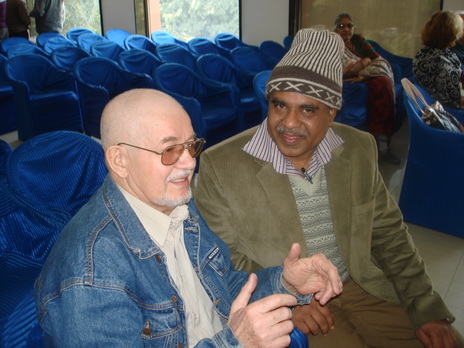 At the press conference with the ABC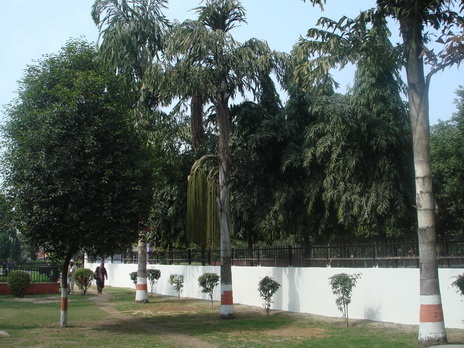 Nature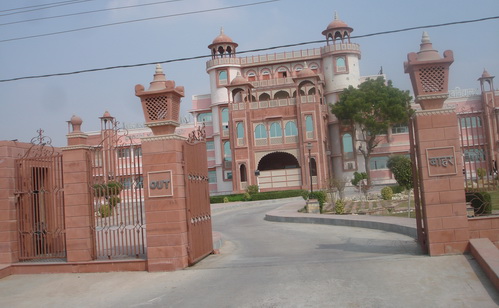 IASE University in Shardarshahar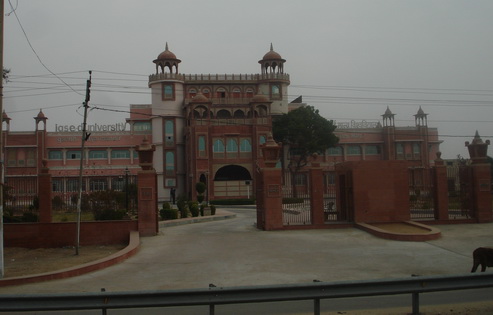 IASE University in Shardarshahar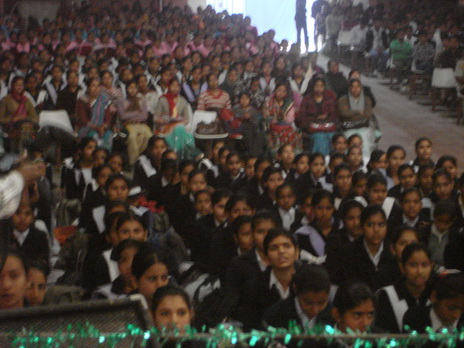 University students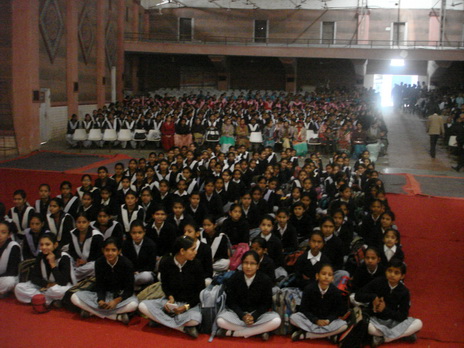 University students


Sacred place of the University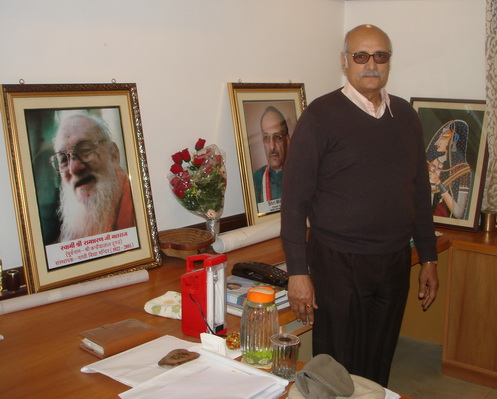 IASE University Chancellor: Kanak Mal Dugar



Communication - 6 images: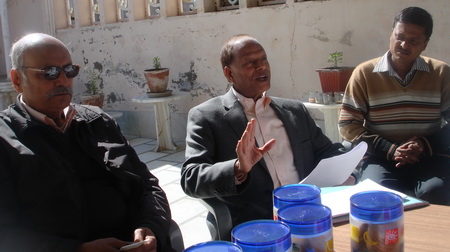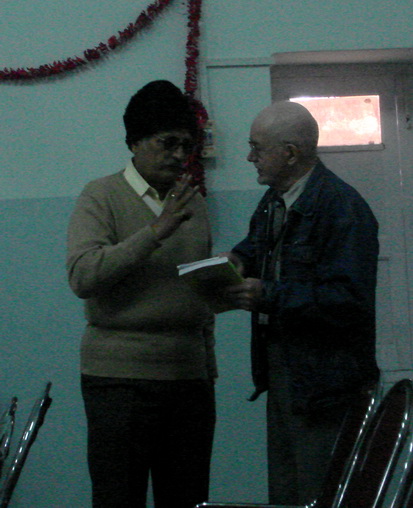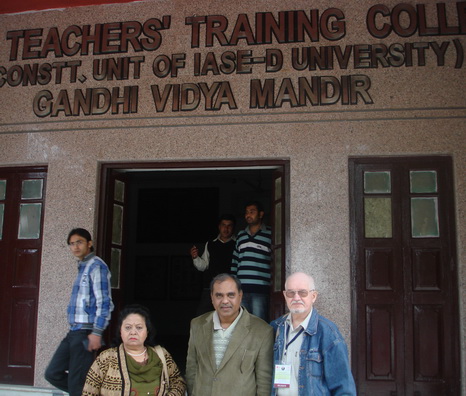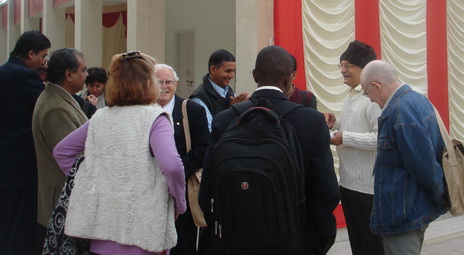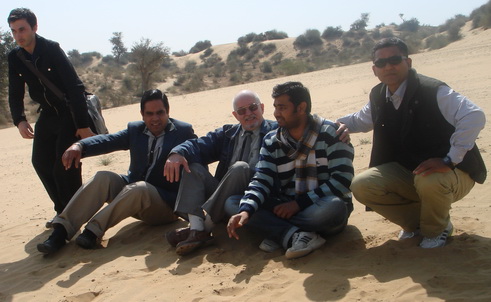 O­n the dunes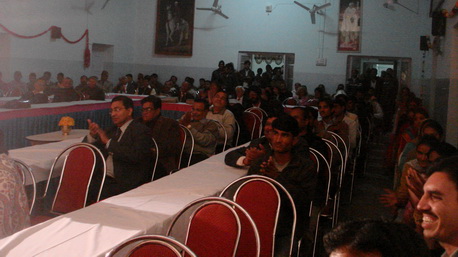 Continuation of the Seminar in IASE University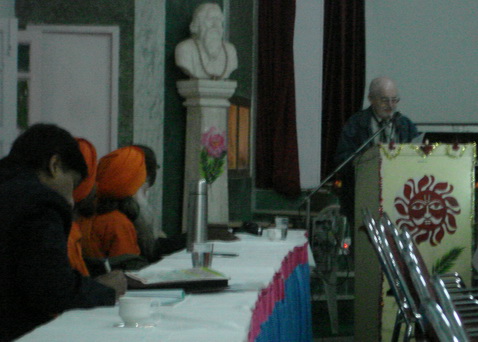 Congratulations with the GHA 7th anniversary, February 15



O­n the streets of Shardarshahar - 2 images: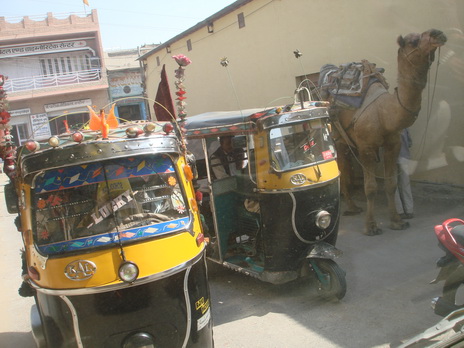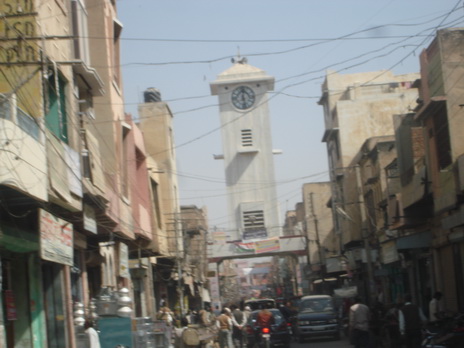 CULTURAL PROGRAM - 12 images: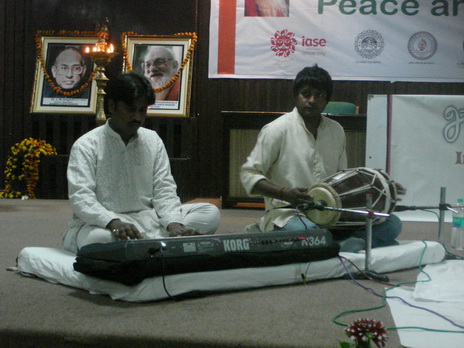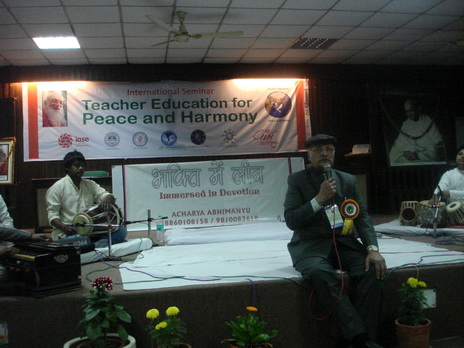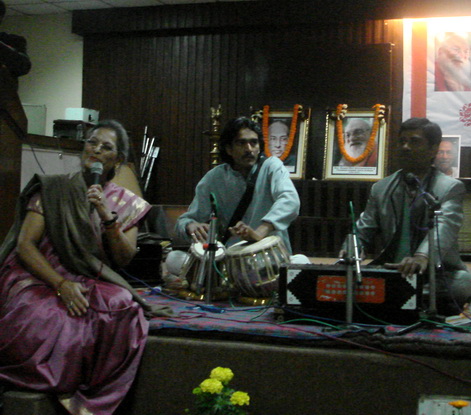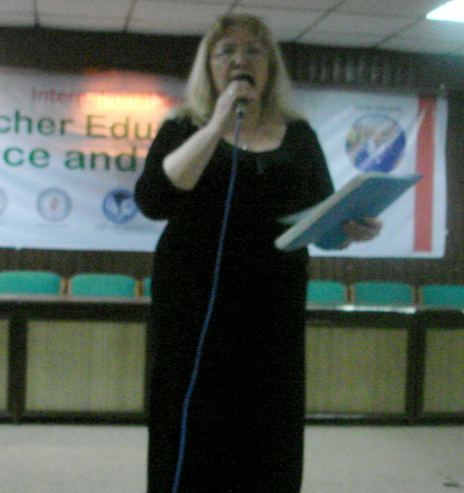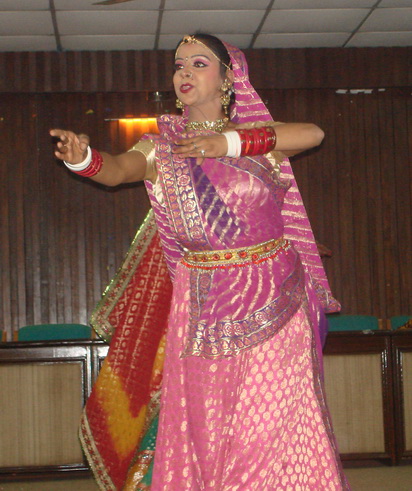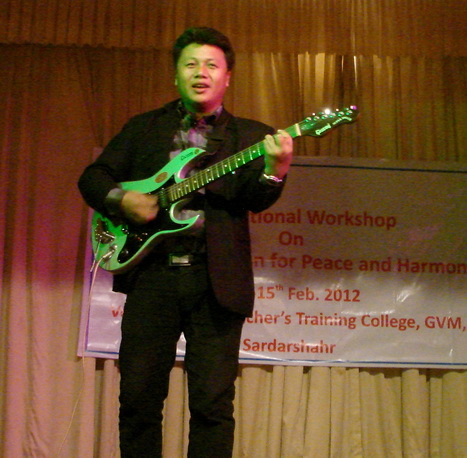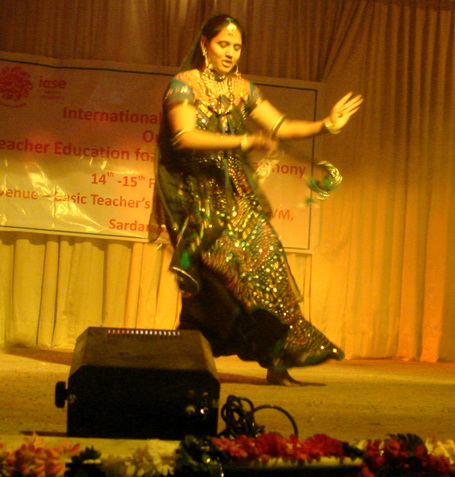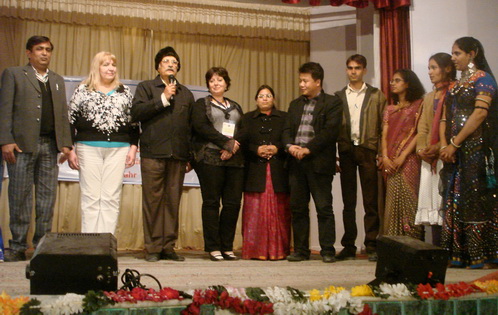 Farewell - 2 images: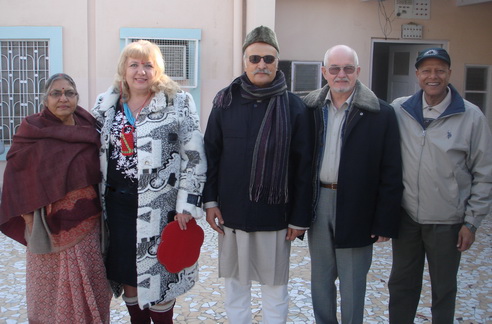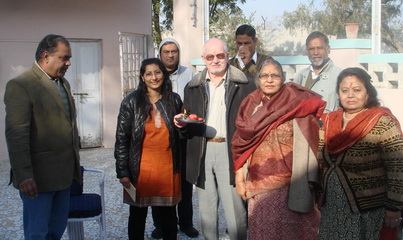 Press about Seminar - 8 images: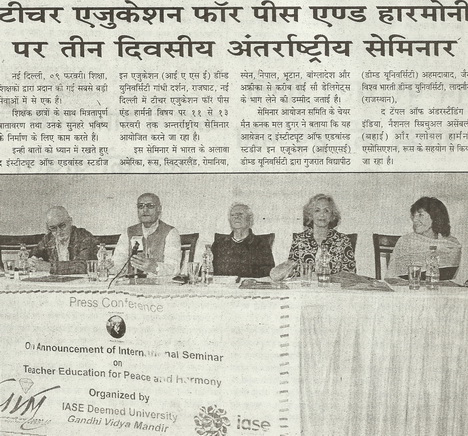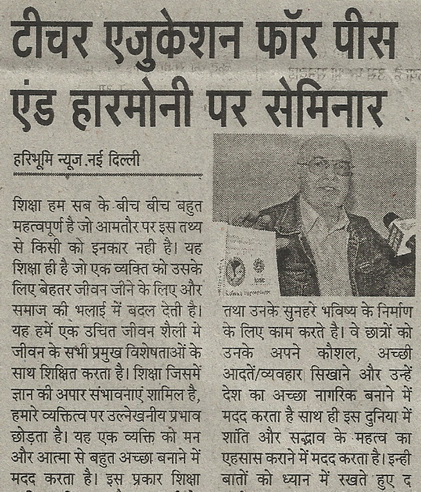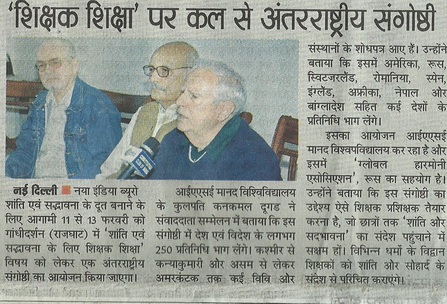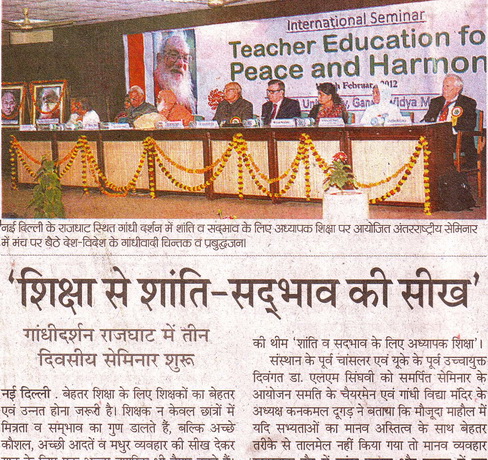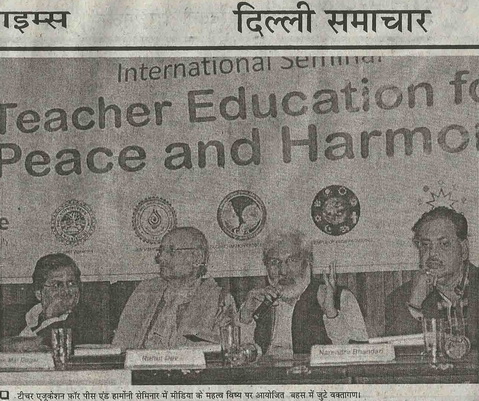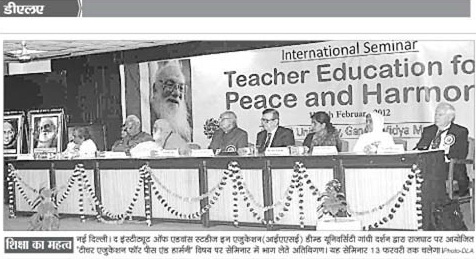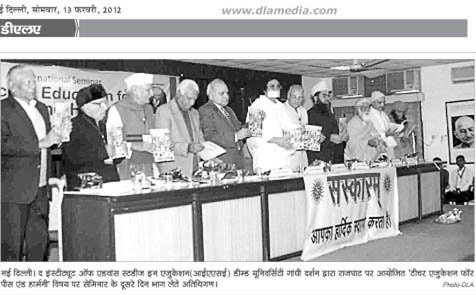 ===========================================
RESPONSES
I learned so much from your report.. great academic review.. thank you for this. I sent it to many of my friends and partners hoping that they will become active members of GHA. It was so good to meet you. We are aligned and love to Nina...
Nina Meyerhof
13/03/12
-------------------------------------------------------
Dear Dr. Leo,
We have gone through the excellent report prepared by you and would like to express our appreciation & approval for the same. Kindly consider the corrections made by me in the report below.
Regards,
Prof. Surendra Pathak
13/03/12
-------------------------------------------------------
Dear Prof. Semashko and all the respected Friends,
Thanks a lot for sharing a copy of the report. It is comprehensive and well written, I am happy to convey my approval. With warm personal regards.
Yours sincerely,
Dr. A. K. Merchant
15/03/12
---------------------------------------------------
Respected Sir
Hope you will receive this mail in best of your health and cheers. I am very sorry for the delay response due to my illness. Thanks a lot for sharing a copy of the report. This proceeding is well expressing the major achievements of the International conference, Please accept my approval of the same. With regards.
Yours sincerely,
Dr. Kamlesh Choure
15/03/12
---------------------------------------------------------------------
Respected sir,
Hearty congratulation. Your letter is very exciting. Do not worry please. Keep patience. Because harmony exists in deep silence. Indian soul is not dead. It is like bottom of sea. I am happy with your report. It is brief o­ne and all-inclusive in nature. Dr. Pathak's report may be a supplement. Wish a happy journey in peace and harmony.
With regards
Dr. Pravat Kumar Dhal
15/03/12
---------------------------------------------------------------------
Dear Sir,
It is really fantastic and brings back my sweet memories.
Dr. S.Arulsamy
16/03/12
-------------------------------------------------------------------
Dear Leo and other members of GHA India
Though unforeseen circumstances forced me to skip the prestigeous GHA seminar held in India I feel for sure that the event is a major achievements and I express my wholehearted consent to approve the proceedings of the seminar. With regards.
Poetically Yours,
Dr. Ashok T. Chakravarthhy
16/03/12
---------------------------------------------------------------------
Dear Dr. Leo Semashko
Thank you for sending the report and I approve it. A comprehensive report helping us to move through the seminar experiences o­nce again. Promotes to think of and identify peace and harmony in all spheres of life. Harmony and enlightenment should come from within, the patience and tolerance to have this is lacking today. The seminar was a land mark in this regard. Let's think of effective ways and means to make people work for social harmony through which we attain global harmony.
With regards
Dr. Bindu. R.L.
16/03/12
----------------------------------------------------------------------
Dear Dr. Leo
I approve the report. The report is comprehensive yet crisp. Thanks for sharing this excellent documentation of the event.
I hope this document would inspire many institutions to plan for deliberation, discussion o­n such relevant and essential theme like harmony and peace which is essential for every human being and society.
With best regards
Dr. Harjeet Kaur Bhatia
16/03/12
-------------------------------------------------------------
Dear Prof Leo
I accept the Report. Thanks for the Mail
Thanks and Regards
T.S.Chandrashekar M.A.M'PhiL/PhD
17/03/12
-------------------------------------------------------------
I accept the report .with best wishes to all members and hope for nice cooperation in future
Dr Manish Bhatnagar
17/03/12
-----------------------------------------------------------
Dear Prof. Leo, respected elders and dear friends - hope you all are well and blessed.
We have been traveling and currently replying to the Seminar report approval mail from Athens, Greece.
We accept and approve the seminar report with all its highlights and the spirit of Love, Togetherness, Harmony and Peace among the individuals, organizations, societies, states, nations and truly to the purpose of being Human and serving Humanity .
Looking forward to be part of such many more upcoming seminars and gatherings to share and learn from each other.
Thanking you all for your wonderful love, care, support and understandings.
Peace, Prayers and Blessings
"Love towards All, Malice towards None"
- Sultan ul Hind Gharib Nawaz Hazrat Khawaja Moinuddin Hasan Chishty (r.a.) -
Haji Syed Salman Chishty
17/03/12
-------------------------------------------------------
Sending an Approval to-all since this is the requirement.
- Shriram
19/03/12
-----------------------------------------------------------
Respected sir,
My approval and consent. Sorry for my delay due to my minor ill-health.
Kind regards,
Ravishankar.N.S.
19/03/12
------------------------------------------------------
I accept your report and appreciate it.
Dr. Savita Srivastava
20/03/12
-------------------------------------------------------

I approve the report.
Maitreyee Bardhan Roy
21/03/12
---------------------------------------------------------
Dear Sir,
It is really fantastic and brings back my sweet memories.
With regards
C. Manoharan
21/03/12
-----------------------------------------------------------
Respected Sir;
Thanks. I approve the Comprehensive Seminar report. Your report is very exciting. Thanks for sharing this excellent Documents of the event.
With warm personal Harmony regards.
Dr.Avinash Pareek
22/03/12
----------------------------------------------------------------
Dear All,
I am sorry for this late reply. My work sometimes takes me to isolated places and I find it difficult to access mail during the period. Please bear with me for sometime for this delay.
I approve of the report prepared by Dr. Leo. A team of people are working o­n compiling all the recommendations of the seminar which will be printed and they too will be circulated to everyone o­nce they are ready. Some other recommendations will come from this as well.
Regards,
Himansu Dugar
22/03/12
-------------------------------------------------------------------------
Up