Adolf Shvedchikov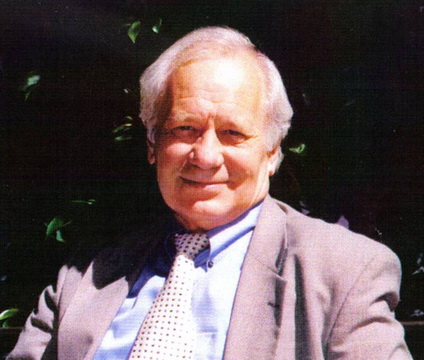 The GHA Honorary Member,
Vice President, GHA-Russia,
Scientist, Chemical Physics, PhD and LittD,
Poet and Translator,
A Member of Many International Literary Associations,
Author of 13 books of poetry and poetic translations, including Shakespeare.
Address: Moscow, 129366 Russia, Prospect Mira, 180, Apt. 52
4317 Petit Avenue, Encino, CA 91436-3516, USA
Email: adolfps@gmail.com
Phone.: 8 (495) 686-81-83
Website: www.peacefromharmony.org/?cat=en_c&key=559
In Russian: www.peacefromharmony.org/?cat=ru_c&key=579
----------------------------------------------------------------------------------------------------------------------

Dear Members of GHA, New Year 2014 will come soon! I appeal to all
world poets to support the new ideas of GHA how to transform our
world and to make the life of people more harmonious and prosperous in the future.
Happy New Year!
Cordially yours,
Adolf Shvedchikov
Vice President GHA - Russia
Scientist, chemical physics, PhD, LittD
Poet and translator,
A member of many international literary association,
Author of 16 books of poetry.
Email:adolfps@gmail.com
THE POET HAS A SPECIAL BLESSED GIFT
The poet has a special blessed gift, a different vision.
His poems are ready to take in the thunderstorms and violence!
He may bridle easily any wild mustang!
He may reflect all hues of sensuality and pain
In a capricious rhythm of Argentinean tango.
Only a poet may describe the passion of a stormy fire of love!
He is an omniscient genius
Who has a special gift of an eternal harmony!


18/12/13
-----------------------------------------------------------------------------------------------------------

Review:
"The ABC of Harmony" in Poetry of Harmony and Vice Versa
"The ABC of Harmony" - the first ever global textbook o¬n social harmony, which itself claims to inner harmony. It occupies a worthy place of "Harmony Poetry" section (p.254-287: http://www.peacefromharmony.org/?cat=en_c&key=482), which is closest to me as a poet, and to which I devote my review.
This section includes 36 verses o¬n harmony of 29 authors from 12 countries. Of course, these poems are different, as the authors as members of different cultures and traditions, which, however, found a common denominator and combine the most capacious and most important concept for people of all cultures and nationalities values of harmony, high value which is understood by all, but the intuitive, imaginative and emotional level, and in the ABC attempted to develop and supplement its scientific representation of harmony. This is a valuable attempt to find the harmony of science and intuition, science and art, the significant contribution which can make and poetry, illustrated poetry section of Harmony.
These spiritual aspirations of most poems are APJ Abdul Kalam, former President of India (2002 – 2007), the poetic lines of them are no accident the epigraph of the ABC whole:

"Confucius was a wise old man who said:
"When there is beauty in the character,
Then harmony settles in the house. "
Another enlightened sage, the Buddha, said:
"When there is harmony in the home,
Then the order resides in the people,
When an order is in the people,
Then the world settles o¬n Earth."

Harmony of society begins with the harmony of the individual. Analyzing the process of organizing a society based o¬n the Universal Harmony, Abdul Kalam expressed this thought by wise words of Confucius, which develop at least a wise Buddha and what they are unanimous: the beauty (harmony) character creates harmony at home, the family, which provides the order in the people and gives peace o­n Earth.
Leo Semashko says: ABC of Harmony is laid in early childhood when the child starts learning blocks. Each cube is a new step in understanding the beauty of the world, a harmonious relationship between children and parents, and the child's acquisition of the rules of behavior, the ability to find the correspondence between the individual elements. In the end, children, growing up in an atmosphere of love and respect for each other, become harmonic personality without aggression and anger. Every child is a single drop. But if they are educated o­n the same principles, that the merger they do not destroy the ocean and create a single entity, which is amazing for its variety. Like a kaleidoscope, based o­n the symmetry elements they create more colorful new world view.
It should be noted that ABC of Harmony begins follow and the new generation. Twenty-year student at the Medical College, Catherine Semashko from St. Petersburg in the poem "Knowledge of Harmony" wrote the good lines about the ability of contemplation and reflection that leads to wisdom and goodness.
The same idea of harmony, engendered in the family, which, like the trickle turns into a deep river, can be found in the poem Zaure Hizatolla (Kazakhstan) "Harmony is born ..."
The birth of a new spiritual identity ("Hymn to Harmony" and "Seek me, Harmony") says Ernesto Kahan (Israel).
Argentine poetess Maria Cristina Azcona in the poem "Harmonious Peace" claims that the harmonic development of the people who has a sense of humor and ability to communicate with people with a different view of the subject under discussion, it is much easier to negotiate and achieve the desired result.
I like "Sonnet of Harmony" of Dmitry Ivashintsov (St. Petersburg), both in form and in content, reflecting the many ideas of the "ABC of Harmony."
The poem Y.S. Rajan (India) "Harmony of Twenty First Century" discussed the possibility of a new born person in harmony by science, in the unity of diversity and diversity in unity.
Very nice and colorful language of the poem "Come and Engender a New Humanity in Harmony", Marie Robert (France), in which harmony is regarded as the home of enlightened consciousness, like a symphony in perfect balance of transformation from o­ne state to another.
Poetess Susana Roberts (Argentina) in the poem "Harmony" is considering harmonizing the organization of work in the arts, economics, politics and the environment in order to achieve equilibrium in the global society of the future.
Laj Utreja (USA) in the "A Harmony Hymn" draws attention to the importance of information in the future society where spiritual culture will develop and re-echo in every corner of the Earth!
I like "The Global Harmony Association" of Nina Yudina (St. Petersburg), where science and the spiritual light is able to virtually connect humanity to the Union of Goodness, where there are no place for either fight or terror.
Lida Sherafatmand (Malta), in the excellent poem "Harmony Force, Which Keeps Us Alive", recognizes that unique harmony of manpower, which saves his life, making it harmonious, overcoming its disharmonies.
Svetlana Tsymbalist (Moscow) sees the essence of harmony of the universe, the Creator of the breath, the light of His crown and the redemption of Russia from evil and suffering from a fool and a scoundrel.
The narrow scope of this review does not allow analysis of all the works presented in this section, "The ABC of Harmony."
In conclusion, I would like to appeal to all the poets of the world to sharpen poetic pens, not knives. We know that "The word can kill, the word can save, the word can leads armies ..." Unfortunately, mankind has learned well the power word's order. Now is the time of the revised global situation and to enable artistic poetic word to prove the power of persuasion. We face the important task of training new generations o¬n different principles of communication in society in order to create a more harmonious world. This is a difficult task, we are not magicians, we o¬nly learn, but remember that every miracle begins with wonder. Let's master the science of wonder and surprise harmony, first presented in the "ABC of Harmony"! In the words of the famous Russian proverb, "Step is the hardest!"
02/03/13
Published: www.peacefromharmony.org/?cat=en_c&key=506
--------------------------------------------------------------------------------------------
Curriculum Vitae

Adolf Pavlovich Shvedchikov
Russian scientist, poet and translator

Born May 11, 1937 in Shakhty, Russia. In 1960 he graduated from Moscow State University, Department of Chemistry. Ph.D. in Chemistry in 1967. Senior researcher at the Institute of Chemical Physics, Russian Academy of Sciences, Moscow. Since 1997 - the chief chemist of the company Pulsatron Technology Corporation, Los Angeles, California, USA. Doctor of Literature World Academy of Arts and Letters.
He published more than 150 scientific papers and about 500 of his poems indifferent International Magazines of poetry in Russia, USA, Brazil, India, China, Korea, Japan, Italy, Malta, Spain, France, Greece,
England and Australia. He published also 13 books of poetry. His poems have been translated into Italian, Spanish, Portuguese, Greek, Chinese, Japanese, and Hindi languages.
He is the Member of International Society of Poets, World Congress of Poets, International Association of Writers and Artists, A. L. I. A. S. (Associazione Letteraria Italo-Australiana Scrittori, Melbourne, Australia). Adolf P. Shvedchikov is known also for his translation of English poetry ("150 English Sonnets of XVI-XIX Centuries". Moscow. 1992. "William Shakespeare. Sonnets." Moscow. 1996) as well as translation of many modern poets from Brazil, India, Italy, Greece, USA, England, China and Japan.

Books of Dr. Adolf P. Shvedchikov, PhD, LittD

1."I am an eternal child of spring" (English/ Italian/ French/ German/ Spanish/ Russian. 270 pages. ISBN: 978-1475085358, 2012, USA)
2. "Life's Enigma" (English/Italian/Russian. 304 pages. ISBN: 978-1477417355, 2012, USA)
3. "Everyone wants to be happy" (English/ Spanish/ Russian. 185 pages. ISBN: 978-1477559079, 2012, USA)
4. "My Life, My love" (English, Italian, Russian. 197 pages. ISBN: 978-1478166566, 2012, USA)
5."I am the gardener of love" (English/Russian. 229 pages. ISBN: 978-1481057370, 2012, USA)
6. "Slalom of Life" (English/ Russian.72 pages. ISBN: 978-0935047743, 2012, USA)
7. "Illusory silence" (Romanian, English/ Russian, 75 pages. ISBN: 978-1599732664, 2012, USA)
8. "Breath of eternity" (English/ Russian. 75 pages. ISBN: 978-1599732619, 2012, USA)
9. "Amaretta di Saronno" (English/Russian. 250 pages. ISBN: 978-1481291514, 2012, USA)
10. "Angel Celestial, Angel Terrestrial" (Russian. 50 pages. ISBN: 978- 1599731506, 2011, USA)
11. "The Rainbow" (English/Greek/ Russian. 324 pages. ISBN: 978-9963668311, 2011, Cyprus)
12. "Love for all ages" (English/Chinese. 185 pages. ISBN: 978-9862218174, 2011, Taiwan)
13. "One Hundred and o¬ne Poems" (Chinese. 139 pages. ISBN: 978-986-221-331-5, 2010, Taiwan)
-------------------------------------------------------------------------------------

Poetry of Harmony (favorite)


© Adolf P. Shvedchikov, PhD, LittD
International Poet of Merit (RUSSIA)

HARMONY OF MOTHER-NATURE

I glorify you, Mother-Nature!
I bow to your sacred altar
And sing praises to the pink dawns.
I glorify the grass, the sun, the waters,
And the mystery of the ocean depths.
I swear I'll extol always your freedom!
I am ready to embrace the sky, and soar like an eagle.
I don't care about years which have past away.
Let me praise you, mountains, hills, and forests!
Let all living beings sing this hymn to Mother-Nature!
I am your loving son, I am the part of you!

BEING

My path was hard and long. For many years
I sloshed through the mud under the endless rain.
Being tired I have continued to walk.
I tried to change this dreary world,
I have woven the enchanting wreaths of my imagination.
I thought that o¬nly crazy dreams could save the gray life.

THE POET HAS A SPECIAL BLESSED GIFT

The poet has a special blessed gift, a different vision.
His poems are ready to take in the thunderstorms and violence!
He may bridle easily any wild mustang!
He may reflect all hues of sensuality and pain
In a capricious rhythm of Argentinean tango.
Only a poet may describe the passion of a stormy fire of love!
He is an omniscient genius
Who has a special gift of an eternal harmony!

MY BELOVED EARTH

My beloved earth, I am your loving son,
I bend my head before you,
I am sleeping in your tender embraces,
I do not feel that I am alone.
My hair is grey but I still feel your motherly hands
Which protect me when comes hard time.
I breathe your spring's scent,
I am pleased by your hot summer,
I like to walk under your rainy, autumn sky,
I don't fear your chilly, wintery winds.
Oh, my beloved land!
You are a permanent source of my delight,
You give me new strengths,
Your harmony is more important
Than all prestigious awards!

YOU FOUND A MOMENT OF JOY

Joy is coming like a summer day,
And it doesn't matter how sad you were,
The sunbeams irradiate your soul.
The blissful light destroys all your pains.
God blesses and renews you again.
And you cannot imagine
Why you were so unhappy and sad.
Now you are like a deep river,
All the fuss of life is forgotten,
You found a moment of joy at last!

GIVE ME THE CHANCE TO DRINK
WINE OF THE UNIVERSE

Oh, Earth, your son came back,
Let me embrace your expanses,
Let me hear again the songs of the winds
Blowing along the fields.
Give me the fresh kisses of your spring,
Let me breathe the scent of flowers,
Let me take shelter inside of oak forests
Hearing again the nightingale's trills.
Oh, my unpredictable changeable world
With charming night's silence,
Let me stay here alone
Looking at the full lustrous moon.
Give me wine of the Universe to drink,
I am ready to pay for Harmony like King!



A LIGHT SADNESS

When you read these lines don't be bored.
Life will give to you other lessons.
Therefore throw away the old rags and enjoy!
Feel the flow of harmony.
I weaved this carpet from my sadness.
I prepared honey for you from an old beehive.
Drink my experience of life,
Perhaps it will help you to start live anew.

THE NIGHT ARRIVES

The rain drums o¬n the roof, eating time.
It is good that the moon is hiding.
Waves of eternity are slowly running,
And life is full of Nature's pitter-patter.
Our arms become entwined,
And we soared among the mute space.
When we went down
To the earth, it was after midnight.
The Universe spread its wings,
And gave them to us.
There was nothing forbidden, no rules.
Only Harmony was our governor.
We laughed and loved each other!

BEAUTY

Beauty is meek and gentle.
Beauty likes those who understand her.
The forms of beauty are so changeable:
The wind blows tenderly,
And the wave touches softly.
Beauty is at o¬nce poetic.
Every time it is ready to surprise you!
Beauty is a combination
Of sharp eye with precise word,
A mixture of harmony and heaven's silence!


BEATING OF THE HEART

While our hearts pulsate,
While cannons are silent.
While people still plow,
While song resounds in the fields,
While dew sparkles in the morning,
While sunsets are still glowing,
While trumpets of war have no sound,
While summer sunbeams please us,
While fields are not filled with blood,
While death is far from us,
While our souls are at peace,
Let our hearts pulsate!

BODY OF A WOMAN

Body of a woman, oh, secret of opal!
For many centuries poets and artists
Tried to describe your enigma
But you kept your wonderful secrets.
Oh, those alluring curves of a woman's body,
Mother-of-pearl color of Aphrodite's skin!
Soft like the body of Botticelli, voluptuous body of Rubens,
The body of Picasso, Rembrandt, Modigliani...
Myriad artists have painted a woman's body,
And poets have written about woman's body,
Every generation has tried to find your secrets.
Like Phoenix you are reborn every time
Charming again and again!

YOU'LL FIND BEAUTY EVERYWHERE
IF YOU CAN SEE

You'll find beauty everywhere if you can see.
Stay for a moment and look around,
Watch the sunrise, lie o¬n the ground,
Hear the breakers' sound of violent sea!
Look at the flowers or a singing bird,
What an eloquent rhapsody of peace!
Go deeply into every charming piece,
The world is full of beauty, in a word!


HOW HARMONIOUS MIGHT BE
OUR WORLD

How harmonious might be our world
Full of spiritual pastoral songs
If we didn't do wrong or go wrong,
How harmonious might be our world!
How glamorous might be our day
Full of happiness, filled with sunbeams
If we didn't kill our fabulous dreams,
How glamorous might be our day!
How valuable might be our past
Full of gems and precious stones
If we were not at war, if we didn't hear moans,
How valuable might be our past!

OH, LET YOUR SOUL SING
HARMONIOUS SONG

Oh, let your soul sing harmonious song.
Turn over a yellow page of time,
And watch how solemnly your song will climb
Into high heaven, melodious and strong.
I know that your song will live too long,
Bringing to people gladness, mirth and joy.
My wondrous soul, be happy and enjoy,
When your congenial song will be raised to the throne!

I FEEL THE WARMTH OF
A HARMONIOUS LAND

I feel the warmth of a harmonious land,
Lying down o¬n the velvet grass,
Gazing at the river's glass,
I'm happy, I'm in Wonderland!
Looking into smiling heaven,
I am part of the passing clouds,
I am ready to cry aloud,
I have found my wondrous haven!


PAINT YOUR LIFE A LITTLE
MORE COLORFUL

Paint your life a little more colorful,
Put o¬n your canvas more green,
Let your landscape appear serene,
Life, by the way, is beautiful!
Please do not paint too much gray:
Gray trees under modern gray towers,
Don't be afraid to paint more flowers,
And shed light o¬n your gloomy day!

THE SPARROWS FIGHT
AGGRESSIVELY

The sparrows fight aggressively
Looking for crumbs of bread...
That ceaseless vital thread
Is whirling nightly and daily!
I hear this eternal song
Of always in a hurry life
Full of struggle and strife.
My pugnacious crazy throng,
Why do you do all wrong,
Looking for a treacherous knife,
Suspicious, imprudent, is rife
With rumors...Tell me, how long
This craziness will prolong?
Where is that wise shepherd
Who will put in order this herd,
Who will ring in unity's gong!

FORGET ABOUT SADNESS
Forget about sadness, life is in blossom,
It is full of joyful, cheerful sunny days,
Oh, let me kiss your ample lovely bosom,
Lo! My beloved, it's fragrant, balmy May!
I'm not nocturnal marsupial opossum,
I like mad wind and quivering sunlight,
Oh, let me touch you, bosom-upon-bosom,
And let us glide like a Chinese kite!


MY REDEMPTION IS RELIABLE
RHYME

Sweet flowers of lovely spring,
How brief is your fragrant day.
I'm trying to grasp time's wing,
But it's slipping forever away.
Who am I, Eternity's dust,
Tiny morsel of God's clay?
I don't know the answer, alas!
But I can not bring back this May.
Oh, I hate the prison of time,
I don't want the right to die.
My redemption is reliable rhyme
Which helps me to survive and fly.

BEAUTY IS EPHEMERAL

Beauty is ephemeral and changeable.
Very often I am close to overtaking her,
But she runs away like playful child.
The wind runs and everything changes.
Instead of sunbeams shadows appear.
Beauty, you were a dream to many generations!
Life is wonderful, for sure,
The pictures of this kaleidoscope are attractive!
Oh, beauty! You are an accord of inspiration
You are the face of the Virgin Mary!

THE ENIGMA OF A NAKED BODY

For a long time many artists tried
To solve the enigma of a naked body,
To find the special details bewitching their eyes.
To go through the spectrum of nuances
Within the gentle skin
And sparks of snow-white alabaster.
You are ready to sit down
And start to describe that miracle.
Let's divide all the details,
Let's collect all parts again...
Alas, this is wrong way!
You cannot use algebra to describe
The harmony of naked body.
Let me feel it in my heart.
Let me run like the bountiful rain,
To drink the nectar of love!
I am happy, and let the ignoramus
Writes so-called clever treaties about naked beauty,
While people walking in museums
Look at dead naked bodies...

YOUR CALL WAS HEAVENLY MANNA

My life was heavy and empty.
Your call was heavenly manna,
Rare gift for my rebirth.
I hear your inspirational voice
And I feel again that cactus
In the desert becomes green,
The daisies smile as before,
And carousels are full of laughing children.
Dragonflies are soaring over the water,
Herds of cows eat the fresh grass,
And a shepherd plays o¬n his flute.
I feel vibrations of the membrane,
I adore your voice, my love!
Tell me again and again, I cannot bear
To be separated anymore, let's forget old insults!

IN TIME MY TURN WILL COME

In time my turn will come
And I will enter another world
Silently without additional fuss.
Oh my enfeebled body,
You suffered many tortures in this life
But you sang your song.
Alas! Nothing is eternal in this world!
There were a lot of events in my life,
There was a lot of joy and sadness in my life,
Now I choose another path.
The terrestrial expanse gets lost in the fog,
The former sacred objects become darker,
The wind blows among the ruins,
And the same blue firmament is above the earth...

MORNING DEW

Oh, how wonderful are droplets of the morning dew
Glistering o¬n your eyelashes
Highlighted by the rays of sunshine.
Oh, how immortal is the mystery of beauty!
There is the tender breath of a luxuriant spring
When the butterflies are floating,
The bees are buzzing among fragrant flowers,
And my heart is full of love.
Oh, how harmonious are the rosy dreams of bliss!
How sweet are the lips of my beloved
Under a deep turquoise sky...
But a time will come when the dew will evaporate,
The fire will be o¬n the wane,
And a cold wind will take a breath.

LET THE RAIN OF HARMONY COME!

Let the rain of Harmony come
To quench my thirst for the wilderness!
Let's wild river of dream run
From the heights
Sweeping away everything!
Let my heart beat again violently!
I am ready to drown
In your depths forever!

HOW HARMONIOUS IS A DANCE OF JOY!

How harmonious is a dance of joy!
It seems as a perpetual cascade
Which never stops and never fades,
Have sensual pleasure and enjoy!
Feel the pulsation of thirsty lips,
Your heart beats quickly to and fro,
Oh you are happy with what's in store,
How alluring is the nectar's sips!

SOMETIME

Sometime in the future
When other people are living,
Maybe someone will remember about me.
Perhaps they will read my lines,
Breathing a scent of harmony.
Maybe they will look
At the rusty lock from my house
And open the old door of my room.
They will find there a bag
Of half-decayed words
And my soul, withered but still alive!

LET OUR DREAMS UNITE

Let our dreams unite.
We will soar together in our dreams.
Let your mouth be like a rose in blossom,
Let harmonious moments continue endlessly!
I am dying to feel your hugs,
Let the merry-go-round move!
I want to drink the honey of your love.
Let a chilly winter be angry,
It cannot conquer a young spring.
How sweet are dreams,
Let's fly together in our fairy tale!

YOU CANNOT STOP THE DAWNS
APPEARANCE

You cannot stop the dawn's appearance,
And time will run forever.
The seasons will change,
And the birds will build nests.
I don't care about changing of seasons
And the color of the sky.
Love has its own rules,
And the Harmony will be eternal.
Love is an enigma,
It is like of invasion of the Huns.
Don't rely o¬n a rescue!

THE POET LOOKS LIKE A MADMAN

The poet looks like a madman.
He invites us to his strange world
And sometimes he does not know exactly real path.
There is no prohibition o¬n his imagination.
At times he is like a prophet among ruins,
Wandering through a wasteland
Illuminating the path by own light!

THE LAST SONG OF LOVE

Crawling along the wet side of a road
Among rotting leaves
I cannot reach you
And sing my last song of love.
I am dying, I cannot tell you
My last goodbye and kiss you.
Oh that cruel war,
How many people you've killed!
I don't want, my beloved, to leave you alone,
I don't want to see the widows again!
But what do tears of widows mean for monsters of war?
Don't cry, my love, don't mourn,
Your tears cannot raise me from the dead.
Remember o¬nly about my last ardent kiss!

MY HEART SANG AS BEFORE

My heart sang as before.
Sinking in a semi forgotten dream
I had fallen in love as in my youth.
My old body was young again.
I drank the sweet fraud of illusion.
The sun had dropped,
But the sunset glowed yet,
And I was glad to feel
That I was still alive!


I AM A FLUTTERING BIRD SOARING
IN THE SKY

I'm a fluttering bird soaring in the sky
Bringing to you, an unknown soul,
The emerald ring and a priceless bowl
Filled with my love which is constant and shy.
To be honest, I don't know why
I send to you my yearning song,
I never was an idol of an insatiable throng,
And I never have reached an Olympic High.
I don't want to seduce you or to lie.
I came to you to share honestly my creed,
But I don't know, perhaps, you don't need
To hear my song with a delicate sigh.
You are busy, of course, as everyone is.
We have no more time to hear each other.
You don't want to be my admirable brother...
How quickly you grow, misunderstanding's abyss!

WAIT!

Who may evaluate
The expanse of your poetical sea,
Who is able to calculate
How far extended are the roots of your tree,
Who ought to manipulate
Your irresistible sense?
You are great poet, wait, admirers
Will burn incense to Harmony!

PORTRAIT

You are the sculptor, the artist and the poet!
Remember how genius is simplicity!
When you feel that your canvas is ready
For eternity than you may paint your portrait.
Take off everything which is too much.
Let your portrait's face become heavenly
Caring the essence of eternal Harmony!


THIS MOMENT, A TERRESTRIAL
RUSTLING

It is everywhere and here,
It is inside of you and me, this moment,
A terrestrial rustling: o¬n the earth,
In the water, in the evening star,
This moment will stay with us forever.
A trembling of leaves, a drop of the rain,
An early spring coming...
You embraced me, you ardently kissed me,
You whispered: I am yours!


I DON'T KNOW MY FUTURE
I don't know my future,
But I am not going to return to my past.
It's impossible to cross again
The abyss of my hard years
By use of this rickety footbridge.
I don't want to promise more a prosperity
And smoothed angles.
I know for sure that free cheese
You may find o¬nly in mousetrap!
Don't tell me anything else!

SUNSET
Sunset is burning... The tired poplars whisper.
Another day disappeared with all its troubles.
As in biblical times
A herd of sheep moves blowing clouds of dust
Near the foot of an ancient blue mountains.
I see the same shepherd
Covered by the same sheepskin
And hear the same barking of dogs.
The herd has disappeared in the distance,
I cannot hear the bleating of sheep anymore.
Will we ever understand the reason
Of this eternal movement?
Sunset is burning...


LET IT BE!
Let it be! Let the rich man lose
His stolen millions.
Let the poor man stop moaning,
And let a bird fly again in the sky!
Let the ice of silence disappear,
Let the greedy amass their money
For the funeral repast,
Let a little aspen stop trembling,
Let vampires choke drinking our blood.
Let eternity open all the secrets,
Let all haughty men be scorned,
Let the blind man see again,
Let sages find the roots of wisdom!
Let everyone see the blue sky,
Let the worthless stay insignificant.
Maybe you'll tell me that it is impossible,
We have not enough bread to feed everyone,
Perhaps you'll tell me that this is nothing
But the idle fancies of a strange poet...
Let's try, people, step-by-step,
Maybe we can change this world!


GENIUS TRANSFORMS HIS ABSURDITY
INTO A BRILLIANT IDEA
Ordinary people divide the world
Into the natural and artificial categories.
If someone tries to find his own solution
Of generally-accepted problems,
He will be in trouble very soon,
And everyone will refuse to understand him.
Only a genius has enough power
To alter this situation and transform
His absurdity into a brilliant idea
Usable later by other generations!


STRANGE DAYS ARE COMING AT TIMES
Strange days are coming at times
When you do not know exactly
Where your thoughts are fleeting.
You do not shed more tears about the past,
You do not care about the hard burden
And you do not understand
Where your real home is.
You forget about all mundane problems,
You brake your chains, and your soul
Is soaring harmoniously among the stars...

LET'S RETURN OUR HOME TO LIFE
Once we abandoned this house,
Looking for another ephemeral planet,
And left everything we had before.
Unfortunately, our tragedy was that
We didn't know the true values of life.
And being sick and tired of sadness
We came back to the doorstep
Of our old house.
It doesn't matter that all the walls
Are covered by cobwebs.
I hope that we will reconstruct
Our old house and will live in harmony!

WHEN I COME BACK...
When I come back, sad and joyless,
Are dirty from dry clay,
I look around me to be sure
That I am still alive.
When I finish traversing
My hard, crooked path
And return to my home,
I realize that there remains
A piece of goodness in this world.
When I come back, exhausted and tired,
My faith half lost, I understand
That a human being needs
Only a little care and warmth.


HAPPY DAY
I would like to know more
About everything, to use this day efficiently,
To breathe new life into my job!
I don't want to hear children cry,
I don't want to remember my sad past.
Frankly speaking I would like
To be happy at least for o¬ne day,
Being inspired under the warm sunbeams,
When birds start to build a nest.
Oh, new day, I would like
To be in a good mood,
Make me happy!

LOVE IS...

You cannot say: love will come afterward.
Love is like a fresh-cut withering rose,
Open your heart and hold it closely,
Love is you joy, your highest reward!
Love is harmony you wish you could hoard,
You fell in love, all your life changed,
Sometimes it's ardent, sometimes it's strange,
You can feel it striking a sensitive chord.
Love is bliss, love is terrible pain,
When your heart is broken, you are ready to die,
Love is torture or a joyous sigh,
Hopefully-recurring refrain!

MY NIGHTLY THOUGHTS BRING
WHIMSICAL DELIGHT

My nightly thoughts bring whimsical delight
When I by stellar shawl do enfold,
Keep in my hands this spacious hectic world,
Sitting in the shadow of scattered candlelight.
To be honest, I don't like a burning broad daylight,
And I don't like the glorious landscape.
I am glad to find a miraculous escape
In my beloved impenetrable midnight.
I like the mystery, a slowly rolling moon,
I like an opalescent cold moon beam
When I am at the mercy of a sweet dream
Stirring black coffee by a silver spoon.
My gentle Muse believes still in my might,
Sometimes she is teasing me, after a while
We are looking at each other with a smile...
I love this sable magic harmonious night!

AN EXPECTATION

We all are looking for our own star,
For that bright star which is faraway,
We search for a celestial way
To reach that guiding morning-star!
We all accept a sacred love,
Which every soul wants to adore,
Which gives us wings so we may soar,
When everyone is a cooing dove!
The crowning triumph waits for us,
The glory weaves a laurel wreath,
This moment comes soon, hold your breath
And leave forever a nasty fuss!

I AM AN ETERNAL CHILD OF SPRING

I am an eternal child of spring,
I fall in love with my tender Muse.
Inside of her womb I completely fuse,
I am soaring o¬n romantic wings.
I am o¬ne of the happy human beings
Singing a spiritual song,
My voice is extraordinarily strong,
I feel my might, I am a powerful King!
I know for sure that I must bring
To everyone the sparkling dew,
When someone finds a rainbow hue,
Then he will start to smile and sing!


HIDDEN DELIGHT

You are in the field. Lo and behold!
The hidden warbles suddenly unfold.
Look in the sky, turquoise and bright,
An invisible skylark sings with delight!
A joyful grass hoper crackles in the grass,
Trust me, you will never find him, alas!
The buds are wrapped in a shawl of leaves
To hide their pleasure from the eyes of thieves.
The delight for a poet is to melt into thought
Full of the feelings and finely wrought!

THE POT OF CLAY

People may think: it isn't a big deal
To make a simple pot of clay,
You need to turn a potter's wheel
And do the same job every day!
I beg your pardon, you can't say
A pot of clay means nothing, still
For many centuries turns a wheel,
A lot of pots buried, old and gray.
Any chance you will find in sand
The pot of clay with a graceful form,
So perfect that it might perform
Not by the man, but by God's hand!


Up