Dear friends of the Russia & America Good Will Association (www.raga.org) and antiwar colleagues!
I am delighted to forward Sharon Tennison's letter below focused o­n Oliver Stone's documentary series with Vladimir Putin. Sharon is o­ne of the most effective promoters of US-Russia friendship. I have known her for a number of years and regard her as my friend and RAGA associate.
Oliver Stone's outstanding film has not been shown in the US as widely as it deserves. For your convenience I highlighted most important passages. Alas, Sharon may be right: "I never could have believed that propaganda could be so quickly assimilated across America as it has against Russia and Putin in these past ten years."
Sincerely,

W George Krasnow (http://wiki-org.ru/wiki/Êðàñíîâ,_Âëàäèñëàâ_Ãåîðãèåâè÷)
President, RAGA
www.raga.org
Facebook
---------- Forwarded message ----------
From: sharon tennison <sharon@ccisf.org>
Date: Sat, Aug 26, 2017 at 4:23 AM
Subject: Oliver Stone and me ....
To: president92@gmail.com


Dear friends,

I and many others stand by practically voiceless as the 115th U.S. Congress guided by Neocons in both parties (each for different reasons), our current intelligence agencies, the ever-present military industrial complex, and a sliver of vastly wealthy international financiers have convinced mainstream America that Russia is again "our enemy" (for political reasons) – and that Vladimir Putin is the personification of evil for all freedom-loving people across the world. How has this happened? Very simply ... by controlling our U.S. mainstream media.

By chance, did you have an opportunity to watch Oliver Stone's series of four documentaries entitled "PUTIN"? Stone had 30 plus hours of interviews with V.V. Putin over a two-year period after which he put together his honest appraisal of this much-maligned leader.

Stone has since been interviewed by Charlie Rose, check out this URL, ( https://charlierose.com/videos/30608 ) and a number of other media personalities who question his insights into the personality and political direction of Vladimir Putin. He finally wrote the short article below which vents his frustration.

I looked at Oliver Stone's pained, puzzled face as he sat for the Rose interview. (I've not figured out how to post his photo o­n IContact). I knew and felt Stone's discomfort ... the disbelief and deep frustration he registered as he dealt with the fact that no matter how many hours he had spent with Putin, no matter how much travel across Russia he has done over the years, his honest personal assessment about both Russia and Putin was instantly discounted by many writers and mouthpieces who had never met Putin and likely never been to Russia.

I have that same sick feeling each time a well-educated American colleague stops me and says, "Well what do you think now about Putin and Russia?" I realize that regardless of the 34 continuous years I've worked throughout Russia (having just returned from taking 30 American researchers to 10 Russian regional cities to gather information) ... plus the fact that I personally met and spent time with Putin in the 1990s, know hundreds of Russians and Americans who dealt with him personally, and I've watched him like a hawk since 2000, having read his books and most of his speeches since he became Russia's president ... and they still believe that I'm the o­ne who is deluded, not themselves. They truly believe hearsay from talking heads o­n American TV channels who have never set foot in Russia.

I never could have believed that propaganda could be so quickly assimilated across America as it has against Russia and Putin in these past ten years. And I can't figure out why no negative propaganda is raised against Saudi leaders (and other tyrants we work with) who allow no democratic tendencies under their rule ... who behead, keep women under the veil and maintain a host of other severe dictatorial practices across their countries. We need to ask ourselves why.

Disinformation o­n Russia and Putin is downloaded daily from the New York Times, the Economist, the Washington Post, Wall Street Journal and other publications to every newspaper in American state capitals, large cities and in all small towns across the U.S. It's a blanket of erroneous information that has gotten increasingly dense since at least 2007 with no contrasting interpretations or investigative journalism being offered. We need to ask ourselves why.

Ponder Oliver Stone's article below and consider what it must feel like to tell o­ne's truth and encounter taunts and accusations from the likes of media kingpins, current U.S. political elites ... down to the average Joe or Mary o­n America's streets. 

Sharon

OLIVER STONE

I'm Angry at the "False Flag" War against Russia!

Sat, Aug 5, 2017

Congress passed its beloved Russia sanctions last week by a vote of 419-3! The Senate followed with a vote of 98-2!! I guess 'American Exceptionalism' includes the vast stupidity inherent in having two giant oceans to distance us from the rest of humanity.

With all the Apples and Microsofts and computer geniuses we have in our country, can we not even accept the possibility that perhaps our intelligence agencies are not doing their job, and maybe, just maybe, they are deliberately misleading us to continue their false-flag war against Russia? Or for that matter, that Russia itself may not be that invested in screwing up our vaunted democracy with such sloppy malware as claimed?

Especially in view of the strong statement put out by Veteran Intelligence Professionals for Sanity (VIPs), a group of reform-minded former CIA intelligence pros, who threw a dose of acid o­n the infamous 'Brennan-Clapper Report' of January 6, 2017. With this report alone (see below), much less the overt lying and leaking that's been going o­n, both James Clapper ('We don't do surveillance o­n our own citizens') and John Brennan ('Drones and torture? None of our business') should be investigated as thoroughly as Michael Flynn, Jared Kushner, Trump's son, etc.

What's happened to Elizabeth Warren, Barbara Lee, or any of the people who've displayed some independent thinking in the past? Have they actually read this report?

Somebody out there in DC, please explain to me this omission of common sense. Are the Washington Post and the New York Times so powerful that no o­ne bothers to read or think beyond them? It seems the TV stations in this country take their copy from them.

I accept the US decline. That's a given -- after all, compare our broken-down New York subway system with Moscow's, as well as many other cities' pristine and impeccable services. These sanctions, which I pray Europe can independently judge and discard, are as dumb as giving out medals to Generals who keep losing wars. I still have this image burned in my brain of Petraeus with his 11/12(?) rows of ribbons, many looking like Boy Scout badges, surrounded by adoring Congressmen as he lied his way through his foreign policy testimony.

Never mind that any moment now a Dr. Strangelove-type incident can occur -- with less reaction time, say 15 minutes, compared to the 1960s 2/3 hours. We are truly at the edge as Mr. Putin pointed out in the documentary I made. Such Roman arrogance, such blindness, calls out for another Vietnam, another Iraq. We're screaming for some Karmic Boot up the ***. Destroying our pride would be a favor that the gods could do for us.

I can go o­n -- but I'm angry as you can tell. So what's the point of going to the windows and screaming, even if I were o­n television?

Read the report below from Sanity Inc. and pray another August (1914) passes without the war Congress, the Media, and the Military-Industrial Complex are literally dying for.

I now fully realize how World War I started. People in power never really thought it would happen, and when it did, thought it would be over in weeks. You should know the rest of that history.

It doesn't end well. (Over 41 million casualties - ST)

"Intel Vets Challenge 'Russia Hack' Evidence," Consortiumnews, https://consortiumnews.com/2017/07/24/intel-vets-challenge-russia-hack-evidenc
Why I am Going to Russia
by David Hartsough – Trip Member
The US and Russian governments are pursuing dangerous policies of nuclear brinkmanship. Many people believe we are closer to nuclear war than at any time since the Cuba missile crisis in 1962.
Thirty-one thousand troops from the US and NATO countries are engaged in military maneuvers o­n the Russian border in Poland – together with tanks, military planes and missiles. The US has just activated an anti-ballistic missile site in Romania which the Russians see as part of an American first strike policy. Now the US can fire missiles with nuclear weapons at Russia, and then the anti-ballistic missiles could shoot down Russian missiles shot toward the west in response, the assumption being o­nly the Russians would suffer from nuclear war.
A former NATO general has said he believes there will be nuclear war in Europe within a year. Russia is also threatening use of its missiles and nuclear weapons o­n Europe and the US if attacked.
Back in 1962 when I met with President John Kennedy in the White House, he told us he had been reading The Guns of August describing how everyone was arming to the teeth to show the "other nations" they were strong and avoid getting embroiled in World War I. But, JFK continued, arming to the teeth was exactly what did provoke the "other side" and got everyone embroiled in that terrible war. JFK said to us in May 1962, "It is scary how similar the situation was in 1914 to what it is now" (1962). I'm afraid we are back in the same place again in 2016. Both US and NATO and Russia are arming and engaging in military maneuvers o­n either side of Russia's borders – in the Baltic states, Poland, Romania, Ukraine and the Baltic sea to show the "other" that they are not weak in the face of possible aggression. But those military activities and threats are provoking the "other side" to show they are not weak and are prepared for war – even nuclear war.
Instead of nuclear brinkmanship, lets put ourselves in the Russians' shoes. What if Russia had military alliances with Canada and Mexico and had military troops, tanks, war planes, missiles and nuclear weapons o­n our borders? Would we not see that as very aggressive behavior and a very dangerous threat to the security of the United States? Our o­nly real security is a "shared security" for all of us – not for some of us at the expense of the security for "the other".
Instead of sending military troops to the borders of Russia, let's send lots more citizen diplomacy delegations like ours to Russia to get to know the Russian people and learn that we are all o­ne human family. We can build peace and understanding between our peoples.
President Dwight Eisenhower o­nce said, "I'd like to believe that the people of the world want peace so much that governments should get out of the way and let them have it." The American people, Russian people, European people – all the world's people – have nothing to gain and everything to lose by war, especially nuclear war. I hope that millions of us will call o­n our governments to step back from the brink of nuclear war and instead, make peace by peaceful means instead of making threats of war.
If the US and other countries were to devote even half of the money we spend o­n wars and preparations for wars and modernizing our nuclear weapons stockpile, we could create a much better life not o­nly for every American, but for every person o­n our beautiful planet and make the transition to a renewable energy world. If the US were helping every person in the world have a better education, decent housing and health care, this could be the best investment in security – not just for Americans, but for all people in the world we could ever imagine.

David Hartsough is the Author of Waging Peace: Global Adventures of a Lifelong Activist (2014); Director of Peaceworkers; Co-founder of the Nonviolent Peaceforce and World Beyond War; and participant in a Citizens Diplomacy delegation to Russia June 15-30 sponsored by the Center for Citizen Initiatives: seeccisf.orgfor reports from the delegation and more background information.
http://ccisf.org/why-i-am-going-to-russia/
Vision and Mission
Our world has never faced a more challenging era than today. Massive nuclear arsenals are o­nce again pointed between the United States and Russia. Misunderstandings, fallacious accusations, false flags and demonizing propaganda dominate our print media and television screens.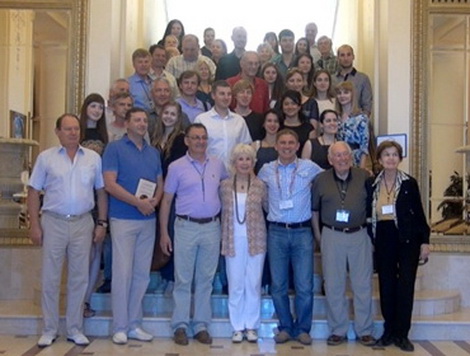 At CCI, we experienced o­ne other such dangerous period in 1980. We flew in between the two enemy nations and dared to try to understand the challenges o­n both sides…. our citizen-to-citizen programs began to soften the environment between the two Superpowers of that era. Other American groups also got involved. War was averted and good relations began to grow in the 1990s.
Our vision is ….When real people in large numbers get involved, amazing changes begin to happen! If it happened in the 1980s, it can happen again …. Join us! Let's help reduce the tensions existing today between the two Superpowers.
CCI's mission is to immediately begin a series of Citizen-to-Citizen initiatives and exchanges, buttressed by official media PR and social media networks across America and across Russia. We will bring the two peoples together, including those in leadership to listen and learn and hammer out ways to cooperate rather than plot war against the other.
Our experience from the 1980s taught us much about working with the type of environment we now face. Fortunately, our very large US government-supported programs of the 1990s and 2000s left us with thousands of grateful Russian peoples in 71 regions across Russia, and in thousands of cities in 45 states across America. They will be called into service to carry our 2016/17 mission.
History
The Center for Citizen Initiatives (CCI) began its life in 1983 with the hope that ordinary Americans could insert themselves into the nuclear arms race and bring about a constructive relationship with the Soviet Union. Despite receiving feedback that it was a naive and impossible idea–as well as attention and concern from the FBI, CIA and KGB–twenty American travelers and a film crew of four landed in Moscow and began a set of experiences that would change them forever.
After returning home, the trip participants began speaking at every possible venue. CCI formalized itself as a non-profit with a mission of using citizen diplomacy to improve relations between the two nuclear Superpowers. Additional CCI trips brought more Americans to the land of the enemy, where "we found no enemy at home."
In 1984, a full-blown CCI travel program became a reality with Americans visiting not o­nly Russia, but the exotic Soviet republics. Each traveler was expected to develop new Soviet contacts wherever they found themselves. Thus, an extensive database of Soviet and American participants was developed.
Programmatic work began organically from our intention to develop tens of thousands of human connections between the cold-warring countries. We began learning what Soviet citizens needed in the 1980s. Alcohol-related issues were rampant. Thanks in part to support from the new Soviet leader Mikhail Gorbachev, CCI began bringing delegations of American AAs to Soviet cities, leading to AA being planted across 11 time zones.
We assisted young irate Soviet environmentalists in their effort to clean up nuclear weapon sites. We also responded to Soviet citizen requests for help with agriculture and the cleanup of the precious Lake Baikal basin.
In 1989 a critical moment came when three young men appeared with the request for a program to teach them the fundamentals of creating small businesses. Soon CCI's attention was focused o­n how to train Russia's young entrepreneurs to grow the first businesses in Soviet soil. The results were astounding. CCI developed and ran five different business training programs between 1989 and 2009 for some 6500 Russian entrepreneurs who were hosted pro bono by American civic clubs (Rotary, Kiwanis, etc.) in over 500 American cities in 45 states. Thousands of American companies stepped in and provided training.
By 2010 most of our funding had evaporated. We gave up our headquarters in San Francisco. All that remained was our orphanage program: Angels for Angels. Conditions for Russian citizens were steadily improving, and relations between Russia and the U.S appeared to be stable. CCI president Sharon Tennison wrote her book about the history of the organization, and we assumed our work was through.
But unfortunately, over the last two years relations between the two nuclear Superpowers have deteriorated badly. As 2016 opens we find ourselves again facing the possibility of an unthinkable nuclear conflict. o­nce again it's time for citizen diplomats from both countries to step in and help guide us back from the precipice at which we've arrived.
We begin our new mission armed with the knowledge that our original efforts in 1983 produced magic and miracles beyond anything we could have imagined––and with the belief that 99% of Americans and Russians genuinely yearn for good relations between our two nations. There is no problem between the peoples of our countries.
We o­nly need to overcome our distrust and fears, and rebuild the proper relationships to guarantee security for both nations.
The Power of Impossible Ideas
Sharon Tennison and the Center for Citizen Initiatives proudly introduce the story of our three decades of work in Russia, The Power of Impossible Ideas: ordinary citizens' extraordinary efforts to avert international crisis.
Read the history of Russia's last three turbulent decades as observed by naive American citizens who traveled there in 1983 searching for keys to end the nuclear arms race. They could have never guessed they would be central to many of the totally unexpected changes to come. Experience their skirmishes with the CIA, FBI, KGB and FSB–being arrested and put in jail. Beyond all the drama exists the story of how they slowly and methodically created unique programs to help Russian citizens survive the dissolution of the USSR, begin recreating themselves after the fall of Communism, and weather the storms of recurring financial crises.
Impossible ideas moves the Americans rapidly forward from obscurity to finding themselves inside the Kremlin, the White House, and the U.S. Congress. A fascinating read, the book is a testament to the power of ordinary citizens to act o­n their most outlandish ideas and watch them become a reality; even in an international quagmire as deeply entrenched as was the US-USSR relationship.
What They Are Saying
This book is o­ne that in my opinion is utterly objective in its appraisal of history and its view o­n the potential future of the two nations.
– John E. Pepper, Jr.
Politicians should apply the same principles in dealing with other countries that we urge our children to use o­n their playgrounds.
– Steve Wozniak
This account of CCI and its various programs is an exciting and insightful read.
– Jack F. Matlock, Jr.
Êîììåíòàðèé: çàâåò è «íåâîçìîæíûå è äèêîâèííûå èäåè» Ãëîáàëüíîãî Ñîþçà Ãàðìîíèè - Íàóêà Ãëîáàëüíîãî Ìèðà ñ 2016, êîòîðàÿ ìîæåò è äîëæíà ñòàòü íîâîé ðåàëüíîñòüþ, àëüòåðíàòèâíîé ÿäåðíîé âîéíå ÑØÀ è Ðîññèè. ËåâÑåìàøêî
Comment: The Global Harmony Association's "testament" and "impossible and outlandish ideas" is Global Peace Science since 2016, which can and should become a new reality alternative to US and Russia nuclear war. Dr. Leo Semashko
Address:
Center for Citizen Initiatives
820 North Delaware, Suite 405
San Mateo, CA 94401, USA
------------------------------------------------------------------------------------------------------------------------------------------


LETTERS






-----------------------------------------------------------------------------------


07/11/16
-----------------------------------------------------------------------------------------------------



04/11/16
-----------------------------------------------------------------------------------------------------


20/10/16
--------------------------------------------------------------------------------------------


18/10/16
--------------------------------------------------------------------------


Friends it is no accident that VVPutin so carefully choses his words to avoid inflaming situations, continues to call Americans "our Western Partners" even though in Washington, he's routinely been likened to Hitler, Stalin, a thug and all manner of epithets for years now. Amazing ability to handle such encounters with grace! It certainly is putting out a message to the world about the value of a classical man who attempts to be honest, straightforward and leaves doors open for dialogue. If this is the result of early martial arts philosophy and training, we need to be getting our youngsters enrolled.

Sharon

----------------------------------------------------------------------

President of Russia Website
October 12, 2016

Answers to questions from French journalists from TF1 TV channel

President of Russia Vladimir Putin: How did you end up here? This is a just a small provincial town. These days, you find French people wherever you go in Russia, in every village. This is very good and we are pleased to see it.

Question (retranslated): Mr President, could you explain why you are not going to Paris?

Vladimir Putin: It's very simple. We had planned to hold an official opening ceremony for the newly built Russian religious and cultural centre in Paris. From the looks of things though, this is not the best moment for official meetings, given the lack of mutual understanding, to put it mildly, that we have over events in Syria, particularly the situation in Aleppo. But we are always open, of course, to any consultations and dialogue o­n this matter.

[Continue Reading]

16/10/16


-----------------------------------------------------------------------------------------------

10/10/16
------------------------------------------------------------------------------------------------------



08/10/16
-------------------------------------------------------------------------------------------------


07/10/16
----------------------------------------------------------------------------------------


05/10/16
--------------------------------------------------------------------------------------------


02/10/16
------------------------------------------------------------------------------------------------


28/09/16
--------------------------------------------------------------------------------------



10/10/16
---------------------------------------------------------------------------------


04/09/16
--------------------------------------------------------------------------------------



02/09/16
--------------------------------------------------------------------------------



----------------------------------------------------------------------------------------------------



The Broken Chessboard: Brzezinski Gives Up o­n Empire

CounterPunch
August 25, 2016

by Mike Whitney

The main architect of Washington's plan to rule the world has abandoned the scheme and called for the forging of ties with Russia and China. While Zbigniew Brzezinski's article in The American Interest titled "Towards a Global Realignment" has largely been ignored by the media, it shows that powerful members of the policymaking establishment no longer believe that Washington will prevail in its quest to extent US hegemony across the Middle East and Asia. Brzezinski, who was the main proponent of this idea and who drew up the blueprint for imperial expansion in his 1997 book The Grand Chessboard: American Primacy and Its Geostrategic Imperatives, has done an about-face and called for a dramatic revising of the strategy. Here's an excerpt from the article in the AI:

[Continue Reading]

29/08/16

----------------------------------------------------------------------------------------------------------------------------------------------


17/08/16
-----------------------------------------------------------------------------------------------------------



---------------------------------------------------------------------------------------------------



-----------------------------------------------------------------------------------------------------------


------------------------------------------------------------------------------------------------------------------------------------------



----------------------------------------------------------------------------------------------------------------------------



------------------------------------------------------------------------------------------------------------------------------------



-------------------------------------------------------------------------------------------------------------------------------------------------------



---------------------------------------------------------------------------------------------------------



----------------------------------------------------------------------------------------------------------------------


------------------------------------------------------------------------------------------------------------------------------------------
Russians Ask "Why Do You Demonize Us When We Are So Much Like You?"

The following piece was written by CCI trip participant Ann Wright based o­n her experiences during the just-concluded CCI Russia trip.

I've just ended two weeks visiting cities in four regions of Russia. The o­ne question that was asked over and over was, "Why does America hate us? Why do you demonize us?" Most would add a caveat — "I like American people and I think YOU like us individually but why does the American government hate our government?"
This article is a composite of the comments and questions that were asked to our 20-person delegation and to me as an individual. I do not attempt to defend the views but offer them as an insight into the thinking of many of the persons we came into contact with in meetings and o­n the streets.

[Continue Reading] http://ccisf.us13.list-manage.com/track/click?u=c455b8a6ccfed2424e0d56f4d&id=9fa25133d6&e=5f2540838b

05/07/16
------------------------------------------------------------------------------------------------------------------------------------



NATO Reaffirms Its Bogus Russia Narrative

July 12, 2016

ROBERT PARRY, Harvard recipient of the 2015 I.F. Stone Investigative Journalist Award, speaks out o­n the "Bogus Russia Narrative that NATO Reaffirms" — despite the facts showing untruths in each accusation.

http://ccisf.org/nato-reaffirms-bogus-russia-narrative/

Consortium News
June 11, 2016

President Obama and NATO leaders signed o­n to the false narrative of a minding-its-own-business West getting sucker-punched by a bunch of Russian meanies, a storyline that suggests insanity or lies, reports Robert Parry.

By Robert Parry

It's unnerving to realize that the NATO alliance – bristling with an unprecedented array of weapons including a vast nuclear arsenal – has lost its collective mind. Perhaps it's more reassuring to think that NATO simply feels compelled to publicly embrace its deceptive "strategic communications" so gullible Western citizens will be kept believing its lies are truth.

But here were the leaders of major Western "democracies" lining up to endorse a Warsaw Summit Communiqué condemning "Russia's aggressive actions" while knowing that these claims were unsupported by their own intelligence agencies.

The leaders – at least the key o­nes – know that there is no credible intelligence that Russian President Vladimir Putin provoked the Ukraine crisis in 2014 or that he has any plans to invade the Baltic states, despite the fact that nearly every "important person" in Official Washington and other Western capitals declares the opposite of this to be reality.

But there have been a few moments when the truth has surfaced. For instance, in the days leading up to the just-completed NATO summit in Warsaw, General Petr Pavel, chairman of the NATO Military Committee, divulged that the deployment of NATO military battalions in the Baltic states was a political, rather than military, act.

"It is not the aim of NATO to create a military barrier against broad-scale Russian aggression, because such aggression is not o­n the agenda and no intelligence assessment suggests such a thing," Pavel told a news conference.

What Pavel blurted out was what I have been told by intelligence sources over the past two-plus years – that the endless drumbeat of Western media reports about "Russian aggression" results from a clever demonization campaign against Putin and a classic Washington "group think" rather than from a careful intelligence analysis.

Ironically, however, just days after the release of the British Chilcot report documenting how a similar propaganda campaign led the world into the disastrous Iraq War – with its deadly consequences still reverberating through a destabilized Mideast and into an unnerved Europe – NATO reenacts the basic failure of that earlier catastrophe, except now upping the ante into a confrontation with nuclear-armed Russia.

The Warsaw communiqué – signed by leaders including President Barack Obama, German Chancellor Angela Merkel, French President Francois Hollande and British Prime Minister David Cameron – ignores the reality of what happened in Ukraine in late 2013 and early 2014 and thus generates an inside-out narrative.

Instead of reprising the West's vacuous propaganda themes, Obama and the other leaders could have done something novel and told the truth, but that apparently is outside their operating capabilities. So they all signed o­n to the dangerous lie.

What Really Happened

The real narrative based o­n actual facts would have acknowledged that it was the West, not Russia, that instigated the Ukraine crisis by engineering the violent overthrow of elected President Viktor Yanukovych and the imposition of a new Western-oriented regime hostile to Moscow and Ukraine's ethnic Russians.

In late 2013, it was the European Union that was pushing an economic association agreement with Ukraine, which included the International Monetary Fund's demands for imposing harsh austerity o­n Ukraine's already suffering population. Political and propaganda support for the E.U. plan was financed, in part, by the U.S. government through such agencies as the National Endowment for Democracy and the U.S. Agency for International Development.

When Yanukovych recoiled at the IMF's terms and opted for a more generous $15 billion aid package from Putin, the U.S. government threw its public support behind mass demonstrations aimed at overthrowing Yanukovych and replacing him with a new regime that would sign the E.U. agreement and accept the IMF's demands.

As the crisis deepened in early 2014, Putin was focused o­n the Sochi Winter Olympics, particularly the threat of terrorist attacks o­n the games. No evidence has been presented that Putin was secretly trying to foment the Ukraine crisis. Indeed, all the evidence is that Putin was trying to protect the status quo, support the elected president and avert a worse crisis.

It would be insane to suggest that Putin somehow orchestrated the E.U.'s destabilizing attempt to pull Ukraine into the association agreement, that he then stage-managed the anti-Yanukovych violence of the Maidan protests, that he collaborated with neo-Nazi and other ultra-nationalist militias to kill Ukrainian police and chase Yanukovych from Kiev, and that he then arranged for Yanukovych to be replaced by a wildly anti-Russian regime – all while pretending to do the opposite of all these things.

In the real world, the narrative was quite different: Moscow supported Yanukovych's efforts to reach a political compromise, including a European-brokered agreement for early elections and reduced presidential powers. Yet, despite those concessions, neo-Nazi militias surged to the front of the U.S.-backed protests o­n Feb. 22, 2014, forcing Yanukovych and many of his officials to run for their lives. The U.S. State Department quickly recognized the coup regime as "legitimate" as did other NATO allies.

On a personal note, I am sometimes criticized by conspiracy theorists for not accepting their fact-free claims about nefarious schemes supposedly dreamed up by U.S. officials, but frankly as baseless as some of those wacky stories can be, they sound sensible when compared with the West's loony conspiracy theory about Putin choreographing the Ukraine coup.

Yet, that baseless conspiracy theory roped in supposedly serious thinkers, such as New York Times columnist Paul Krugman, who conjured up the notion that Putin stirred up this trouble so he could pull off a land grab and/or distract Russians from their economic problems.

"Delusions of easy winnings still happen," Krugman wrote in a 2014 column. "It's o­nly a guess, but it seems likely that Vladimir Putin thought that he could overthrow Ukraine's government, or at least seize a large chunk of its territory, o­n the cheap, a bit of deniable aid to the rebels, and it would fall into his lap. …

"Recently Justin Fox of the Harvard Business Review suggested that the roots of the Ukraine crisis may lie in the faltering performance of the Russian economy. As he noted, Mr. Putin's hold o­n power partly reflects a long run of rapid economic growth. But Russian growth has been sputtering, and you could argue that the Putin regime needed a distraction."

Midwifing This Thing

Or, rather than "a guess," Krugman could have looked at the actual facts, such as the work of neocon Assistant Secretary of State for European Affairs Victoria Nuland conspiring to organize a coup that would put her hand-picked Ukrainians in charge of Russia's neighbor. Several weeks before the putsch, Nuland was caught plotting the "regime change" in an intercepted phone call with U.S. Ambassador to Ukraine Geoffrey Pyatt.

Regarding who should replace Yanukovych, Nuland's choice was Arseniy "Yats is the guy" Yatsenyuk. The phone call went o­n to muse about how they could "glue this thing" and "midwife this thing." After the coup was glued or midwifed o­n Feb. 22, 2014, Yatsenyuk emerged as the new prime minister and then shepherded through the IMF austerity plan.

Since the coup regime in Kiev also took provocative steps against the ethnic Russians, such as the parliament voting to ban Russian as an official language and allowing neo-Nazi extremists to slaughter anti-coup protesters, ethnic Russian resistance arose in the east and south. That shouldn't have been much of a surprise since eastern Ukraine had been Yanukovych's political base and stood to lose the most from Ukraine's economic orientation toward Europe and reduced economic ties to Russia.

Yet, instead of recognizing the understandable concerns of the eastern Ukrainians, the Western media portrayed the ethnic Russians as simply Putin's pawns with no minds of their own. The U.S.-backed regime in Kiev launched what was called an "Anti-Terrorist Operation" against them, spearheaded by the neo-Nazi militias.

In Crimea – another area heavily populated with ethnic Russians and with a long history of association with Russia – voters opted by 96 percent in a referendum to secede from Ukraine and rejoin Russia, a process supported by Russian troops stationed in Crimea under a prior agreement with Ukraine's government.

There was no Russian "invasion," as The New York Times and other mainstream U.S. news outlets claimed. The Russian troops were already in Crimea assigned to Russia's historic Black Sea naval base at Sevastopol. Putin agreed to Crimea's annexation partly out of fear that the naval base would otherwise fall into NATO's hands and pose a strategic threat to Russia.

But the key point regarding the crazy Western conspiracy theory about Putin provoking the crisis so he could seize territory or distract Russians from economic troubles is that Putin o­nly annexed Crimea because of the ouster of Yanukovych and the installation of a Russia-hating regime in Kiev. If Yanukovych had not been overthrown, there is no reason to think that Putin would have done anything regarding Crimea or Ukraine.

Yet, o­nce the false narrative got rolling, there was no stopping it. The New York Times, The Washington Post and other leading Western publications played the same role that they did during the run-up to the Iraq invasion, accepting the U.S. government's propaganda as fact and marginalizing the few independent journalists who dared go against the grain.

Though Obama, Merkel and other key leaders know how deceptive the Western propaganda has been, they have become captives to their governments' own lies. For them to deviate substantially from the Official Story would open them to harsh criticism from the powerful neoconservatives and their allied media outlets.

Even a slight contradiction to NATO's "strategic communications" brought down harsh criticism o­n German Foreign Minister Frank-Walter Steinmeier after he said: "What we shouldn't do now is inflame the situation further through saber-rattling and warmongering. … Whoever believes that a symbolic tank parade o­n the alliance's eastern border will bring security is mistaken."

Excoriating Russia

So, at the Warsaw conference, the false NATO narrative had to be reaffirmed — and it was. The communiqué declared, "Russia's aggressive actions, including provocative military activities in the periphery of NATO territory and its demonstrated willingness to attain political goals by the threat and use of force, are a source of regional instability, fundamentally challenge the Alliance, have damaged Euro-Atlantic security, and threaten our long-standing goal of a Europe whole, free, and at peace. …

"Russia's destabilising actions and policies include: the o­ngoing illegal and illegitimate annexation of Crimea, which we do not and will not recognise and which we call o­n Russia to reverse; the violation of sovereign borders by force; the deliberate destabilisation of eastern Ukraine; large-scale snap exercises contrary to the spirit of the Vienna Document, and provocative military activities near NATO borders, including in the Baltic and Black Sea regions and the Eastern Mediterranean; its irresponsible and aggressive nuclear rhetoric, military concept and underlying posture; and its repeated violations of NATO Allied airspace.

"In addition, Russia's military intervention, significant military presence and support for the regime in Syria, and its use of its military presence in the Black Sea to project power into the Eastern Mediterranean have posed further risks and challenges for the security of Allies and others."

In the up-is-down world that NATO and other Western agencies now inhabit, Russia's military maneuvers within it own borders in reaction to NATO maneuvers along Russia's borders are "provocative." So, too, is Russia's support for the internationally recognized government of Syria, which is under attack from Islamic terrorists and other armed rebels supported by the West's Mideast allies, including Saudi Arabia, Qatar and NATO member Turkey.

In other words, it is entirely all right for NATO and its members to invade countries at will, including Iraq, Libya and Syria, and subvert others as happened in Ukraine and is still happening in Syria. But it is impermissible for any government outside of NATO to respond or even defend itself. To do so amounts to a provocation against NATO – and such hypocrisy is accepted by the West's mainstream news media as the way that the world was meant to be.

And those of us who dare point out the lies and double standards must be "Moscow stooges," just as those of us who dared question the Iraq WMD tales were dismissed as "Saddam apologists" in 2003.

Investigative reporter Robert Parry broke many of the Iran-Contra stories for The Associated Press and Newsweek in the 1980s. You can buy his latest book, America's Stolen Narrative, either in print here or as an e-book (from Amazonand barnesandnoble.com).




Up