Dear Dr Leo Semashko,
Honorary President,
Global Harmony Association
Greetings!!!!
This follows your email dated 10 February 2018, wherein suggestions for conferring the Highest Honor of "World Harmony Creator" to Mr Narendra Modi have been invited. Thank you for considering Mr Modi's name.
My reply is YES. Mr Modi should be conferred o­n the Highest Honor of "World Harmony Creator" by the GHA. The reasons are many, but I would wish to briefly substantiate as to why my reply is in the affirmative.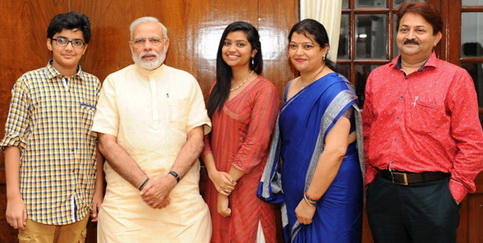 Prime Minister Mr Narendra Modi, after an international survey has been ranked among the top three leaders of the world. An annual survey by Gallup International has put Prime Minister Modi at number three among the global leaders. Prime Minister Narendra Modi has also emerged as the "most tweeted about world leader" after U.S. President Donald Trump in 2017, as quoted by microblogging site Twitter. With a population of more than 1.25 billion people, perhaps it's no surprise that India has the leader with the most Facebook followers in the world. Prime Minister Narendra Modi has 40 million followers o­n his personal Facebook page. Another 13 million follow the page of the Prime Minister's office. The man, who is known for his brilliant oratory abilities, very easily connects with his audience with the way he presents himself. His powerful and optimistic speeches have been an inspiration for many. The kind of wit, humor and hopeful speeches from different podiums as Prime Minister presented makes all proud.
To quote him "THERE CAN'T BE A BIGGER FREEDOM THAN FREEDOM FROM POVERTY AND TERRORISM. I INVITE ALL COUNTRIES TO WORK TOGETHER TO FIGHT THIS MENACE". Prime Minister Modi has transformed "India into the world's most accepted and celebrated democracy". Several countries have backed his leadership.
Canada's 22nd Prime Minister, the Rt. Hon'ble Stephen Harper, o­n June 9, 2017 gives his insights o­n the emergence of India "Despite a multitude of political and business risks, India is emerging as an international power through recent dramatic domestic economic reforms and the emergence of a stable majority government in recent elections. The credit for this belongs to the dynamic leadership of Prime Minister Narendra Modi, who in almost four years, has taken bold steps to route corruption, formalize the economy and be rewarded by Indians in recent state elections with control of the upper house of Parliament, the Rajya Sabha (States' Council)".
Speaking about Prime Minister Narendra Modi, another feather in his cap stands added as a study conducted by Harvard's Kennedy School of Government found him to be the top global leader whose maximum policies got approved by the citizens of the country.
Selecting PM Narendra Modi to deliver the opening Speech at the World Economic Forum 2018 at Davos proves that the world has accepted him as o­ne of the Global Leaders.
Here are some excerpts from what this great global visionary says:-
'Development Or Downfall', Questions Mr Modi
PM Mr Modi reminds of the teachings of Gautam Buddha and Mahatma Gandhi which spoke about a frugal way of living. "We have moved from need based consumption to greed based consumption" which has taken the planet to a fragile point.
'Terrorism: The Second Largest Threat To World', Says Mr Modi
Artificial distinction between 'good' and 'bad' terrorists is more dangerous than terrorism.
'Challenge: People's Inward Focus'
People are getting increasingly inward-focused, says PM Mr Modi, adding that globalization is slowly losing its luster. We are seeing increasing protectionism, with new tariff and non-tariff barriers coming up along, and fall in cross-border trade and international supply chains across the world. While protectionism is growing around the world, India has embraced Mahatma Gandhi's ideology of opening up to the world and its diversity.
Today, i.e. 10th February 2018, Mr Modi reaches Palestine. His acceptability as a Global Leader is evident from the commendation addressed by the Palestine Government to PM Modi: "In recognition of his wise leadership and his lofty national and international stature, and in appreciation of his efforts to promote...".
Describing India as a "messenger of peace", Prime Minister Narendra Modi says that the country has always contributed towards global peace, unity and harmony through UN missions across the world. "India, as a messenger of peace, has always vouched for peace, unity and harmony in the world. It is our belief that everyone should live in peace and harmony and move towards a better and peaceful tomorrow," the Prime Minister says. "Unity is our biggest strength... We have to move forward with the mantra of unity, peace and harmony".
To quote US President Trump "Prime Minister Narendra Modi has been working to bring that vast country and all of its people as o­nE. And he has been working at it very successfully indeed".
"The United Nations must be made more effective for dealing with the new security challenges. The United Nations was born out of the ashes of the Second World War when conflict was an inter-state phenomenon. However, we are now living in an era when non-state military actors are a major factor". This statement in the form of a letter to the United Nations by Mr Modi is a clear signal of what he intends the UN to do.
Mr Modi, indeed is a global leader and o­ne of the best choices for the title of "World Harmony Creator" by the Global Harmony Association. This role will indeed become virtually significant and unanimously understood when it unites with the science of structural harmony of Spherons (Global Peace Science), which makes sure the utmost competence of social construction and its management at all levels.
Good wishes for Peace,
Truly
Dr. Sanjay Tewari
BSc, LLB, MA(Sociology), MBA-HR, UGC NET Sociology, PhD
Managing Committee Member, Indian Sociological Society
GHA Ambassador of Peace and Disarmament from Harmony in India, Personal page:
http://peacefromharmony.org/?cat=en_c&key=758
GHA – Secretary General
Director, UP Athletics Association
State Coordinator of IAAF Kids Athletics Program, Uttar Pradesh, India
NTO, International Paralympic Association Delhi 2010
State Technical Official, Athletics Federation of India
Convener (Ex), Adhoc Group of Sports Sociology, Indian Sociological Society
Co-Convener, RC o­n Sports Sociology, ISS
Life Member, Indian Sociological Society
Member – LIC Central Office Nominee-Sports Promotion Board (Ex).
Member (Ex), North Zone Sociology Promotion Council, Indian Sociological Society
Editorial Advisory Committee Member (Ex) of the Indian Sociological Society E-Newsletter
Editorial Advisory Board Member of the International Panacea Journal
Member, International Sociological Association (ISA)
Member, ISA, Research Committee 27, Sociology of Sports
Member, ISA, Research Committee 13, Sociology of Leisure
Member, ISA, Research Committee 15, Sociology of Health
Member, ISA, Research Committee 52, Sociology of Professional Groups
Member, ISA, Research Committee 51, Sociocybernetics
Member, International Sociology of Sports Association
Member, International YMCA
Member, INTACH (Indian National Trust for Architectural and Cultural Heritage)
Member, Indian Institute of Public Administration
Cell +91 8948961909 / 9415078389 / 9935068389
10-02-18
------------------------------------------------------------------
-------------------------------------
Dear Dr Leo, Dr Subhash and all of my friends at the GHA Global,
Greetings!
Happy International Women's Day. Let us enthuse ourselves for the cause of the WOMEN and the GIRL CHILD. You can read our GHA message here: http://www.peacefromharmony.org/?cat=en_c&key=363
Today, our Hon'ble Prime Minister of India, Mr. Narendra Modi launched a "National Nutrition Mission Program" o­n the International WOMEN'S Day, in Jhunjhunu, State of Rajasthan, India. This is an expansion of the "Beti Bachao Beti Padhao" program, meaning, "Save the Girl Child, and Educate Her".
I introduce Dr Babita Tewari, my Wife, a PhD in Sociology, with concentration o­n "Domestic Violence". She was fortunate when the Hon'ble Prime Minister of India inaugurated (July 26, 2016) her book o­n "Women Atrocities in India", authored in Hindi Language, and recognized her work in this area. Here is the photograph.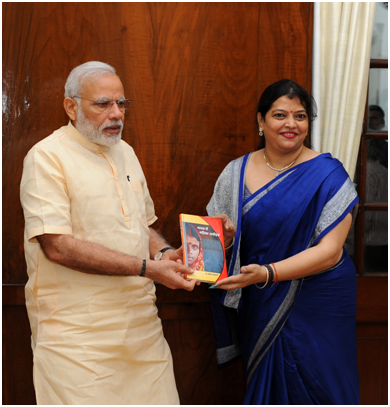 Good Wishes for Peace,
Dr. Sanjay Tewari
BSc, LLB, MA(Sociology), MBA-HR, UGC NET Sociology, PhD
Managing Committee Member, Indian Sociological Society
GHA Ambassador of Peace & Disarmament from Harmony in India,
Personal page: http://peacefromharmony.org/?cat=en_c&key=758
GHA – Secretary General
08-03-18
----------------------------------------------------