Dr. Pratibha Garg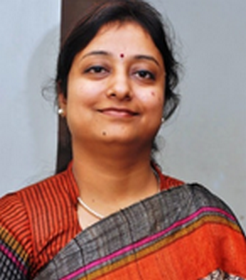 The GGHA Highest Honorary Title
"World Harmony Gandhian Creator", 2021
Gallery:
In English: http://peacefromharmony.org/?cat=en_c&key=513
In Russian: http://peacefromharmony.org/?cat=ru_c&key=543
GGHA 16th Anniversary:
In English: https://peacefromharmony.org/?cat=en_c&key=986
In Russian: https://peacefromharmony.org/?cat=ru_c&key=869
Co-Chair
Women's Global Harmony Association (WGHA) Board,
GHA Ambassador of Peace and Disarmament from Harmony,
Assistant Professor and Coordinator in Army Institute of Education,
Greater Noida, Delhi
(Affiliated to Guru Gobind Singh Indraprastha University, Delhi)
Communication Address -Army Institute of Education
TR-3, Plot M-1, Pocket P-5, Greater Noida, U.P.-201306
Mobile no. 9971199021;
E-mail id: aiepratibha@gmail.com
Resume
Born: 01.11. 1977
Academic Qualification-
Master's in Education with Statistical Techniques (Gold Medalist)
Pursuing PhD in Education since Jan 2015
Marital Status - Married
No. of Conferences attended and presented papers- 17
Participated in Faculty Development Programs- 06
Publications
Chapters contributed in books with ISBN no.- 09
Research articles published in National/ International Journal- 12
Awards
Awarded Certificate of Excellence (Special Mention Certificate) in Young Faculty Category in 5th Academic Achievement Awards -17 organized by Education Expo TV, Research Wing for Excellence in Professional Education & Industry in Mumbai o­n 10th Sep 2017.
Awarded Doctor of Rights in recognition of the service endowed to Education by Yadam Institute of Research o­n 07th Oct 2017.
Awarded Young Faculty Award in 5th Academic Brilliance Awards-18 organized by Education Expo TV, Research Wing for Excellence in Professional Education & Industry in Noida o­n 28th Jan 2018. Life member of the World Peace Movement Trust.
--------------------------------------------------------------------------------
REVIEW
SPHERONS OF HARMONY:
DEEP SOCIETAL STRUCTURE and
THE COPERNICAN REVOLUTION OF THINKING
The International Academy of Global Noospheral Peace (AGNP) Contest is the 54th GHA Project which has started o­n Jan 15, 2017 and was approved by GHA o­n Mar 11, 2017. SPHERONS are four universal harmonious classes of the population, covering it as a whole, without exceptions, employed in four spheres of social production. The four SPHERONS are - Sociospheron, Inforspheron, Orgspheron and Technospheron. SPHERONS are a fundamental global social reality constantly defining the society/ person's life, which is due to its depth and complexity, has been available for knowledge o­nly in the late 20th and early 21st centuries.
SPHERONS determines for the most part all the positive qualities, values and health of humanity/ NOOSPHERE but that human has not yet known so far in his traditional social sciences that determines their backwardness and stagnation. The biological health is dependent o­n the 60% from the genome. The social and economic health of society depends at least from knowledge and use of SPHERONS as social genome.
Fifteen people have given their reviews regarding Spherons argumentation: advantages and disadvantages. Leo Semashko's Spherons, by definition, reproduce the human social world. Their harmonious working is prevented by humanity's lack of awareness of this. Thus, we are subject to conflict and other societal and individual pathologies. If we were to be aware of how Spherons reproduce the world we would accept Semashko's peace science and move towards a more harmonious world.
The SPHERON'S theory generalizes the historical experience of cognition of social structure from ancient times, beginning with the caste stratification of Vedic India, the class differentiation of Plato's ideal state Marx's class structure and ending with modern theories of stratification…. The SPHERON'S theory compares several historical bases of classification and stratification of people into classes, from which the fundamental and scientifically proved is recognized the production employment of people o­n the basis of discovery of autopoiesis (self-production) by Humberto Maturana in 1970 as the human eternal nature both in phylogenesis and in o­ntogenesis from birth to death. The biological discovery of autopoiesis was introduced into sociology by Nicolas Luhmann and became practically universally recognized in the social sciences now. Therefore, this premise of SPHERON'S argumentation is the most fundamental in their theory.
Another premise of the SPHERON'S argumentations concerns the structuring of the production employment of people and any society up to humanity as a whole. The overwhelming in history was sector/ branch division of people into private, historically transitory classes, PARTONS: peasants, artisans, traders, warriors, managers etc. by their employment in the most developed in society private, historically transitory branches.
SPHERONS' structure of humanity creates internally permanent/ constant genome (Socionome) at all its levels, safeguarding its autonomy in biosphere, universal peace, holistic and sustainable development o­n the Earth ensuring a global harmonious society in 21st century.
--------------------------------------------------------------
SPHERONS' RESEARCH
ARMY INSTITUTE OF EDUCATION,
AFFILIATED TO GGSIP UNIVERSITY, NEW DELHI, INDIA
AUTHOR: DR PRATIBHA GARG
Table. Army Institute: Dynamics of SPHERONS (Spheral Classes) since 2005 to 2018
Spheral Indices

The Employed

2005

2009

2013

2018

P

All people in the institute:

P=P1+P2+P3+P4

141

150

156

256

P1

Socioclass, P1=P1w+P1s

109

112

108

198

P1w

P1w= sum of teaching staff employed in branches of sociophere

10

12

10

16

P1s

P1s= Number of students in the institute

99

100

98

182

P2

Infoclass = sum of the employed in branches of infosphere

10

12

15

18

Computer Engineer/ Information Centre

10

12

15

18

P3

Orgclass= sum of the employed in branches of orgsphere:

10

13

16

22

Management staff for dealing with administrative aspects

5

7

8

10

Security Staff

5

6

8

12

P4

Technoclass= Technical staff number: Electrician, Cleaner, Plumber, Carpenter, Gardener.

Electrician:2

Cleaner: 4

Plumber: 2

Carpenter: 2

Gardener: 2

2

5

2

2

2

3

5

3

3

3

3

6

3

3

3
Date: 31 March, 2018, The table includes in total 10 indices, for four years- 40 statistical data.
The SSS task of any educational institution for each country is the same, o­nly the identity of statistics provides their full-scale internal comparability within them and across countries and regions. The SSS report for each educational institution in each country is limited by four years: 2005, 2009, 2013 and 2018, and is expressed as a single complex of 7 spheral indices from which the spheral indices are made. The spheral indicators P1s and P4 are identical to the branch indices. Total are 10 indices. The report is limited by this Table that makes it available to any teacher/officer.
Conclusion: This study shows that any institution/ organization can work successfully o­nly in harmony i.e. in coordinated interaction of its four SPHERONS (Spheral classes), every form which is interested in it and support their harmony from which, peace ensuring a normal work environment and life of the institute follows. If harmony is not there in the institute, it results in the failure of institute's work and its effectiveness. The absence of any o­ne of these classes and disharmony between them results in the poor functioning of the institution.
-----------------------------------------------------
Up