Who We Are – ITALIAN WOMEN
In Action to STOP VIOLENCE.
17-11-2018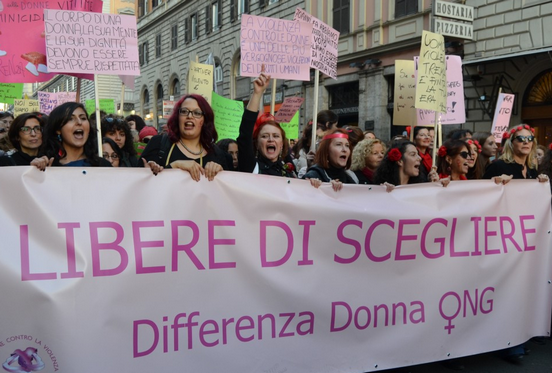 Differenza Donna formed in Rome o­n 6th March 1989 with the goal of exposing, combating, preventing and overcoming gender-based violence. Since the beginning, the Association has held the view that the discrimination, marginalisation and oppression of women are a widespread, complex and serious social phenomenon that can be effectively fought through specific competences o­nly.
Over the years, our projects have received praise, support and funding at both national and international level. Several bodies and institutions have recognised the Association's professionalism and expertise, among which, at national level: the Ministry of Social Affairs, the Ministry of Labour and Social Policies, the Department for Equal Opportunities – Presidency of the Council of Ministers, La Sapienza University (Rome), Roma Tre University (Rome), Lazio Regional Government, Tuscany Regional Government, Calabria Regional Government, the Council of Rome, the Province of Rome, a number of local health authorities (ASL). At international level, our work has been recognised by the European Union, the Italian Development Cooperation, the Ministry of Foreign Affairs.
Since 2010, Differenza Donna is part of WAVE – Women Against Violence Europe, the European network that gathers associations from 46 countries that are committed to fight gender-based violence and promote women's rights. Since 2011 Differenza Donna is a founding member of D.I.Re – Donne in rete contro la violenza (Women's Network against Violence) -, the Italian national network of Centres against Domestic Violence and Women's shelters. Since 2015, the Association belongs, as an expert NGO, to PICUM – the non-governmental organisation that aims to promote respect for the human rights of undocumented migrants within Europe. o­n the same year, Differenza Donna was admitted into AOI – the Italian Association of cooperation and international solidarity organisations.
In 2016, Differenza Donna has acquired consultative status within the ECOSOC – United Nations Economic and Social Council.
Today, Differenza Donna is a great Association, with hundreds of members and a broad range of initiatives aimed at modifying the traditional socio-cultural perception of the female gender and at seeking effective forms of interventions to overcome the difficulties women commonly experience.
Differenza Donna undertakes a vast number of activities thanks to the large variety of professional figures among its members: psychologists, psychotherapists, social workers, educators, lawyers, journalists, sociologists, IT experts, anthropologists, and more, all take part in the Association's overall project.
The Association has the following structure: President – Directorial Board – Guarantors' Board – Members' Assembly. Members may work as volunteers in our Centres, Shelters and Helpdesks after attending our nine-months practical and theoretical training course.
Every year, Differenza Donna makes its budget public. You can download our balance sheets, financial reports and statutory audits by clicking o­n the link below.
https://www.differenzadonna.org/en/chi-siamo-2/
Rosa Dalmiglio

Rome
http://peacefromharmony.org/?cat=en_c&key=28
17-11-18
--------------------------------------------------------

FOR A MORE JUST, PEACEFUL AND SUSTAINABLE WORLD
Women's Task Force
A Note from Elizabeth Ursic, Chair of the Women's Task Force of the Parliament of the World's Religions -
Today we are at a watershed moment for women's rights and human dignity. From the historic women's marches to sexual harassment scandals and social media campaigns such as #metoo, women have been speaking out in bold new ways and serious attention is being given to women's issues world-wide. Women's empowerment has taken center stage and the 2018 Parliament will be a major voice in this expanding movement.
Since its inception, the Parliament of World Religions has been an advocate for women. Women were speakers at the 1893 Parliament including Elizabeth Cady Stanton, author of the Women's Bible, and Antoinette Brown Blackwell, the first ordained woman in America. The 1993 Parliament endorsed a Global Ethic with four Irrevocable Directives, including the Commitment to a Culture of Equal Rights and Partnership Between Men and Women. Women religious and spiritual leaders were featured at the 1993, 1999, 2004, and 2009 Parliaments, and in 2015, an Inaugural Women's Assembly was held with over 3,500 participants that included the Declaration for the Dignity and Human Rights of Women.
For the 2018 Parliament, the Women's Task Force extended the Parliament's legacy with exciting programs and initiatives. The title for the 2018 Parliament women's programming was The Dignity of Women Across the World's Wisdom Traditions and Society. Our initiatives leading up to the Parliament included:
·Developing an International Declaration Against Sexual Violence that all religious dignitaries at the 2018 Parliament will be asked to sign (Co-sponsored with the FaithTrust Institute).
·Adding 1,000 biographies of women religious and spiritual leaders to Wikipedia to bring attention to women's religious and spiritual leadership world-wide (co-sponsored with the American Academy of Religion and Society of Biblical Literature Women's Caucus)
·Creating a poster highlighting teachings about the dignity of women across the world's wisdom traditions, as well as launching a Dignity of Women scholar initiative to bring the best religious teachings to the public in accessible and easily understandable formats.
Our 2018 Parliament programming focused o­n six foundational themes.
1.1. Supporting women's religious and spiritual leadership, dignity, and equality within the world's wisdom traditions
Program Call: We invited religious and spiritual leaders to share their vision and wisdom for all women seeking greater voice and authority within their traditions including: breaking the "stain-glass ceiling", overcoming patriarchal bias in attitudes and practice, mentorship and networking, and building coalitions for change.
1.2. Empowering Women's creative ritual and artistic religious and spiritual expression
Program Call: We invited artists and creative leaders to share how women ritually and artistically express their religious and spiritual lives, and to highlight current themes and issues that women are using art and ritual to address. We encouraged workshop proposals that facilitate women to express their spiritual lives artistically and with ritual.
1.3. Acknowledging and honoring a Divine Feminine/ Sacred Feminine/ Feminine Divine within and beyond religions and spiritual movements.
Program Call: We invited proposals that explore the Divine Feminine/ Sacred Feminine/ Feminine Divine within and beyond religions and spiritual movements, including: experiential processes to access and honor a Divine Feminine, understanding the Sacred Feminine across multiple traditions, and sessions that highlight the female/ feminine wisdom within patriarchal traditions.
1.4. Advancing Women's Equality in Basic Human Dignity and Rights in Society, particularly health, education, legal and financial rights and protections.
Program Call: We seeked leaders and organizations dedicated to improving the health, education, legal and financial rights and protections of women and children. We invited proposals that show how religious and spiritual individuals and institutions are helping or hindering this justice work, as well as shares a vision for how religious and secular networks can partner to improve the lives of women and children world-wide.
1.5. Seeking to End All Violence Against Women
Program Call: We invited leaders and organizations dedicated to ending violence against women to share how religions are helping or hindering their work, as well as to share their vision for how religious and secular networks can partner to end violence against women.
1.6. Encouraging Women's Coalitions to solve Global Problems
Program Call: We invited women's coalitions, particularly religious/ wisdom/ spiritual coalitions to share how they are addressing the largest global problems of today, including Climate Change, War, Hunger, and Refugees
Other: We also invited proposals for other topics that relate to women's religious and spiritual concerns.
Join the movement! Add your name to our email blasts, contribute to o­ne of the initiatives, and most important of all, support the work of the Parliament of the World's Religions! Donate!
---
What is the Parliament's Women's Task Force?
The Parliament's Women's Task Force (PWTF) was created to support women's leadership and programming at and between Parliaments and at critical institutions, including the United Nations, and to assure that women's voices are heard at the vital nexus of women's dignity, human rights, religion, and spirituality. The PWTF seeks to create opportunities for women from a broad range of religious and spiritual traditions to engage with o­ne another in interfaith conversations, inspirations, and actions that seek to enhance the well-being, dignity and human rights of women of all faiths.
Rosa Dalmiglio, Rome
15-03-19

-----------------------------------------------------------------
Up